What is Medical Cannabis?
Medical cannabis is a plant product of Cannabis sativa L., Cannabis indica or hybrid plant varieties, either obtained as raw or dried or as an extract for medical use. Cannabinoids are naturally occurring compounds of cannabis. The common compound of medical cannabis includes delta-9-tetrahydrocannabinol (THC) and cannabidiol (CBD)​1​.
How Medical Cannabis Work?
The exact mechanism of action of medical cannabis is not properly understood. Medical cannabis functions by binding to specific receptors known as cannabinoid receptors. The THC and CBD binds to various receptors in the cells of the central nervous system and immune system and induce a series of pathways that ultimately leads to reduced pain sensation in the cells and increased cancer cell death​2​.
Uses of Medical cannabis in Cancer patients
Chemotherapy-Induced Nausea and Vomiting
Medical cannabis finds great importance in the treatment of chemotherapy-induced nausea and vomiting. Medical cannabis has been found to be effective in suppressing nausea among cancer patients​3​.
Cancer-Associated Pain
Medical cannabis is also reported to have pain relieving properties in cancer-associated pain, particularly neuropathic pain. Medical cannabis inhibits the release of inflammatory substances as well as increase the release of pain relieving opioids to prevent inflammation​4​.
Medical Cannabis as an Antitumor Agent
Medical cannabis has been reported to be used for potential chemotherapeutic treatment. Cannabinoids are reported to induce cancer cell death through various cellular pathways. They are also reported to decreased tumor spread and growth​5​.
Medical Cannabis for reduced anxiety and increased sleep
Medical cannabis may be useful for enhancing sleep and post-traumatic stress disorder. It may also help to manage stress, anxiety, and other symptoms.
Effectiveness of medical cannabis on cancer treatment
Various research studies have reported that medical cannabis helps in reducing tumor growth, tumor spread and promoting tumor cell death. Medical cannabis has been reported to significantly reduce the pain of advanced stage cancer patients​6,7​.
Dosage of Medical cannabis and THC:CBD ratio
There are no legalized medical or recreational ratios of THC: CBD in drafted regulations. Healthcare providers are therefore required to understand the medical impacts of cannabis as well as the requirement of patients during the prescription of medical cannabis to cancer patients.
Approval by Regulatory Bodies
The AYUSH Ministry in India permits the use of the Vijaya or cannabis extract for medical purposes. Both CBD and THC are permitted to be used for treatment.
After Effects of Medical cannabis
Several after effects have been reported after the intake of medical cannabis and cannabinoids. Some may be beneficial for cancer patients, such as sedation and mood enhancement. Some of the common side effects include:
Alteration of mood
Dry mouth
Increased anxiety
Increased depression
Hallucinations
Sensation of depersonalisation
Memory impairment
Dizziness
Blurred vision
Medical cannabis in cancer treatment may have potential in its use for managing refractory cancer pain, reducing chemotherapy-induced nausea and vomiting anticipatory and and as an antitumor agent. Currently, medical cannabis is not the primary means of treatment for any cancer type or treatment-related to adverse effect; however, it can be used as an alternative medicine in cancer treatment.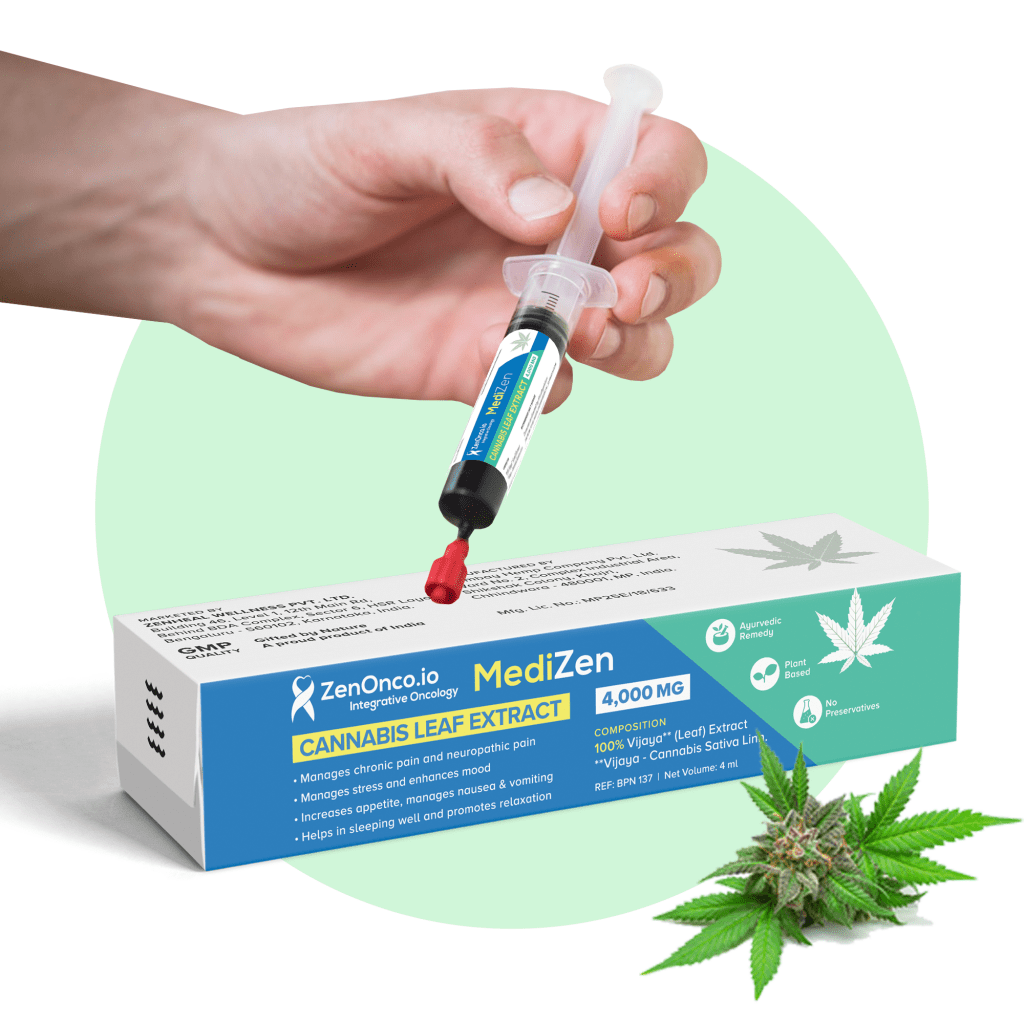 Now avail exciting offers on Medical cannabis for cancer patients from ZenOnco.io at : https://zenonco.io/cancer/products/medizen-medical-cbd-4000-mg/
References
2.

Wilkie G, Sakr B, Rizack T. Medical Marijuana Use in Oncology: A Review.

JAMA Oncol

. 2016;2(5):670-675. doi:

10.1001/jamaoncol.2016.0155

3.

Himmi T, Dallaporta M, Perrin J, Orsini JC. Neuronal responses to Δ9-tetrahydrocannabinol in the solitary tract nucleus. European Journal of Pharmacology. Published online October 1996:273-279. doi:10.1016/0014-2999(96)00490-6

4.

Manzanares J, Julian M, Carrascosa A. Role of the cannabinoid system in pain control and therapeutic implications for the management of acute and chronic pain episodes. Curr Neuropharmacol. 2006;4(3):239-257. doi:10.2174/157015906778019527

5.

Qamri Z, Preet A, Nasser M, et al. Synthetic cannabinoid receptor agonists inhibit tumor growth and metastasis of breast cancer.

Mol Cancer Ther

. 2009;8(11):3117-3129. doi:

10.1158/1535-7163.MCT-09-0448

6.

Sharafi G, He H, Nikfarjam M. Potential Use of Cannabinoids for the Treatment of Pancreatic Cancer.

J Pancreat Cancer

. 2019;5(1):1-7. doi:

10.1089/pancan.2018.0019

7.

Portenoy R, Ganae-Motan E, Allende S, et al. Nabiximols for opioid-treated cancer patients with poorly-controlled chronic pain: a randomized, placebo-controlled, graded-dose trial.

J Pain

. 2012;13(5):438-449. doi:

10.1016/j.jpain.2012.01.003