When you feel that you have lost everything, surrender yourself to the mystic law of the universe and witness the magic that unfolds. Most people lose hope when they lose someone dear to them. Even I lost hope and everything after losing my husband, Nitesh, whom I married after knowing that he had stage 4 collateral cancer. With an empty hand and a wide-open mindset, I surrendered myself to destiny. I never knew that life could be so beautiful and fulfilling again. Read my cancer-healing story in the following text.
Index
Beginning of a new life and meeting Nitesh in IIM-Calcutta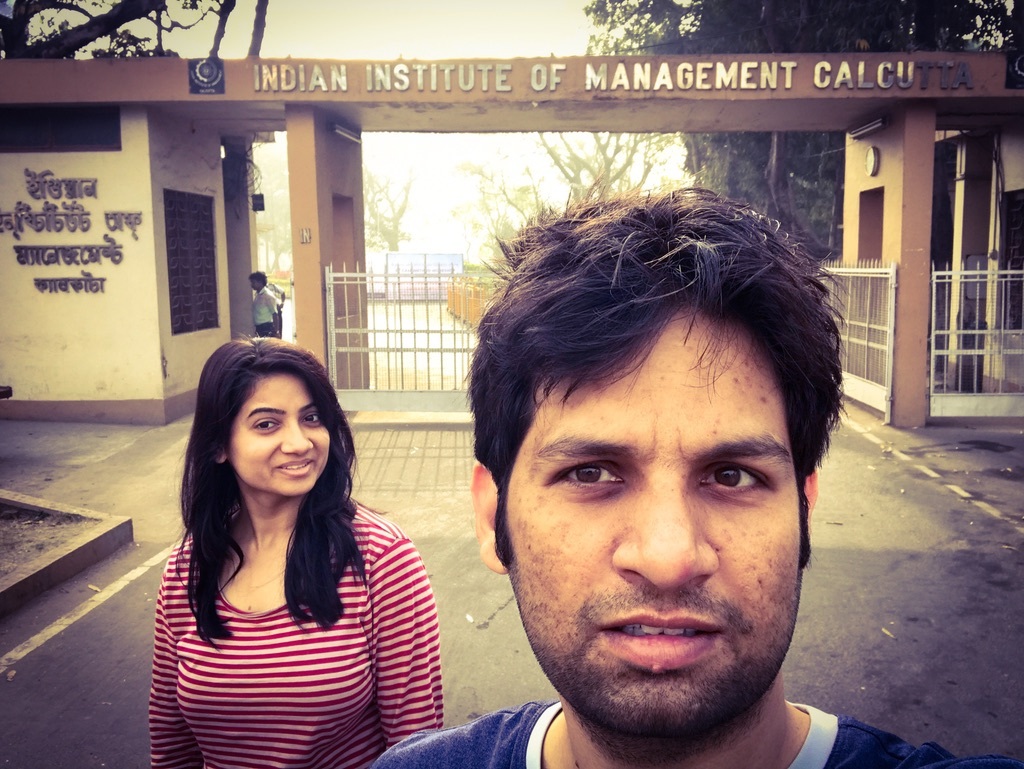 It was year 2015 when I joined IIM-C to pursue my MBA degree. Six months later, I met one of my batchmates called Nitesh. I was a stranger to him. However, he shared everything with me. While talking, I came to know that he is struggling in life with his relationship and academic life and that he was facing start-up and financial issues as well.
I felt bad for him. A 25-year-old man, with his dreams and ambitions, was going through a bad patch in his life. After this meeting, I was always in touch with him. I took care of him as a good friend.
Nitesh had only few friends in IIM-C, because he was focused on his start-up and career. He was fully involved in making his start-up 'Appetti' to be successful. Work pressure and academic pressure were really getting on him. He was not taking his food on time. He used to spend many sleepless nights. He was suffering from several health issues, such as constipation, stomach upset. Anyone could see the stress on his face.
My Internships in Egypt
Gradually, life changed its course. I went to Egypt for my internship and I lost touch with Nitesh for three months. Actually, while I was in Egypt, I had tried to contact him to get some information on establishing a start-up, as he was the only batchmate experienced in it. However, I did not get any response from him. I was a bit upset with his attitude.
When I returned to India, He asked me to meet but I avoided. Assuming that everything is proper in his life, I thought that I would concentrate on my career and avoid him. I remember returning to India on 16th June 2016. Nitesh called me and wanted to meet me in his hostel, but I declined. I told him to come to my hostel, if he really wanted to meet me. However, Nitesh insisted and I decided to meet him in the evening after work.
I was shocked to see him as he had lost a lot of weight. I said, "You are not looking good. What happened?" He replied, "I have back pain, constipation, loss of appetite, inadequate sleep, etc. for a long time." I told him to take care of himself and let it go. I thought that he was giving all such excuses to justify his action (of calling me in his hostel).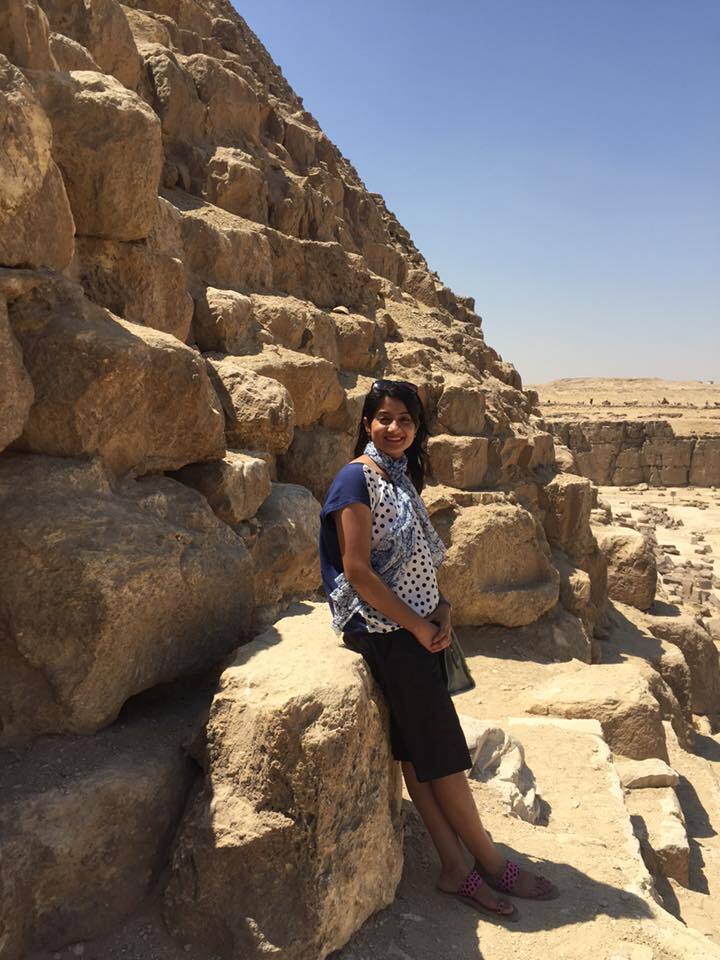 The next morning, I received a message from Nitesh. He wanted to meet me in the hostel. I refused because I was occupied with my work. I told him to come and meet me. He said that he could not come as he was on painkillers. I replied, "You could go to Mumbai, but you find coming to my hostel as painful?" Finally, he came. He had a file in his hand. I asked, "What is this?" He replied that apart from all the aforementioned health issues, he had rectum bleeding and hence he decided to go for a check-up.
"I have an appointment with the doctor tomorrow morning, will you join me?" He asked. I declined because I had decided to keep distance from him. He went to the doctor alone. Again around 10 o' clock, he called me and started crying. He said, "I have just started my life, I have so many things to do, I have to go on a world tour." I said, "Okay, you will accomplish everything. What is the matter?"
We decided to meet in sometime in his hostel. He gave me a list of things to bring along. He also called his friend Naveen. When we reached at his place, he was vacating his room. We wanted to know the reason behind this.
He said, "I am leaving for Mumbai. I have a flight in another four hours." He was distributing the food items that he had. He said that the doctor had suggested he spend time with family. He further said, "I do not know when I will return, but things will take an ugly turn for sure from now."
Encountering Cancer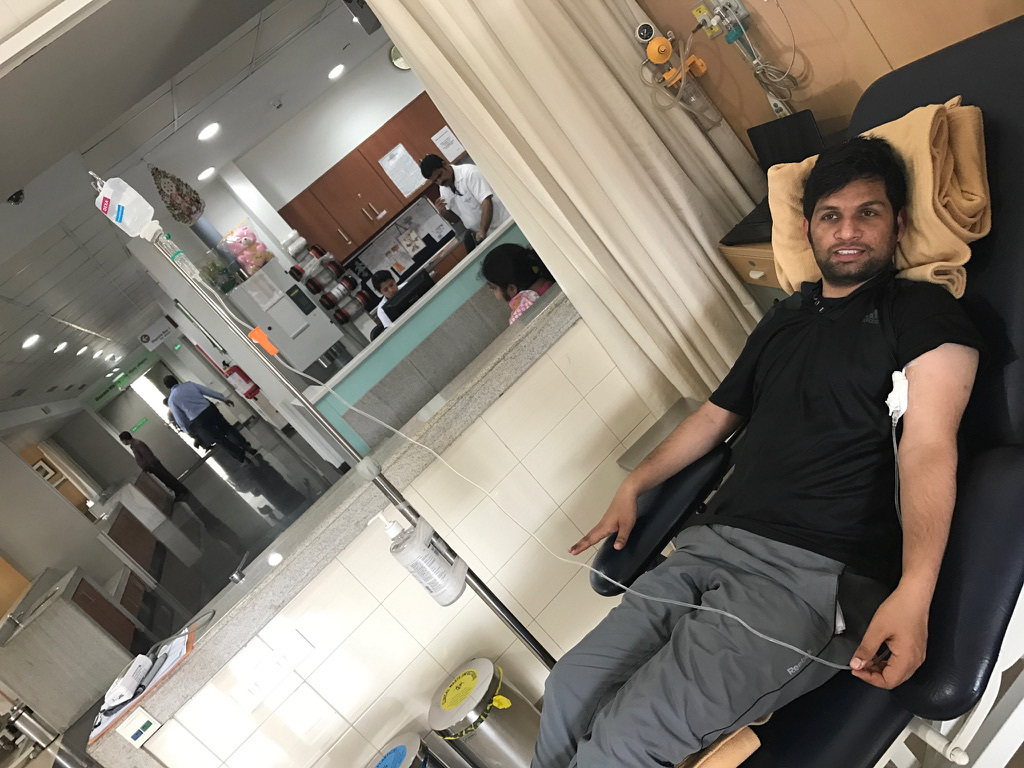 He called to inform that he had reached there safely. Sensing the situation, I told him, "Nitesh, I think that you are hiding something. Please let me know if I could help you in any way."
He then disclosed that he had stage-3 cancer and he requested not to tell this to anyone. I was shocked but was also confident at the same time that Nitesh would get the best treatment and he would be all right.
I was unaware of this disease, its stages, and the precautions to be taken, and so was Nitesh. He showed courage and said that he would opt for the best treatment.
Nitesh told me that he would need my help in future with the notes and many other things. He will need a permission letter from the directors and professors for attendance. He needed my help in applying for the health insurance of Rupees one lakh meant for college students. I started researching on the subject though not seriously. I was confident that he is wise and he would opt for the best treatment.
By this time, we were just friends. I got busy with my classes, study, and start-up. I used to travel to Mumbai every month as my start-up was based there. My brother Dilkhush took care of the company operations in Mumbai and I was overseeing them from Kolkata.
After the revelation, I always kept in touch with Nitesh. I felt good to help him with everything he needed from the college. However, I was so occupied with my study and start-up that I could barely sleep for 3-4 hours.
He called after a few days to inform that after returning to Kolkata, he would not be able to stay in the hostel for long, as it had a common toilet and mess. I requested the college director to allocate a separate room for him. The director himself came to select the best available room for Nitesh in the Tata Hall (a guesthouse where all visitors stay). The response from the director was remarkable and I felt grateful for his support.
We got every possible support from students, professors, and directors in raising funds. We could afford the best treatment for Nitesh due to such an overwhelming response.
Cancer treatment and its side-effects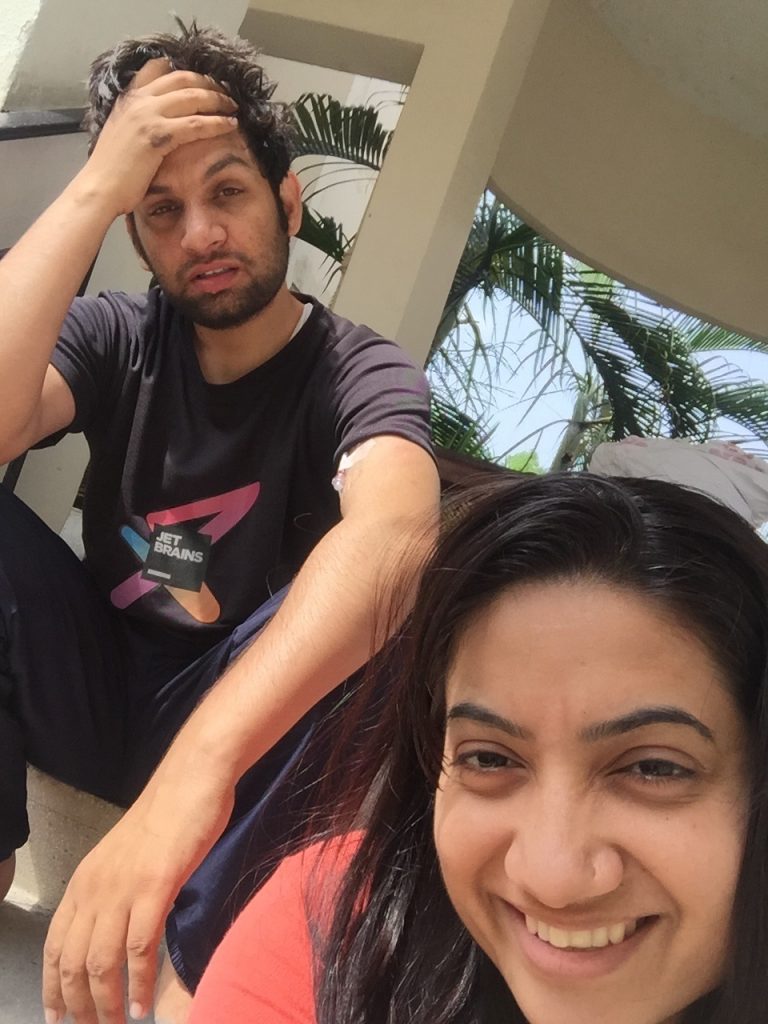 In the meantime, Nitesh underwent radiation therapy and oral chemo in Mumbai. He took medicines orally in oral chemo, which had severe side effects. He used to vomit and it was painful. He was unable to sleep. He always preferred to live in a dark room. He tried to occupy himself in messaging through the phone. He did not want to talk to anybody. Sometimes, I felt awkward, as he did not show any interest in talking to me.
He returned to Kolkata in August. He was shifted to the Tata Hall, which had a separate toilet. A separate kitchen was also arranged for him. I visited his room, as I used to go towards the hostel to attend my class and then I would be back in the evening. We got a term break of seven days during the festival of Raksha Bandhan and Nitesh and I went to our respective homes.
I realised that Nitesh had changed after returning from home. He started noticing things and appreciated them. It was a good feeling for me.
Falling in Love with Nitesh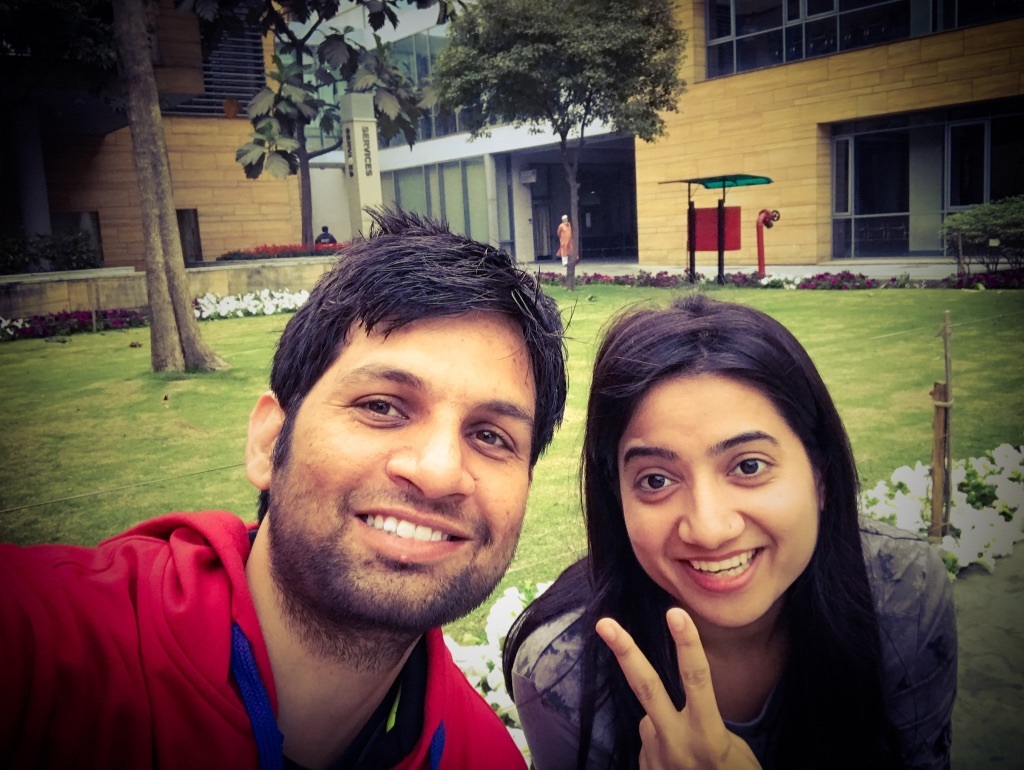 In September, I started living with Nitesh, as it was a challenging task for me to manage study, classes, prepare food for him, and do other chores. Nitesh had a single bed and hence I started sleeping down on some bedsheets. We grew close and fell in love with each other after we started living together. Nitesh took me on a date on 14th October and he proposed to me in the restaurant, from where our commitment and relationship started.
His earlier surgery was scheduled for 9th October in Mumbai. He realised that he would not be able to excrete normally as he would be subjected to colostomy. He was shaken and he did not want to get it done when he came to know about the procedure. He did not want to live an artificial life and he returned to Kolkata.
It was the time for Durga Puja in Kolkata. All staff and students were on leave. I was the only one staying in Kolkata. I thought that I had ten days to concentrate on my study. I was feeling bad for my brother, who was handling the stressful work of managing the start-up.
We researched colostomy after Nitesh returned to Kolkata. We consulted few more doctors and discovered that colostomy was the best option. I told him that this was a very small thing. The ten days that we spent together were the best, as we were close to each other without any classes, without any assignment, and without any project. We were just concentrating on ourselves, on our health, and on our relationship.
Nitesh opted to go for the surgery, which was scheduled on 24th October. The surgery went for 8 hours and he had 42 stitches. I was very tense on that day. I was constantly in touch with him through phone. Both Nitesh and I were missing each other.
He booked a ticket for me on 1st November, which was Diwali. He informed me just one day before and I obliged because I was in a relationship. By the time I reached Mumbai, he was shifted to the normal ward. I was with him in the hospital for the next four days.
He proposed to me in hospital
Nitesh asked me in the hospital, "Dimple, you know the truth of my life. I have stage‑3 cancer. I have undergone surgery and I have to live with the colostomy bag. My future is full of difficulties. Do you still want to be with me? Do you want to marry me?"
My reply was obvious. I told him that I was just his friend when all the facts became known. However, I still want to be with you.
I told him, "It is a part of life. What would I have done if you had cancer after marriage? What if you could have met with some accident and lost your vital body part?"
Later, he proposed to me in the hospital and he informed his family. I informed my mother and she asked whether cancer would relapse. I replied in the negative. We never thought of researching more on cancer.
We had only one thing in our minds that the doctors were doing their best. We were consulting the best doctors. We believed that if we are following all protocols, then everything should be fine. We concentrated more on academics, start-up and study. Because we thought that we could not do anything about the cancer and thus we concentrated more on academics, start-up, and studies. Nitesh was advised one month of bed rest. As always, his recovery was fast. Therefore, we decided to return to Kolkata.
The second phase of treatment & its complexities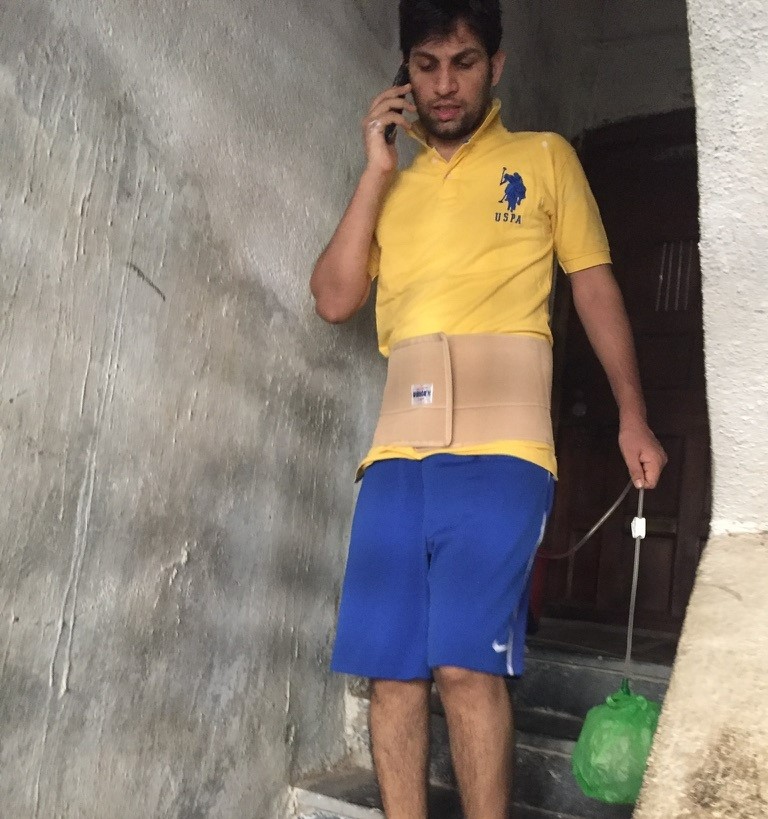 The second phase of his treatment started. I had told him that I would manage, but it was not that easy. I had a vomiting sensation when the nurse cleaned his colostomy bag, but I controlled it, because he would feel bad. The bathroom would stink when Nitesh cleaned the bag. Sometimes, the bag pinned in the bathroom would be full of gas, which spread bad odour in the whole room. Sometimes, all such things were upsetting. However, I consoled myself that I had committed and I stay true to it. He started attending classes after a few weeks. Only half of the treatment was done by that time and we found it difficult to manage everything.
It was the month of December. It is the month in which job placement is made and we all work so hard for it. When all students were busy preparing for placements, we were going through the treatment. We had gone through this situation for six months and we had another six months more to go. And we were finding it very difficult to manage everything all together.
Listen to the podcast here:
Chemotherapy and My Birthday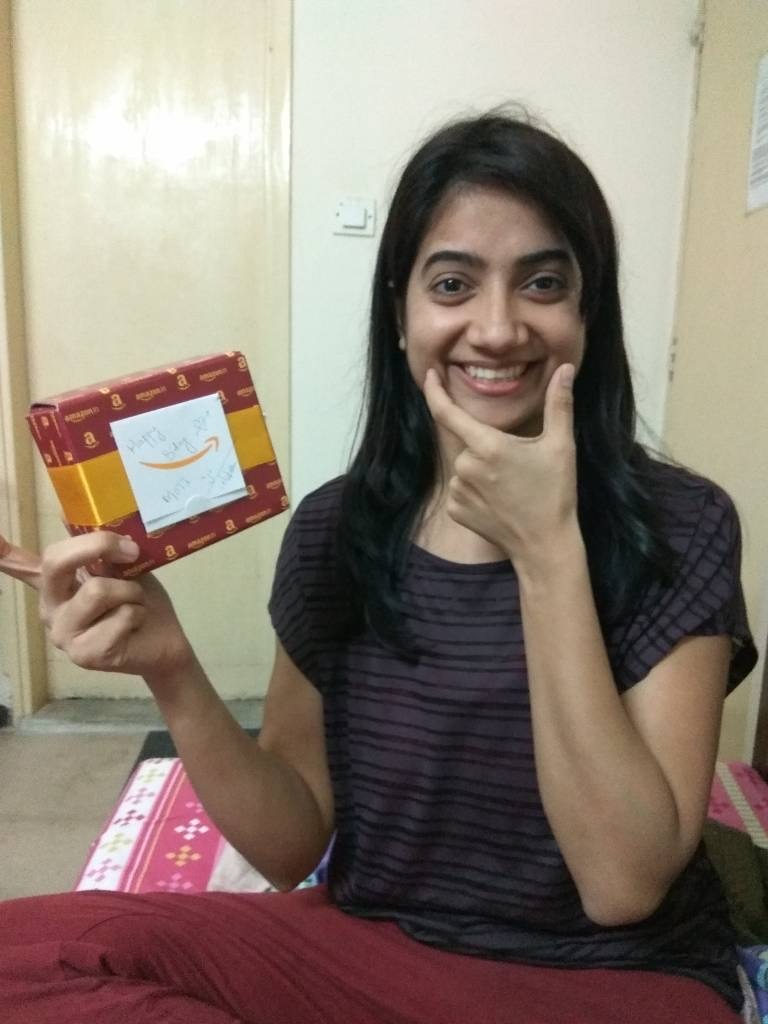 The second phase of Nitesh's treatment started with chemotherapy. His first cycle of chemo was scheduled on 6 December, which was my birthday too. Nitesh had arranged a small evening party at his room. He invited a few friends and he presented a lovely gift to me. Nitesh had a passion for making occasions memorable and he loved to take pictures. He tried his best to make this occasion memorable.
He would feel energetic on the chemo day and he did not find any issues during the initial four or five cycles of chemotherapy, which were manageable. We sought pleasure in going out together and in watching movies once in a fortnight on the pretext of chemo. his chemo sessions were conducted for three days, wherein the first day's session was in the hospital and the following two days' sessions were at home.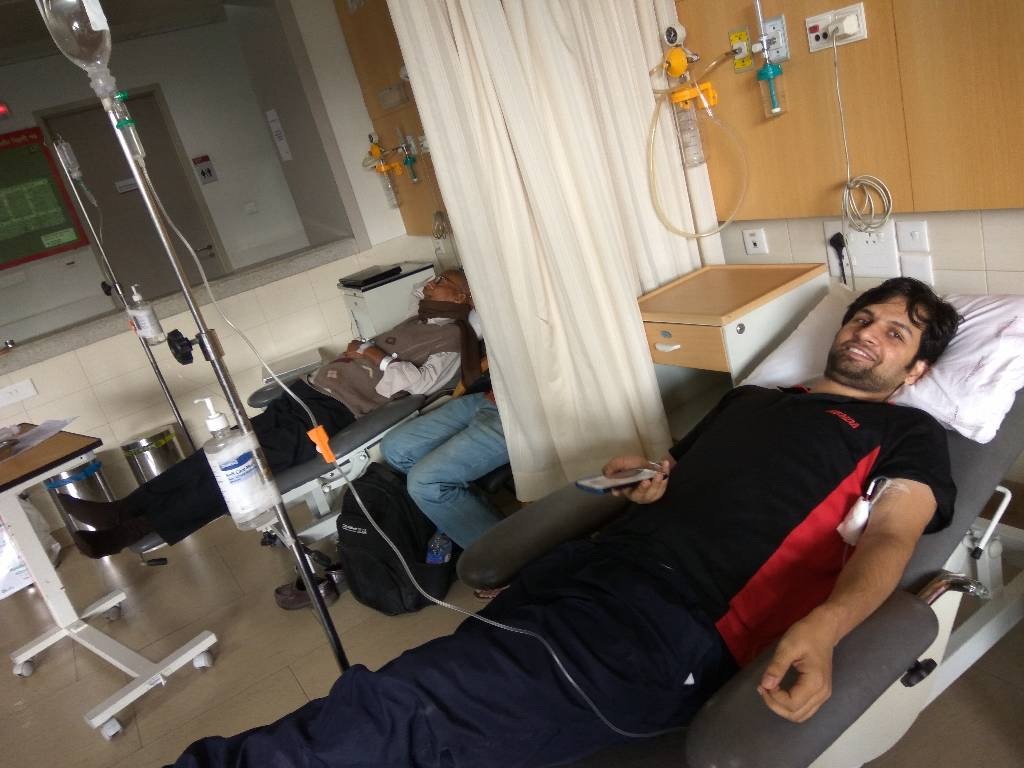 The week after the chemo was horrible for him. He would feel irritated and would have vomiting sensations. He did not want to eat and he did not like any kind of light and sound. Even the sound of typing disturbed him. He did not want to talk to anybody. He just wanted to be alone. It was difficult for him to handle all these things at the young age of 25. By the time he recovered from the side effects, the next date of chemo session would arrive.
Finding Joy in Small Thing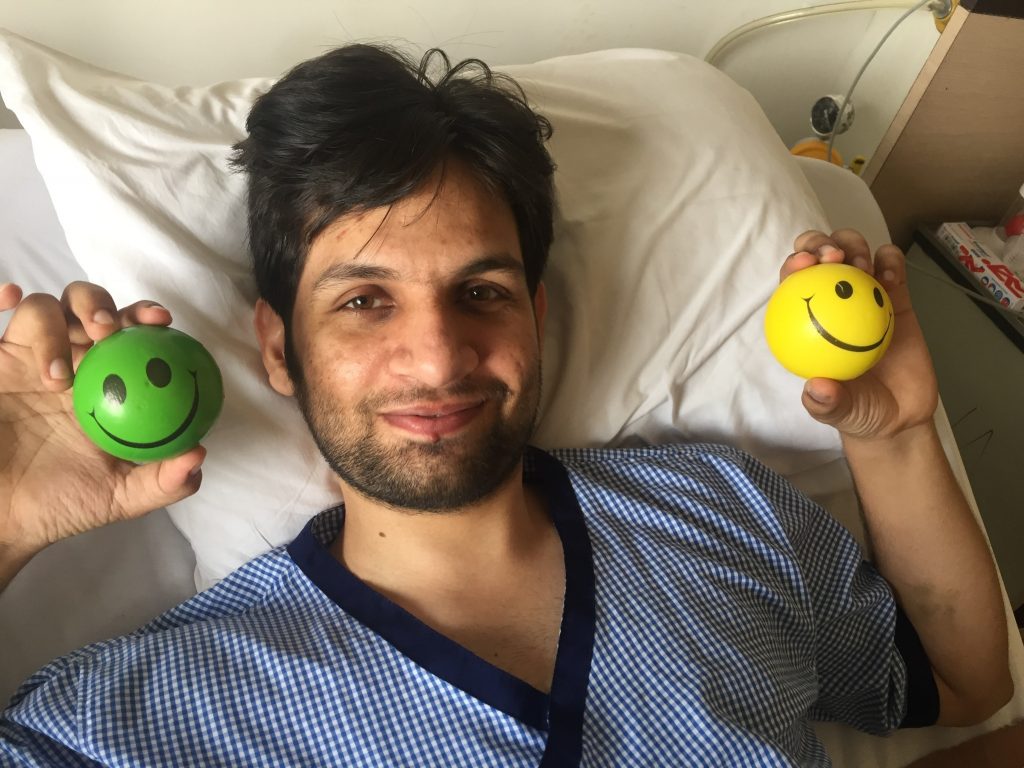 Nitesh's treatment was going on at Tata Medical Center, Kolkata. We used to visit the canteen after the chemo and have dosa, which he loved. The doctor used to call us for removing the chemo pump and for dressing after three days of chemo. However, the hospital was 70 km away from our hostel. Therefore, we took all necessary precautions and did the pump removal and dressing by ourselves. It was the best time of our lives, as we were busy in our own little world, spending time supporting each other. Later on, I realized that outside food is not good for his health, so I prepared food for him for chemo visits to the hospital. The cafeteria at Tata Medical Center is very decent. We enjoyed having homemade food there. This is how we found joy in every little thing doing together.
Nitesh Adjustment with Colostomy Bag
He was getting used to with his colostomy bag. I believe that a caregiver has a big role to play in making the patient comfortable. Sometimes, I found it difficult to handle, especially during my menstrual period. However, all of these activities were gradually becoming a part of our lives. Days progressed with some good and memorable moments coupled with some bad and forgettable moments. 
Unconditional Support from Friends
We were getting outstanding support from our friends. Attendance was compulsory in the college. My best friend Akanksha used to attend classes on my behalf, take notes for me, and make me understand the chapter. We did not have a choice in this matter, despite knowing that it was a wrong practice. Some friends prepared Nitesh's resume, as he was not in the right condition to do it himself. The most significant source of our strength was the support received from all directors, professors, and students.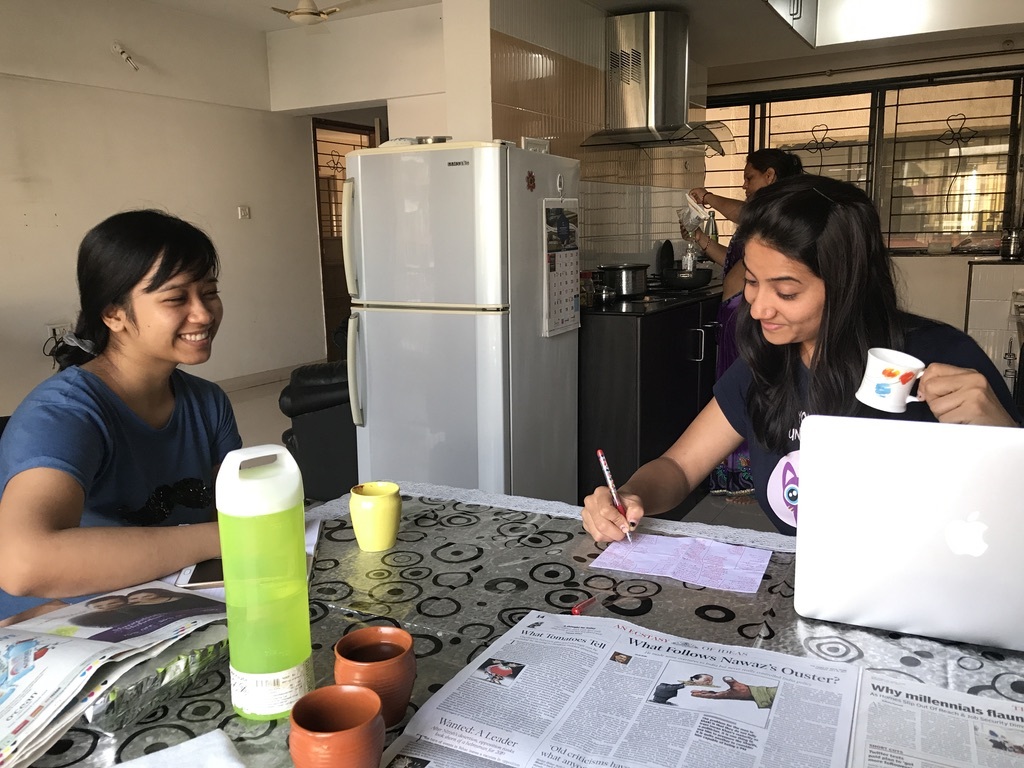 Classroom project is a group task, which some students take lightly and some students work hard to complete. However, the credit goes to all group members. One such project was assigned to Nitesh, Kishan and me. Nitesh could not contribute much towards the project due to which Kishan told me to ask him to do the needful, as I was his close friend. Some of our friends including Kishan were not aware of Nitesh's cancer. I explained the reason to Kishan, after which he felt bad about it.
Nitesh's Craziness for Kite
Nitesh was crazy about kites. In the month of January, (Makar Sankranti) he visited Jaipur for seven days to fly kites and to spend time with his family members, brother, and maternal uncle. He did not care for the placement and he even postponed his chemo date to attend the kite festival. His family organized a big puja for his long life. He was very positive about his recovery.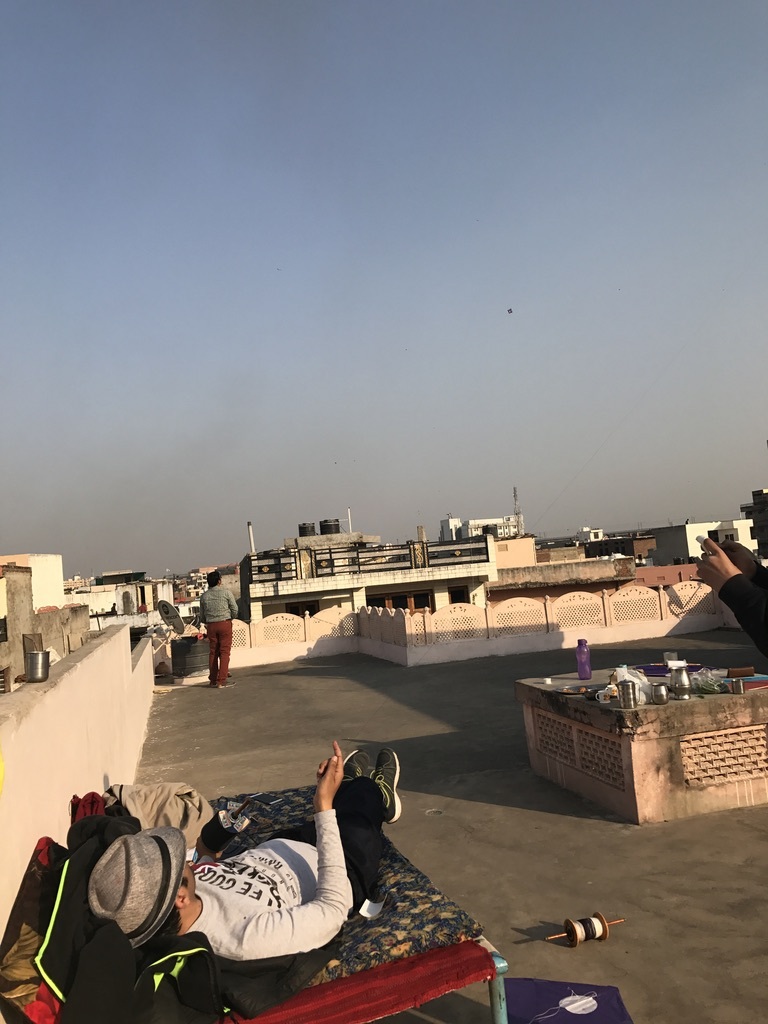 This was the first instance during which we had been away from each other for such a long time. I was missing him. We used to connect with each other through video calls. He was a very fun-loving person. Once when I was upset with him, he drew some images on my face saying that I do not look good when I am angry and thus, he made me look worse. Later, I made him cut vegetables as punishment and he did it cutely.
Another Catastrophe of Life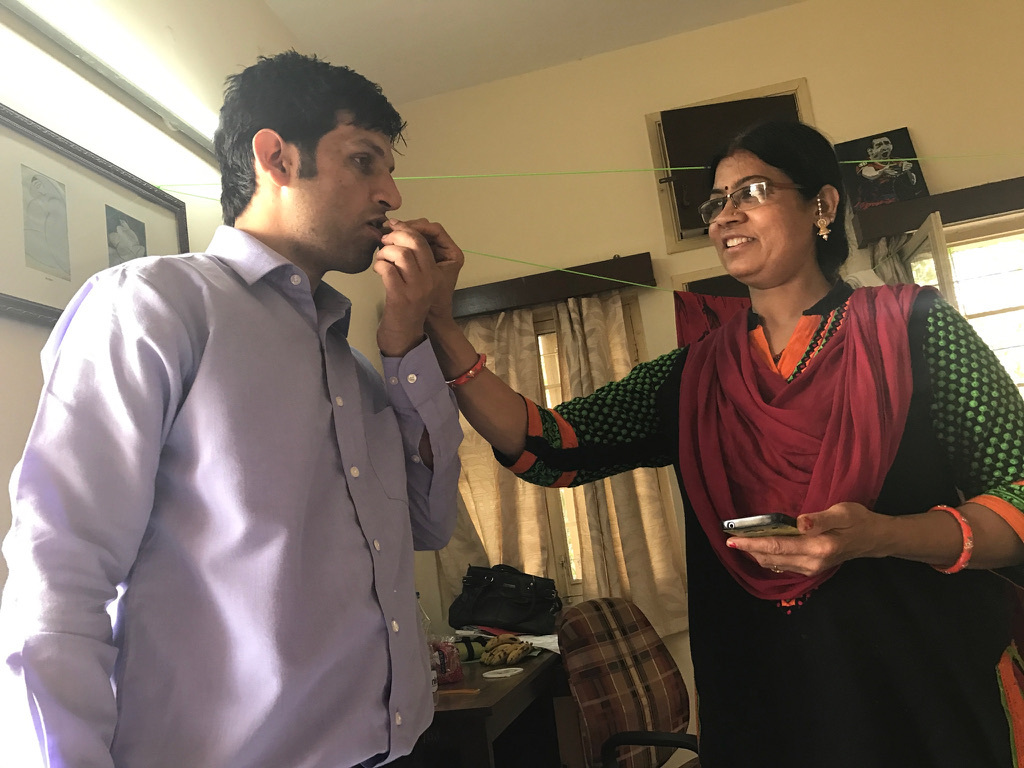 One more catastrophe was waiting for us. I was seated at the edge of the bed and I fell down. I had a minor fracture in my spine. I was a caregiver and I was in bed. We informed our friends about my plight, but they could not help in any way. We went to the hospital the following day. It was tough to manage everything. I requested my mother to help, as I was not to handle the situation. My mother came to take care of both of us. I had no idea how my mother would react because I was staying with Nitesh. My mother was not aware of many things. However, both of my parents had come and they considered it positively. They took care of Nitesh more than me. My father returned after a few days, but my mother stayed longer because I had not recovered fully and I had to prepare for my placement. Nitesh also took care of me when I was on bed‑rest. 
Balancing between Health and Career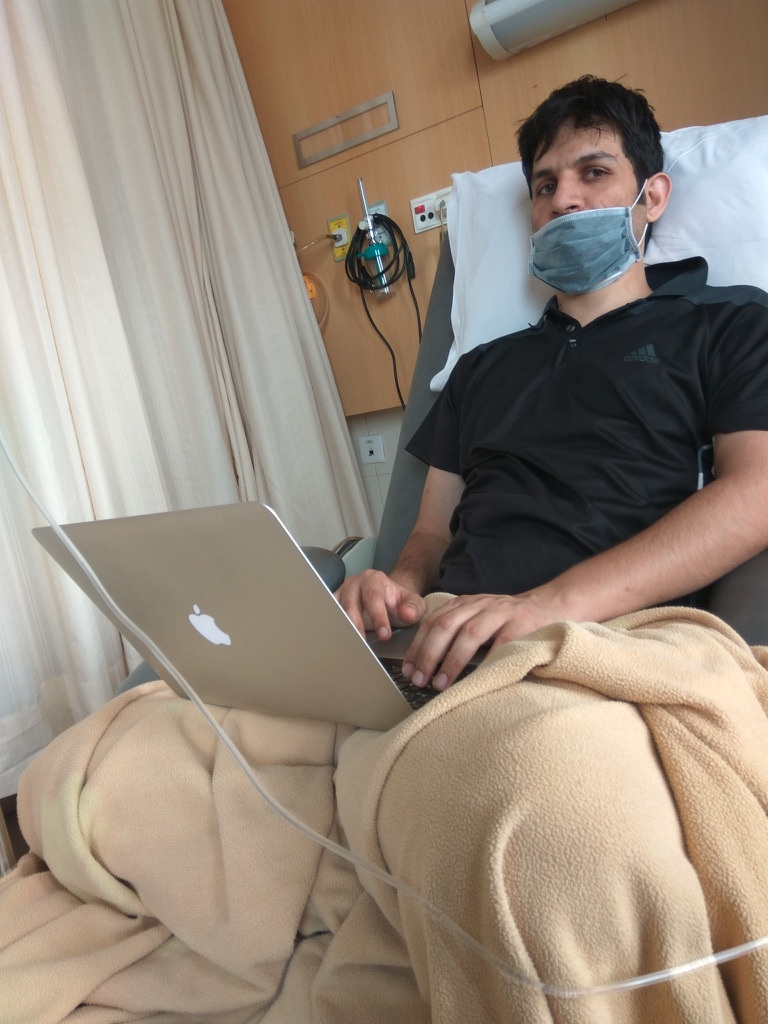 Placement is the time for which all students study hard. Nitesh initially thought that he would not participate in the recruitment process, but he later preferred not to miss the opportunity. We concentrated on our studies after doing the household chores and the treatment. However, health was our priority.
I got an excellent offer from a German company. It was one of my dream jobs. I discussed it with Nitesh and he replied that if I chose this job, then the status of our relationship would be unknown, as he was on treatment. My parents too were of the same opinion and believed that there was no point in staying separately. I felt bad about letting go of my dream job.
Nitesh was so workaholic that he often took his mobile and laptop with him during the chemo. I did not like his habit, as I wanted him to talk to me. Sometimes, I used to argue and fight with him. I felt that we must take care of his health by adhering to a proper diet, exercise, and mindfulness. I wanted him to read about cancer, diet, yoga, and lifestyle. Nitesh was a bright person and he would take care of these things. However, he did not take it seriously as he was busy learning about new things that included artificial intelligence.
We decided to shut down our start-up in March so that we could do justice with our pending work. I had to visit Mumbai for the winding-up operations. I left for Mumbai, after Nitesh's mother arrived.
Valentine's Day Celebration with Nitesh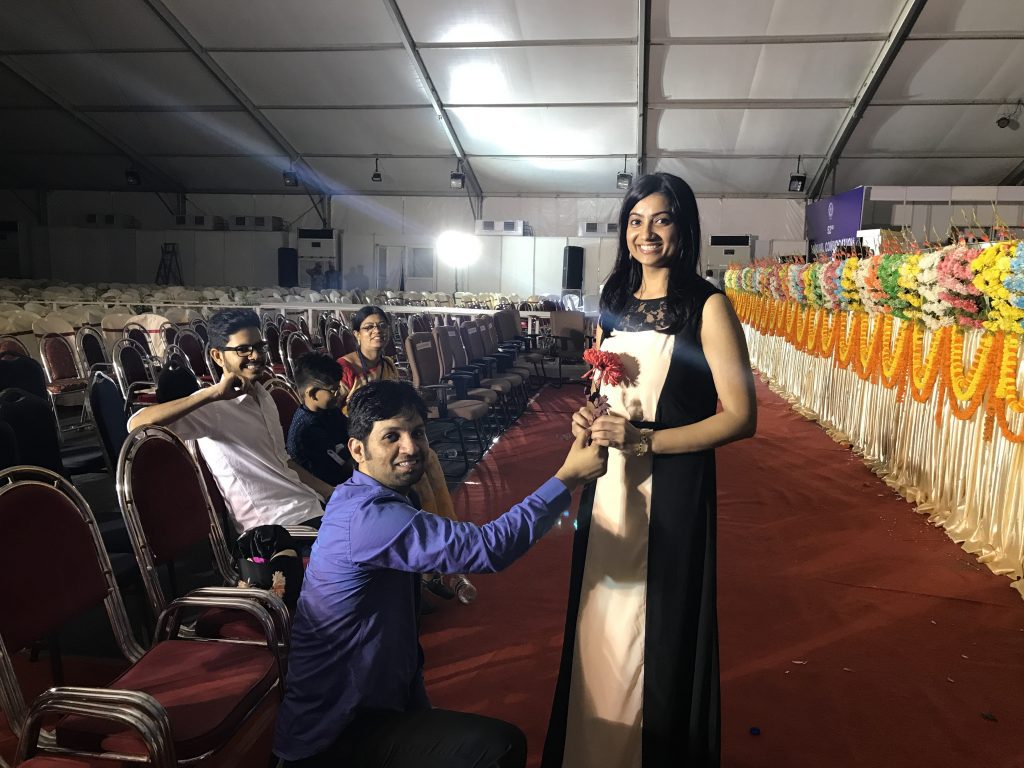 Then came Valentine's Day, all three of us including my mother went to a mall in Kolkata. Nitesh had arranged for everything related to the mall visit. I was recovering and was feeling better. After a few days, my mother had to leave for Jaipur. My mother felt bad that I would have to do the chores. She was feeling bad for Nitesh also. I told Nitesh that my mother could stay for some more time, but Nitesh did not want her to be with us during the chemo. He did not want my mother to feel bad in seeing him down and depressed. I agreed to his suggestion. 
Joka Me Roka (My engagement inside IIM-Calcutta campus)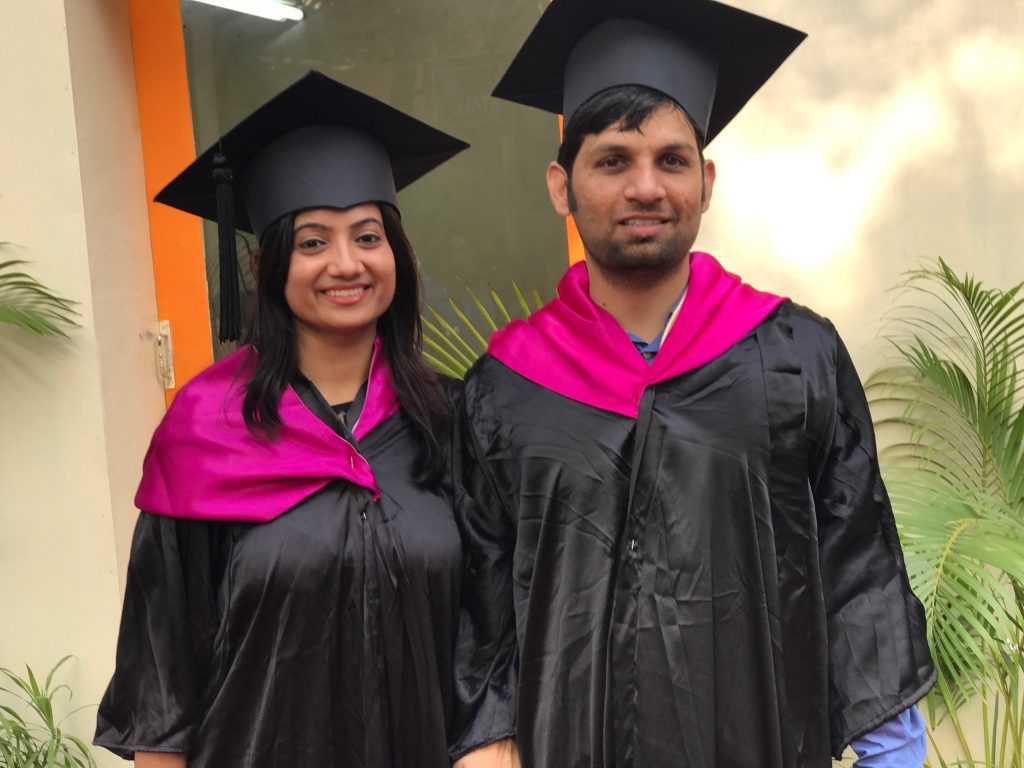 Our convocation ceremony was scheduled on 1 April. Nitesh's mother suggested that we both should be engaged, as our families were present. Nitesh was initially not in favor, but he agreed eventually. Our engagement was on the same day as our convocation. It was held in the hostel's room number 213 in the presence of family members and some friends. I used to tell Nitesh that this room would always be memorable. I would want to return to the hostel and visit the room to live the memory.
Then came the time when we all had to leave for our respective homes. I had planned to visit my family members in Jodhpur before shifting to Pune for a job. I was leaving with my family at 4 AM. I went to meet Nitesh. He was sleeping and I took his picture. I felt bad. I did not want to leave him because caring for him had become a part of my life. Nitesh also reached Jaipur after a few days and I planned to meet him. His family members did not allow the brides-to-be to visit their in-law's place before marriage. However, I never believed such things and we planned to meet at his place. It is also one of my best memories.
Listen to the podcast here:
Beginning of Career with BNY Mellon
After that, I shifted to Pune as I had to join the Bank of New York Mellon. It was a new beginning for me. I was feeling better as I had a job and Nitesh's treatment was getting over. Everything was falling in place. We were about to start a new journey in our lives. We were planning to get a job in the same city and get married in a year.
Although we were committed to each other, Nitesh never shared all of his thoughts with me. He used to tell me that he would wait for the right time to reveal. "My mind is blocked", he uttered this line several times. I thought that it might be because of the treatment. He never disclosed our relationship to anybody because he had a reason. I felt bad and helpless. When somebody would ask him about how he managed his studies, food, and health, he would reply, "I manage somehow. College friends are very helpful."
On the other hand, I had my expectations and I wanted to live like other couples. Nitesh sensed it and he started to send some loving notes, pictures or videos to me after I returned from the office every evening.
In May, Nitesh wrote on social media that he was dedicating his IIM-C degree to Dimple, because it would not have been possible without her support. This gesture of his touched my heart. It came as a surprise to me. I had never expected this from him. The following four-five days were the best of my life.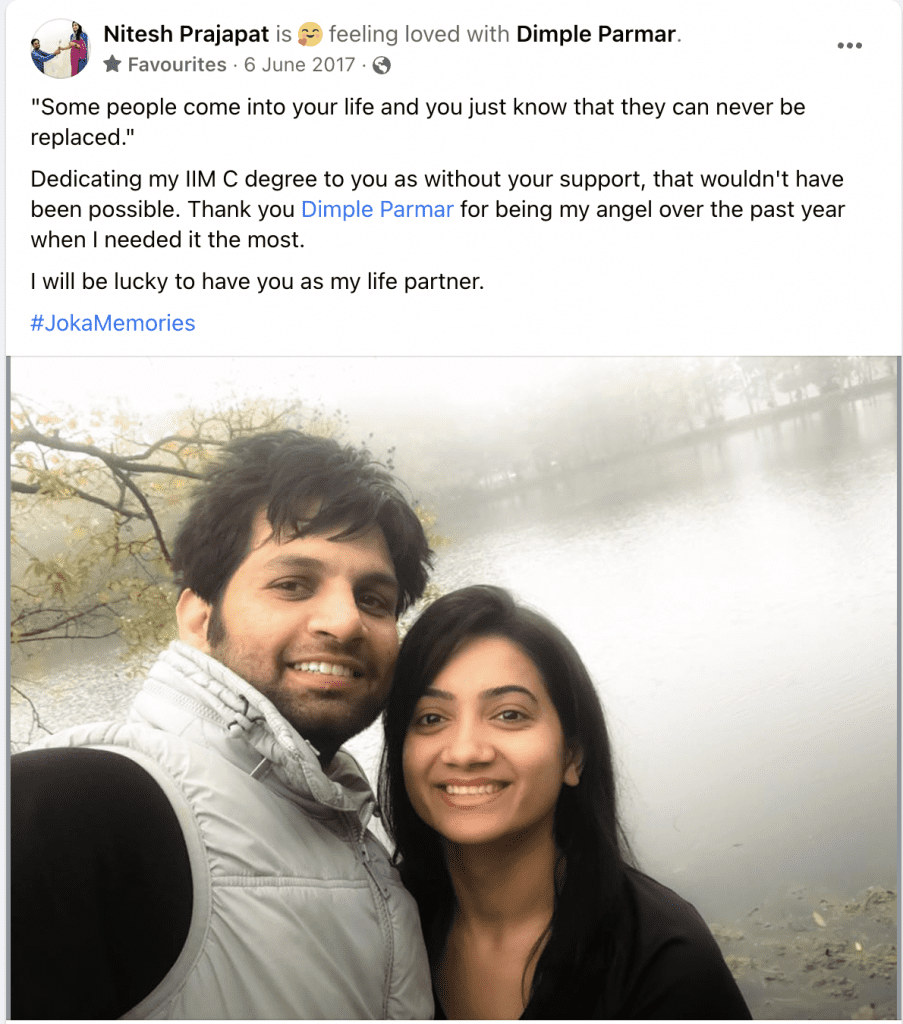 Worst Moments of My Life
He went to Mumbai to consult his doctor after completing his treatment in Kolkata and Jaipur. I requested him to come over to Pune, because he was scheduled to leave for Singapore in a few days. He teased me that he would not come or he would come late.
He informed the doctor in Mumbai that his treatment was completed. He also informed me that he had to go to Singapore for training and he was planning to get married in six months or one year. The doctor said, "You have gained weight, you are looking good, and all your markers are perfect. But I suggest an MRI scan because you have to go abroad." Thus, he got an MRI done and came to Pune the same day. My office and house were at a stone throwing distance. Thus, we both had lunch together when he came home, after which I went back to the office. When I returned in the evening, we received a message from Mami Ji in Mumbai that she had collected and sent his report to us. Nitesh showed his report to me. As Nitesh has collateral cancer, lungs, stomach, and some metastasis words were mentioned in the report. We had no idea about anything. We searched the words online, but could not understand them. Later, we realized that this was the fourth and last stage of cancer. We inferred that his survival rate was 10% and we were not feeling good about it. It came as a big shock to us. I started crying. I was hopeless, directionless, and clueless. That was the most challenging hour of my life.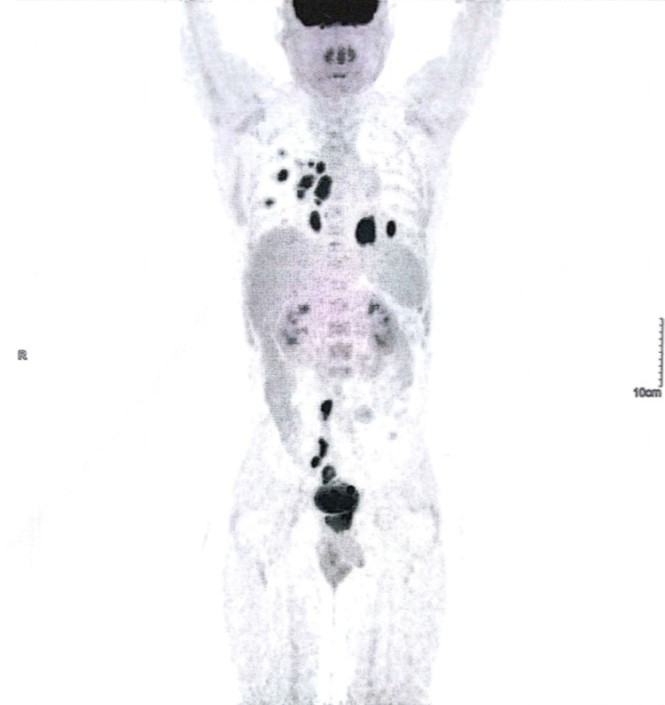 I called the doctor, asked for more information about the report, and sought her guidance. The doctor replied, "Please come to Mumbai immediately." I asked, "Is everything okay?" She replied negatively. She said that it is not okay. She asked us to come to Mumbai.
I went to my office and told my manager that I had bad news and I needed leave to go to Mumbai. He consoled me that everything would be alright. Nitesh's Mama Ji, Mami Ji, and their son came to Pune and we all left together for Mumbai.
Everyone was in shock. Just one report had changed our lives completely. We took a break in Lonavala. I was seated in the backseat and was texting my friend Akanksha. I tried to hide the chat content, but Nitesh read them. He was quite hopeful despite the disturbing news. We did not discuss anything about his health.
I requested his doctor in Mumbai to meet me in his absence. Even his doctor was willing to meet someone from his family. The doctor explained that it was the fourth and final stage and we cannot inform him directly. The doctor drew a sketch and explained the affected body parts, namely, lungs, pelvis, abdomen, prostate, tail bone, and other organs. I asked, "His treatment was completed just a week before. How could it happen again?" The doctor said that he was also not able to understand his case, as he was just 25 years old. He further explained that the MRI test was not in the protocol, but she suggested it as a precautionary measure because he was leaving for Singapore. As per protocol, MRI test is done after 3 to 6 months of treatment.
I asked the doctor about his chances of survival. The doctor said, "If the medicine works, then there is a 10% chance for his five-year survival. It cannot be more than five years. However, Nitesh was likely to survive only six months and it would be a miracle if he lived for two years."
On the other hand, Nitesh was calling me to inform that his PET test was done. I was not able to talk to him. The man I loved the most was dying. I went to the temple inside the hospital and I cried a lot because I did not want to cry in his presence. I did not tell him anything. He asked, "What happened?" I told him, "Just a few days back, your treatment got over and all these things have started again, which I do not like. Nitesh took it casually and said, "I want to go home. I am exhausted." I could see that he was completely drained. We went home and he slept. I called his Mama Ji and showed him the doctor's sketch. We both cried a lot after which Mama Ji went to the office. We met in the evening to discuss the further course of action.
The doctor had told us to conduct a biopsy of his lungs. We were asked to visit another hospital, as the procedure was risky. I took the necessary permission to be with him during the biopsy to check the number of cancer cells in the lungs. We were told that the biopsy report would be sent in fifteen days, due to which we began to panic. However, the doctor said that a delay of 3 or 4 days is normal for delivering the report. But as a caregiver, we wanted to start the treatment at the earliest. It seemed to be an endless journey. We all were drained mentally, emotionally, and physically, and so was Nitesh.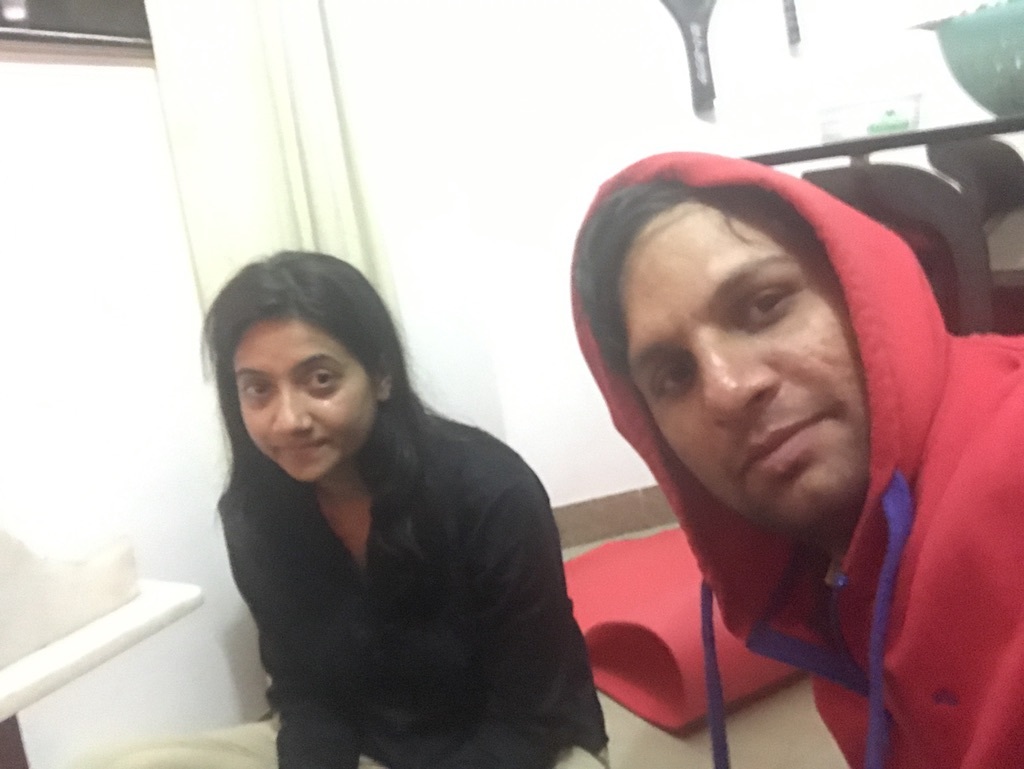 I had to move back to Pune, leaving Nitesh behind in Mumbai. I used to visit him during weekends. I was desperate to lay my hands on any medicine from any corner of the world that could cure him of the disease. I learned about advanced genetic testing from some cancer patients in the US. Nobody had informed us about genetic testing in India. When we enquired about it, the doctor said that it could be conducted but it would not make a big difference. The doctor was right as the procedure did not lead to the desired outcomes.
We did some more tests and sent the reports abroad for examination. We wanted to do the best for him. We had to start his treatment after getting a report of all the conducted tests.
Nitesh's Last Birthday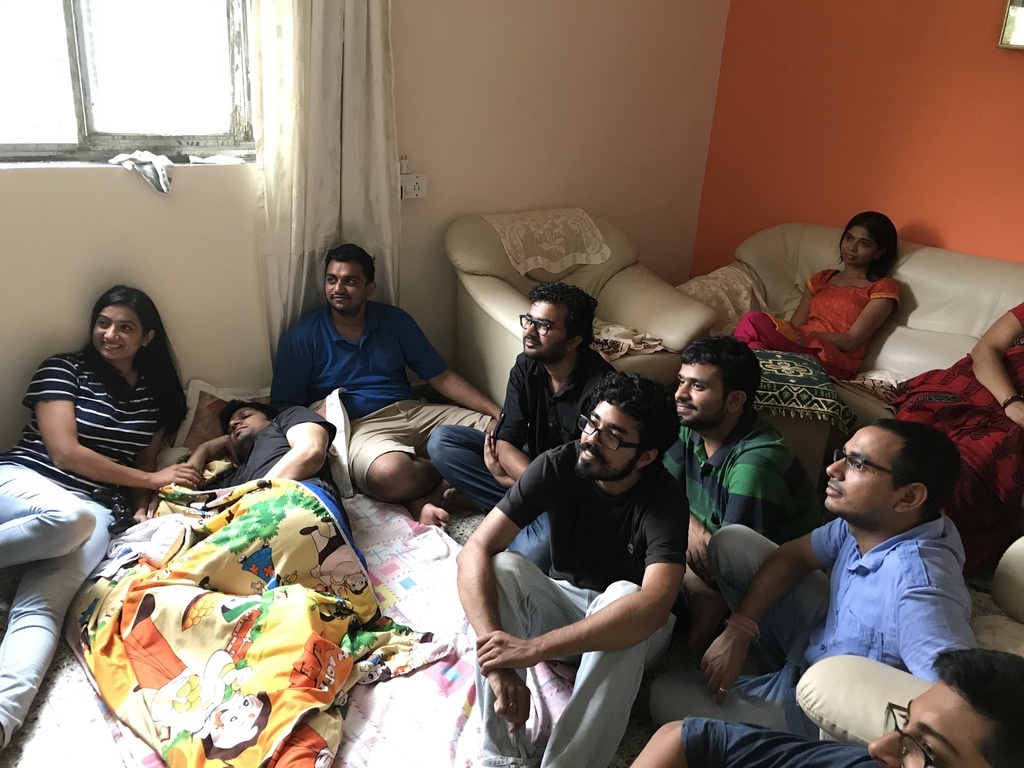 Nitesh's birthday was due and the second round of his treatment was to commence from the next day of his birthday. I could observe his exhaustion. We were not able to discuss anything. I wanted to ask him many things, but I did not have the courage. I wanted to know whether he expected anything apart from what I was already doing for him.
I invited his friends from IIT on his birthday. Nitesh's brother Gautam made a beautiful video. Although we put up a smile on our faces, we were not sure whether this would be his last birthday. Mama Ji, Mami Ji and I were crying silently. We were doing many things simultaneously, namely, treatment, fund raising, and taking care of him. I was so busy in the preparations that I did not get time to spend with him. He too wanted to sleep most of the time and I felt that I should do some work while he rested.
Nitesh always kept himself occupied in watching TV, working on a computer, or simply sleeping. Sometimes, we used to have arguments. As a caregiver, I was concerned about many things, but he had his own perspective as a patient.
Creating a Support System
I needed some support and thus I called his best friend called KK. He was from IIT, Kanpur. He informed all his friends and we created a group to discuss the further action. Somewhere, we all were trying to create a support system. I was trying to hide all these developments from Nitesh. However, Nitesh read KK's message on my mobile. He asked me that how did I get KK's number. He knew everything, but we did not discuss anything. Our home turned to be a silent one.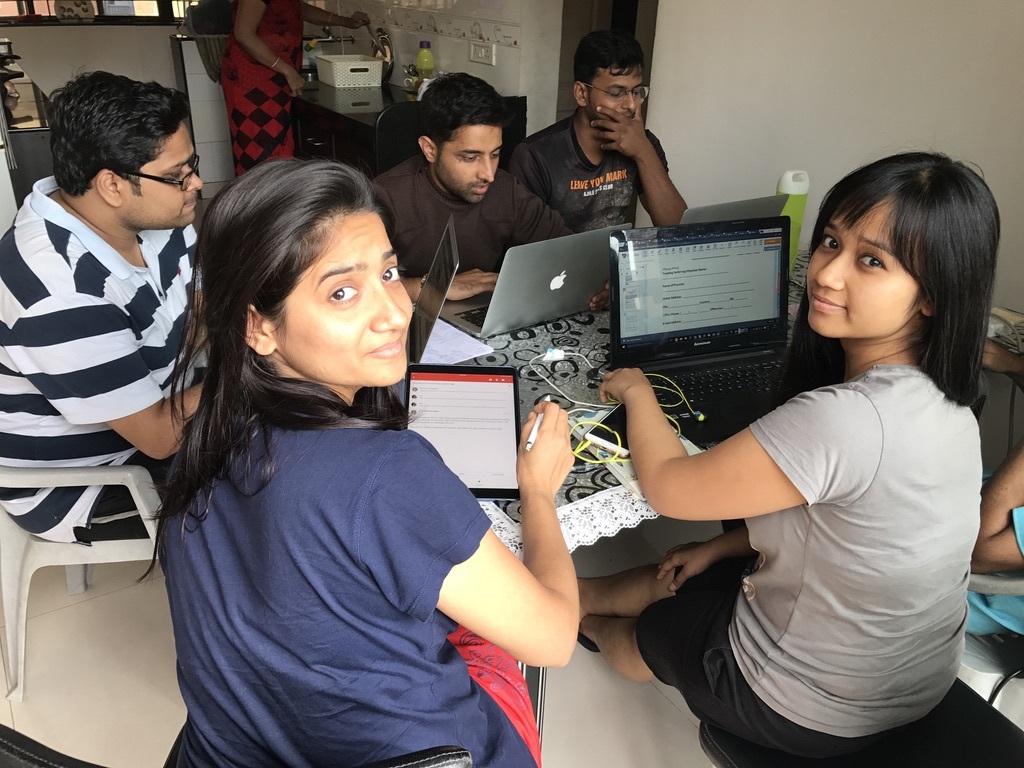 My friend Akanksha also helped me a lot. She came to my place. She helped Nitesh and me as well. I was also looking for hospitals in the US for treatment. Akanksha and I used to sleep alternatively to coordinate with doctors, survivors and caregivers in the US. We had only one thing in mind: what best we could do to save him.
Listen to the podcast here:
Chemotherapy and its Side Effects
It was time to start the next treatment for Nitesh. He shifted to Pune because Mumbai was relatively more polluted. He wanted to breathe in the open air and do pranayama and yoga. In addition, I faced many challenges from his doctor in Mumbai. We were exploring some lifestyle changes for him.
The process of stage 4 cancer was tougher than that of stage 3 cancer. In the third stage, Nitesh was taking care of himself and his treatment. My role was limited to making food and arranging notes and study material from the college. We were quite hopeful in the third stage. We believed that everything would be normal after the chemo sessions.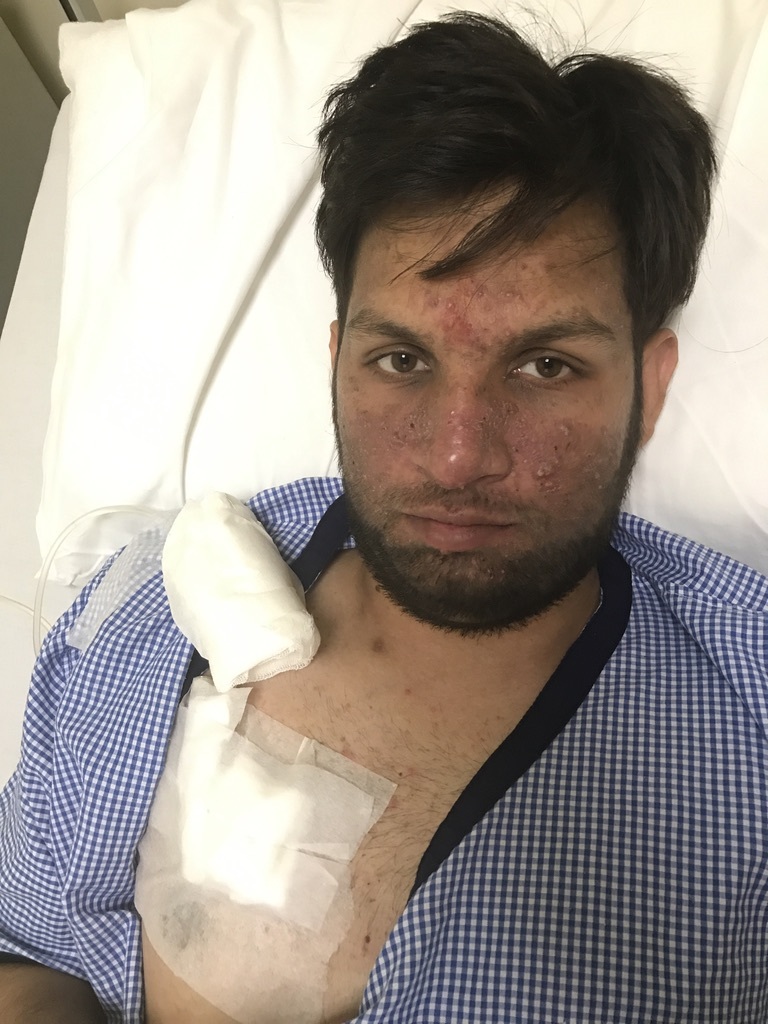 However, we were clueless in the fourth stage, during which I assumed all responsibilities. Nitesh told me during a hospital visit that for the first time in his life, he wished that someone would guide him and attend to his needs. I realized that he really needed someone to take care of, as it was not easy to be in the fourth stage of the disease. I assured him that I would always take care of him. I took the lead for everything from surgery to chemo and radiation.
The side-effect of stage 4 cancer was unbearable. Due to the side effects of chemo, he had around 40 mouth sores. He was unable to drink water. He would bleed if he ate anything. He could not even drink juice or water after which he stopped drinking and eating. He was quite unhappy and did not want to talk because his body including his scalp and his back was full of blisters.
I did everything I could as a caregiver. I arranged for his supplements and nutraceuticals. I sent his reports to doctors worldwide. I ensured that he followed his routine, which he could not. We decided to change his oncologist because his doctor told me to stop trying as he would not be able to survive.
Marrying Nitesh – My Only Hope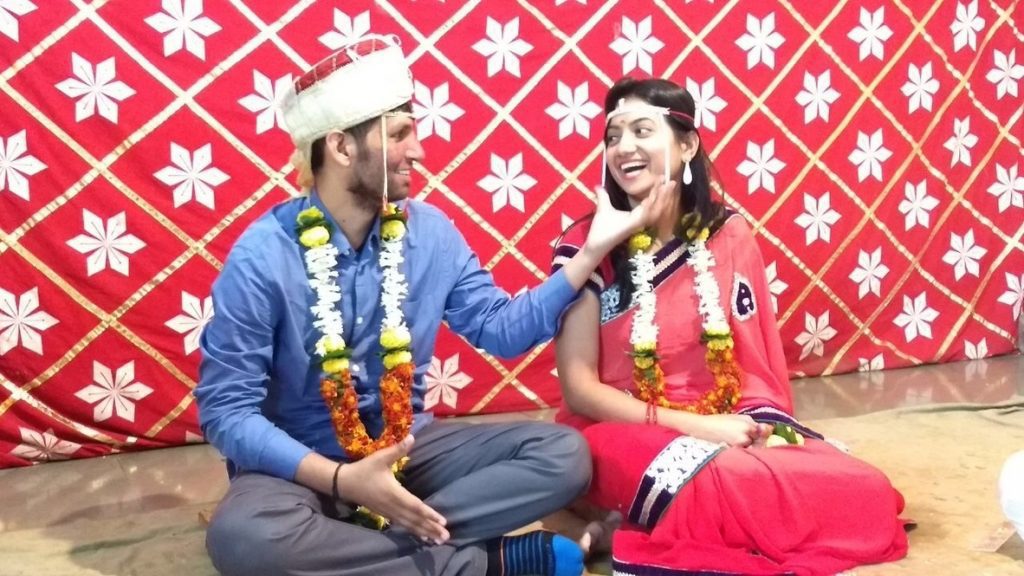 I wanted to marry Nitesh, as I was inspired by the story of Sati Savitri, who brought her husband back from death. I was willing to do anything possible to save his life. I told my parents and other concerned people about my decision. Everybody, including my parents, supported me. Although my parents had their concerns, they knew that I would not listen to anybody if I had decided. Nitesh was not ready for the marriage, but I convinced him. Our marriage was my last hope. I believed that God would help me in saving my husband.
On our wedding day, Nitesh got a text message from one of his friends who suggested that he should not get married. His friend wrote, "You will spoil her life. I have been talking to many doctors about your case and everyone is telling me that you have only 4 to 6 months to live. She will go to any extent to save you, but you have to take your call and decide against marrying her." Nitesh got confused and showed the message to his Mama Ji and he revealed it to me. I told everyone to ignore the message and I did not want Nitesh to rethink his decision. We went to the temple to get married. It took around two hours during which Nitesh found it painful to sit through the rituals.
A New Journey Full of Ups & Downs
I was looking for hospitals in the US for his treatment. Travelling to the US for treatment is not easy and several rules and regulations need to be followed. In addition, money was a significant aspect. We needed more people to support us in this challenging journey. We gradually made a network of IIT and IIM alumni, who supported us a lot specially in the US.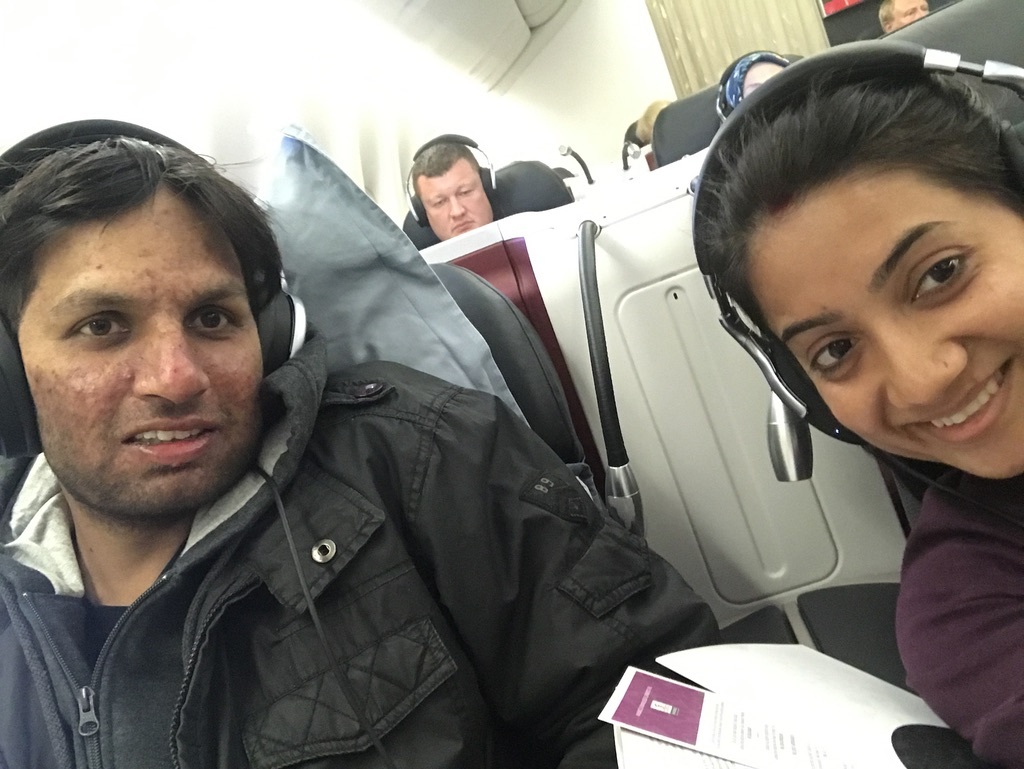 Finally, We decided to go to the US for advanced treatment. We contacted some survivors there who had the same cancer that Nitesh had. We were hopeful that if they could survive, then why not Nitesh? We needed at least one confirmation from the doctors in the US to apply for a visa for the treatment. Luckily, we received confirmation mail from MD Anderson Cancer Center, Texas, for a clinical trial just one day before our visa appointment.
We booked the tickets for the US. At the same time, there was a cyclone in Houston, called Hurricane Harvey. It had a terrible impact on the area where we were supposed to stay. Instead of the usual 24 hours, the flight took 36 hours to reach the destination due to the cyclone. It was a lengthy journey with layovers in Istanbul, Chicago, and San Francisco. Nitesh's condition was getting worse.
Nitesh's friend Rahul had come to the airport to receive us and drop us off at Airbnb, where we spent a night, as he had arranged for our stay. We used to shift from one friend's place to another friend's place. We did not want to bother any one person for a long period, because they too had their own commitments and responsibilities. Jagan was one such friend who helped us morally, mentally, and financially.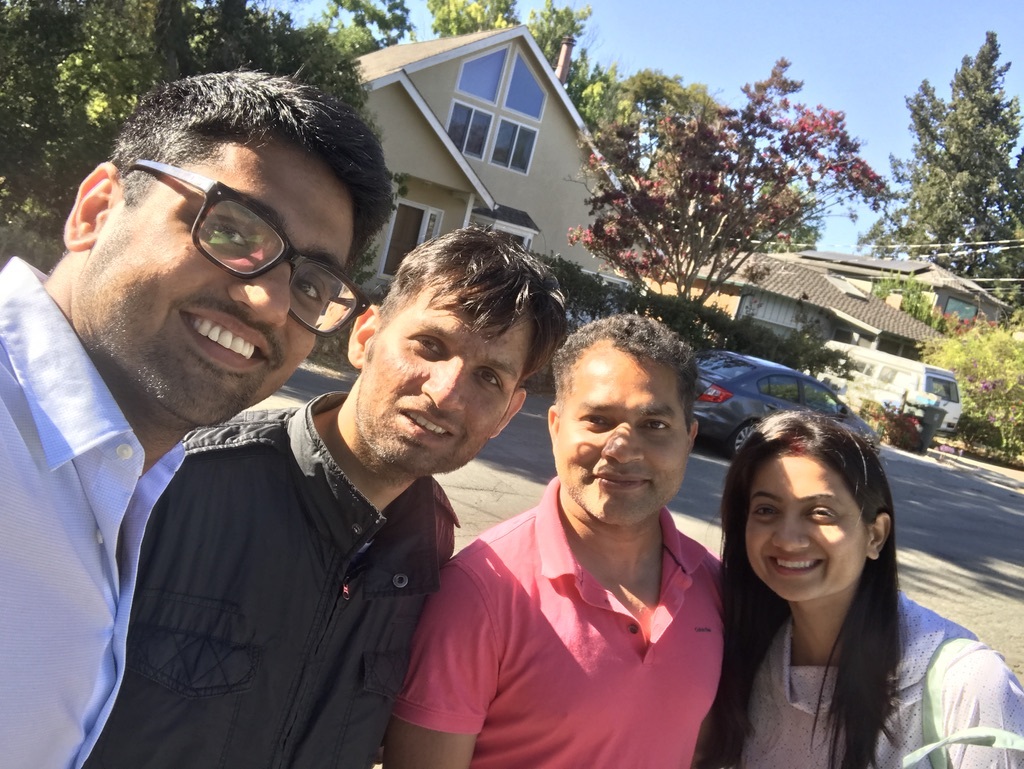 On the other side, unfortunately, the appointment at MD Anderson Cancer Center was cancelled because of Hurricane Harvey. This came as a shock as we wanted to start the treatment at the earliest. I had to start everything from scratch. We were now waiting for a new appointment.
As we were in the US, I was able to call different hospitals for clinical trials, which was not possible in India. Another important challenge was the selection of the clinical trial among the thousands being conducted in the US. We had to make a decision all by ourselves, nobody was available to guide us. However, we were able to focus on ourselves and on the treatment, because we were not having the hectic schedule, as we had in India.
Listen to the podcast here:
In the next episode, we are going to talk about where did we go, how did we find the right doctors, how we navigated through this whole new world of cancer, and how we came across a family who became a beacon of life for us. If god exist in human form, then that is this family.
TO BE CONTINUED….