INTRODUCTION
Mediterranean diet is portrayed by a massive intake of vegetables, beans, fresh fruit, non-refined cereals, nuts, and olive oil (notably extra-virgin olive oil, i.e., achieved with a mechanical pressing and contained acidity rate feebler than 0.8%, by average consumption of fish and dairy, by a cheap intake of red meats, and by sensible use of ethanol, principally red wine drunk during the main meals.
Epidemiological investigations show that the Mediterranean diet is a model of healthful eating that offers better health and the overall status of life and can lessen the risk of heart disease, stroke, diabetes, certain cancers, and death.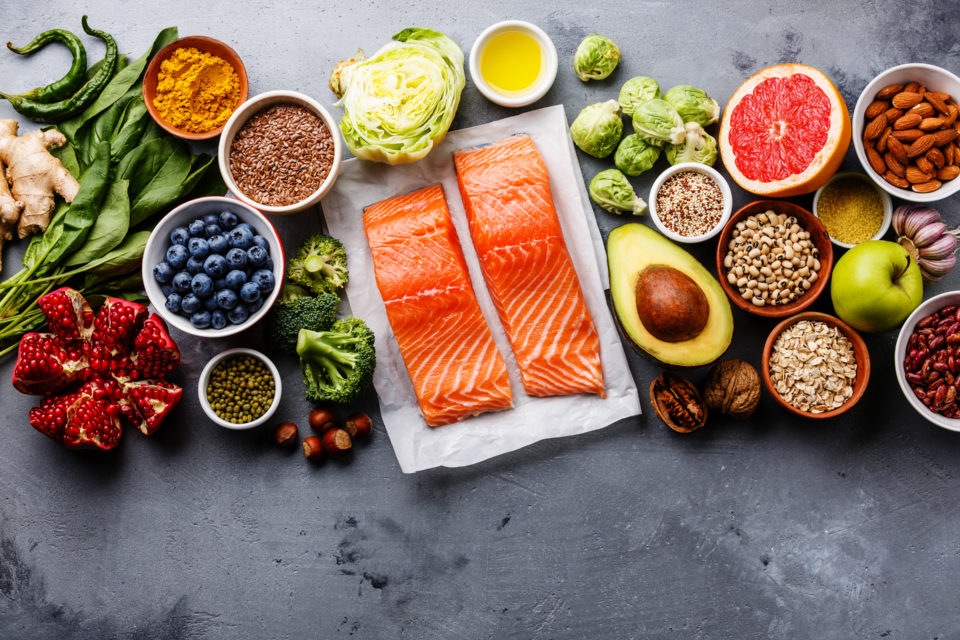 SUMMARY
Epidemiological examinations suggest that the Mediterranean diet can avoid over 90% of type 2 diabetes, 80% coronary heart disease, and 70% stroke. Additionally, extensive prospective studies have observed the Mediterranean diet decreases the incidence of hip fracture, risk of cardiovascular events, gastrointestinal cancers, and overall cancer risk. Other studies suggest reducing systolic blood pressure, improving endothelial functioning, and shielding against macular degeneration. And leisure-time physical activity and the Mediterranean diet separately and jointly lowered all-cause mortality in mature adults.
Various meta-analyses also verify the Mediterranean diet reduces the risk of diabetes and cardiovascular diseases, overall fatality, and cancer, as well as the incidence of Alzheimer's and Parkinson's disease. Altogether, data on the Mediterranean diet emphasizes the importance of emphasizing fruits, vegetables, legumes, healthy fats, and whole grains.
Cancer patients may have unique nutritional needs and should negotiate with a dietician before changing diet. Alcohol consumption can double the risk of certain cancers. Interestingly, some factors that improved adherence to the Mediterranean diet included female sex, older age, and higher physical activity levels, while poorer adherence was linked with males and obesity.
MECHANISM OF ACTION
The diet's health benefits are attributed to the synergistic interactions across nutrients and not to a particular nutrient. At the same time, special activities have been identified to partly justify the cardioprotective and anti-inflammatory effects, including reductions in oxidative stress, inflammation, plasma N-terminal pro-brain natriuretic peptide (NT-proBNP) concentrations, and tumor necrosis factor α. Larger polyphenol intake from lignans, flavonols, and hydroxybenzoic acids present in the Mediterranean diet may be linked with decreased cardiovascular disease dangers. Extra virgin olive oil, which comprises phenolic compounds, vitamin E, and other lipid molecules, also has antiatherogenic effects, ameliorating endothelial function, lipid profiles, insulin affectability, glycemic control, and blood pressure levels.
MEDITERRANEAN DIET AND CANCER PREVENTION
The actual relationship, i.e. beneficial effects between the Mediterranean diet and cancer, is expected to be due to the high contents of antioxidants and anti-inflammatory nutrients carried in many foods of MD like legumes, fresh fruit or nuts, vegetables, fish, and olive oil, especially extra-virgin olive oil, which have a shielding effect in the fighting cell degeneration and propagation of cancer cells.
The relationship between particular foods and cancer is an essential topic. Guarding effects of the Mediterranean diet may be ascribed to the high polyphenols concentration carried in olive oil, wine, and vegetables, all foods acknowledged for their antioxidant and anti-inflammatory ability, and are plentiful in nutrients able to defeat the propagation of cancer cells and to defend the cell membrane from metastasis.
BREAST CANCER
Mediterranean diets may be a protecting factor in the drop of breast cancer incidence. Thanks to a regular intake of fiber, antioxidants, and flavonoids, vitamins and carotenoids can reduce estrogens, increase sex hormones, and neutralize free radicals to shield from DNA damage to diminish oxidative stress.
Several studies stressed the presence of an inverse correlation between excellent MD adherence and breast cancer incidence.
COLORECTAL CANCER
Diet in general and predominantly Mediterranean diet play a vital role for colorectal cancer since healthy or non-healthy diet models are considered among the most critical risk factors in the onset of this neoplasia. A choicer quality of diet, whichever is as long as healthy, is linked with a low CRC risk individually from hereditary, traditional, e.g., belonging to a distinct ethnic group or environmental factors. Fundamental changes in the lifestyle (e.g., the introduction of daily physical activity and a healthy diet) and the exclusion of smoking could ascertain a reduction in CRC incidence of 70%.
It emerged that fiber, calcium, and a regular intake of garlic might serve as protective elements reducing CRC risk. In contrast, no-healthy diet patterns, e.g., those with a high intake of meat or alcohol, represent harmful elements increasing CRC incidence.
Great strictness to MD was able to reduce about 30% and 45% CRC risk in men.
GASTRIC CANCER
Concerning stomach cancer, although the absolute risk factor is the presence of Helicobacter pylori and there is an inverted causality problem between risk factors associated with diet and gastric cancer (causality defined by disease preclinical symptoms which transform alimentary habits), in this case also it is not plausible to exclude a predominant part of the diet in the gastric cancer incipience.
Observing more intimately MD products and connecting them with GC, we may perceive Mediterranean characteristics, which can offer protecting factors to reduce GC risk, mainly portrayed by high antioxidants in fresh fruit and vegetables. Antioxidants reduce oxidative DNA damages eradicating free radicals and taking part in many biological transformations linked with all cancers (e.g., bioactivation of carcinogens, cell signaling, cell regulation circle, inflammation, and angiogenesis). Still, in this precise neoplasia, high consumption of fresh fruit and vegetables may decrease Helicobacter pylori's negative effect and its resulting losses.
PROSTATE CANCER
According to Wilson and Giovannucci's study (2012), lifestyle and diet patterns are the leading factors in preventing the most lethal prostate cancer cases. For this neoplasia, fats, particularly animals derived fats and oils, dairy, and calcium, negatively affect raising the PCa incidence. In contrast, a high intake of fiber and vegetables, soy, legumes, green tea, tomatoes, an increase of folates, vitamins, especially vitamin C, and nutrients as lycopene have a protective effect on the prostate, decreasing the cancer risk.
Studies conducted by Kenfield and Richard confirmed a strong relationship between diet patterns and prostate cancer risk. Both illustrated as PCa was less extensive in the Mediterranean area than in the Northern European ones. A high MD strictness was inversely correlated with a low incidence of prostate cancer and was connected with dizzier cancer fatality.
CONCLUSION
Inspecting jointly a series of meaningful studies, related to the last decade, about the relationship linking the Mediterranean diet with cancer risk or its frequency, it emerged that diet might represent a determinant factor in the cancer origin, especially when MD adherence is not a unique or moderate diet pattern. Still, it is a regular and constant lifestyle. In the analysis of MD benefits, it appeared as a protective factor against cancer onset, peculiarly when more consumption of olive oil, fresh fruit, and vegetables, thanks to antioxidant and anti-inflammatory qualities of these foods. Hence, it is vital to increase prospective studies to evaluate how adherence to MD reduces cancer risk considering a series of exogenous variables as geographical areas (thus their pollution), lifestyle, hereditary factors, and origin of foods.
In conclusion, it emerged clearly that the Mediterranean diet might contribute to the decline of cancer onset in the global population since it is distinguished by a series of foods that, due to their antioxidant and anti-inflammatory characteristics, can prevent and counteract DNA damages and curb down the development of various types of cancer, affecting negatively cell propagation. Comprehending this dietary pattern could be remarkably complex both because of the problematic availability of the foods and because of the actual difficulty of satisfying the world's need for Mediterranean products guaranteeing, at the same time, the quantity and quality of the advised products. It is, therefore, essential to invite governments and institutions to appraise the cost-benefits of promoting education programs for proper nutrition to reduce cancer onset through repression campaigns that educate a healthy lifestyle in which diet is one of the health.