Cancer is the scariest word. Cancer does not just affect the body of a person. It destroys the mind as well. It is the second leading cause of death all over the world. The good news is awareness reduces death by 50%, and it can be cured if detected at an early stage and treated properly. To help you find the best treatment and hospitals, we have compiled a list of the best hospitals in Hyderabad.
Apollo Cancer Centres, Secunderabad, Hyderabad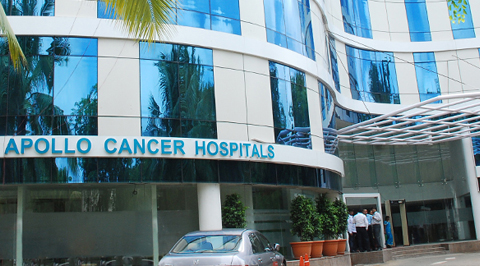 Apollo Cancer Centres, located in Secunderabad, is a centre of excellence in cancer care. The hospital offers comprehensive cancer care, including prevention, treatment and rehabilitation. The hospital has all the modern technology and was the first hospital to have a PET CT Scanner in India. The latest addition is Novalis Tx, a new standard in radiation therapy and radiosurgery. The hospital offers radiation oncology, medical oncology, surgical oncology, and head & neck oncology.
The tumor board of the Apollo Cancer Centre facilitates the collaboration of oncologists to discuss and provide the best treatment for the patients. As we all know that early detection is the key to effective treatment; the hospital provides Apollo Cancer Check, gender-specific investigations covering all common cancers.
American Oncology Institute, Lingampally, Hyderabad

American Oncology Institute offers best cancer care for all types of cancers and for all age groups and genders. It provides personalized care to the patients as per their needs. The hospital offers top-notch services along with expert medical professionals assisted by advanced facilities. It has an outstanding team of radiation oncologists, medical oncologists, and surgical oncologists to deliver a variety of treatments and medical procedures that meet international quality and precision standards.
It has the best treatment plans which include sole or combination of chemotherapy, radiation therapy and surgery. It specializes in radiotherapy, medical oncology, hemato-oncology, surgical oncology, head and neck surgery, neuro onco surgery, musculoskeletal oncology.
Omega Hospital, Banjara Hills, Hyderabad

Omega hospital offers advanced cancer treatment protocols using the latest technology and equipment. It has world-renowned oncologists, critical care specialists, nurses, pharmacists, and dieticians. An autonomous unit of the Hyderabad Institute of Oncology, Omega Hospital has more than 500 employees who take care of 89,500 patients annually. Approximately 65,000 outpatient visits to the hospital with 1069 same-day surgery visits and 1760 major surgeries annually.
The hospital is fortified with ICU and advanced computerized charting and coding technology, digital imaging to understand recorded vital signs, cardiac rhythms, CT scans, x-rays, and other essential diagnostic parameters, contemporary and modern-innovative designs to cater the best service is a part of Omega's achievements.
It specializes in medical oncology, surgical oncology, radiation oncology, V-MAT radiation therapy, ortho oncology, neuro-oncology, cyberknife, PET CT scans, digital mammography with tomosynthesis and nuclear medicine.
Basavatarakam Indo American Cancer Hospital & Research Institute
Banjara Hills, Hyderabad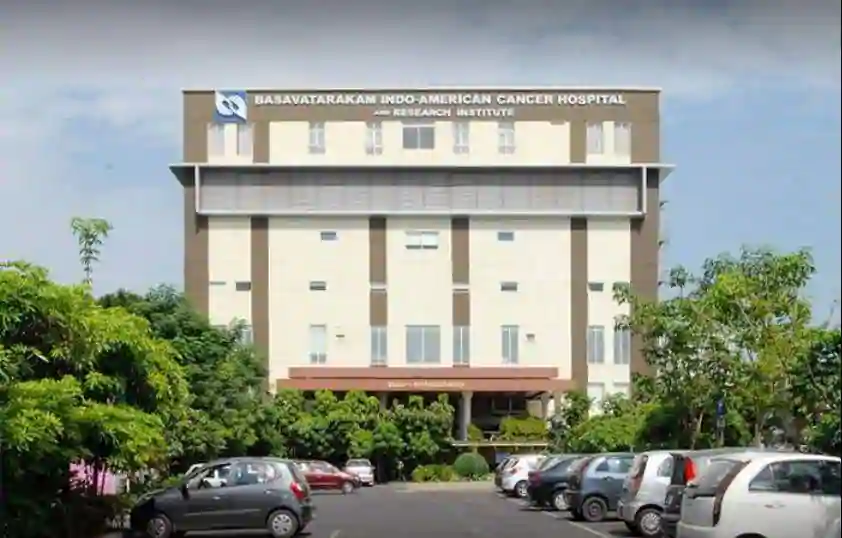 Basavatarakam Indo-American Cancer Institute is known as one of the best cancer institutes in India. It was inaugurated by then Prime Minister Shri Atal Bihari Vajpayee in 2000. It is a well-known cancer care institute that aims to provide world-class cancer care to patients at affordable prices. The hospital's objective is to serve the community's needs and is run on a not-for-profit basis.
BIACH&RI aims to provide high-class treatment at an affordable cost to cancer patients and has grown exponentially. Here best treatment is given to everyone irrespective of their economical status. Best treatment and facilities are provided to less privileged patients also. A center for alternative medicine has been introduced here. It includes naturopathy and Ayurveda treatments.
It specializes in medical oncology, surgical oncology, radiation oncology, bone marrow transplant, anesthesiology, laboratory medicine, radiology and imaging, nuclear medicine, internal medicine, and allied clinical services. The institute gives the highest priority to the best treatment. It is recognized by National Accreditation Board for Hospitals & Health Care – NABH, National Accreditation Board for Testing and Calibration Laboratories – NABL and The standard for Occupational Health and Safety Management Systems – TUV (OHSAS).
Kims Bibi Cancer Hospital, Malakpet, Hyderabad
The Medical Oncology Department at KIMS works in diagnosing, assessing, treating, and managing patients with cancer. It aims to provide the best possible outcome for cancer patients, whether a cure or palliation and prolongation of good quality of life. It also offers counselling for patients and their families. Our medical oncologists discuss treatment options with patients, supervise the therapy, and manage other disease complications and treatment that may arise. It has successfully treated many national and international patients suffering from rare forms of cancer.
KIMS hospital has the best oncologists and cancer specialists; doctors have expertise in providing quality treatment by using the best techniques in radiation oncology, medical oncology in the field of prostate gland cancers, ovarian cancers, brain cancers, colon cancers by using the latest techniques such as True Beam STX, robotic procedures, and new nuclear medicinal advancements in the detection and treatment of rare types of cancers and malignancies which were once invincible.
Yashoda Cancer Hospital, Hyderabad
Yashoda Cancer Institute is known as one of the best cancer hospitals in India. With three dedicated and independent units at Somajiguda, Secunderabad & Malakpet, the hospital caters to more than 16,000 new cancer patients from India and neighboring countries every year.
It offers all treatment modalities under one roof. Patients are examined and evaluated in multimodality clinics by a team of specialists in each malignancy, such as head and neck, breast, or gynaecology. Treatment decisions are then made in multidisciplinary tumor boards where the specialists collaboratively discuss the treatment plan. The emphasis is on combining all treatment modalities in the right combination to achieve the best results while minimizing the side effects. It mainly focuses on organ conservation surgery to improve the quality of life without affecting the chances of cure. The hospital has brought in the latest technologies and performed advanced procedures. It has the experience of treating the world's most significant number (10000) of cancer patients with RapidArc Technology. It is the first hospital in India to implement 4D gated RapidArc to treat moving tumors. It specializes in medical oncology, surgical oncology, radiation oncology, general medicine, pain medicine, radiology, pediatric, gynecology, nuclear medicine, and transplants.