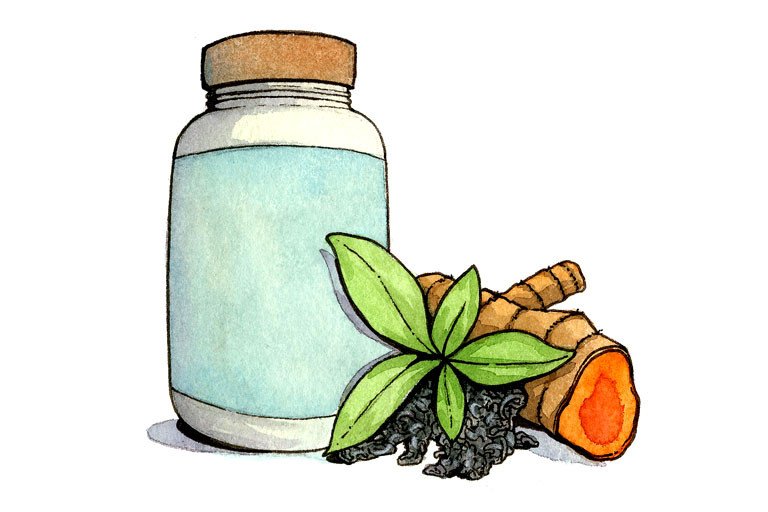 Introduction
Zyflamend is a herbal supplement, the formulation of 10 different herbs, namely Turmeric (Curcuma longa), Ginger (Zingiber officinale), Green tea (Camellia sinensis), Holy Basil (Ocimum sanctum), Rosemary (Rosmarinus officinalis), Oregano (Origanum vulgare), Hu Zhang (Polygonum cuspidatum), Chinese goldthread (Coptis chinensis), Barberry (Berberis vulgaris) & Skullcap (Scutellaria baicalensis). Zyflamend is supposed to possess antiproliferative, antiangiogenic and anti-inflammatory properties; its purported uses are inflammation and cancer. It has anti-cancer activity, as some studies showed that zyflamend could degrade the number of prostate cancer cells and reduce the markers related to breast cancer and prostate cancer. The constituents of zyflamend responsible for reducing inflammation are ginger, green tea, turmeric, rosemary, Chinese goldthread, hu zhang, and Scutellaria by inhibiting the activity of COX-2.
Zyflamend and its anticancer effects
The bioactive combinations of zyflamend are showed to have a synergistic effect for the PCA (Patient-controlled analgesia, a computerized pump with a syringe to give the patient the pain medication prescribed, directly to intravenous line to manage the pain) treatment that has improved the outcomes of HG-PIN (common PCA precursor); also, no side effects or toxicity is observed when taken orally, during the intravenous PCA administration.
A study showed that when zyflamend is given to the murine xenograft model in human equivalent doses, the growth of the tumour-derived both from androgen-dependent and androgen-independent PCA cells has been inhibited. When zyflamned is given along with hormone ablation/therapy (androgen derived therapy), the regression of tumour size is quickened with PSA (prostate-specific antigen) levels compared to ADT alone.
Zyflamend has reduced AR(Androgen receptors) protein levels and HDACs (Histone Deacetylases) at the molecular level. It has also reduced cell viability in several cell lines like PrEC, RWPE-1, CWR22Rv1, LNCaP & PC3 by inhibiting the enzymes of the biosynthesis pathways.
In bone cancer, Zyflamend showed anticancer activity by downstream the signalling of NF-κB and modulating the activity of NF-κB(protein complex that controls DNA transcription, cytokine production and cell survival).
In pancreatic cancer, Zyflamned has repressed activity of NF-κB, VEGF(Vascular endothelial growth factor, signal protein for formation of blood vessels), COX-2(an isoenzyme, mediate pain and support the inflammatory process).
Zyflamend inhibits melanoma cell growth, migration, INOS (Inducible nitric oxide synthase, immune-regulatory function), COX-2 expression and induces cell apoptosis in other types of cancer like skin cancer, mouth cancer, kidney cancer, lung adenocarcinoma, cisplatin-resistant (cisplatin is a cancer drug a medication of chemotherapy for cancer patients) bladder cells. 
In in-vitro settings, Zyflmaned has inhibited inflammatory enzymes and reduced the phosphorylation of retinoblastoma protein (tumour suppressing protein) as phosphorylation leads to inactivation of the protein, also induced apoptosis in human prostate cancer cells. 
Zyflamend, along with carnosol (a constituent of rosemary and antioxidant phenolic component), inhibited mutagenesis by inhibiting Hsp90(a molecule that helps maintain the cell homeostasis) ATPase, which reduced hydrocarbon receptor levels suppressing CYP1A1 & CYP1B1.
Other therapeutic effects of Zyflamend
Zyflamend helps to alleviate inflammation to help reduce pain.
Side effects and Risk factors
Side effects include heartburn, bad taste in the mouth, and diarrhoea.
Individuals who are hypersensitive to any of the constituents of the formulation are advised not to consume zyflamend.
Some preclinical studies showed zyflamend interacts with chemotherapy drugs, but no clinical significance has not been ascertained.
There are chances for herb-drug interaction; if you are on other prescribed medications, it is advised to check with the medical professional/practitioner.