There are many ways to embrace vegan living. Yet one thing all vegans have in common is a plant-based diet avoiding all animal foods such as meat (including fish, shellfish and insects), dairy, eggs and honey – as well as avoiding animal-derived materials, products tested on animals and places that use animals for entertainment.
The natural question: Are vegetarians more resistant to cancer because they don't eat meat?
Plant-based food (fruits, vegetables, cereals, nuts and seeds, legumes, and vegetable oils) are the main source of fibre and other bioactive compounds in the diet . Particularly, plant bioactives including fibre, sulphur compounds, carotenoids, and polyphenols, present in foods such as cruciferous and allium vegetables, tomatoes, green tea, and whole grain cereal, have well-known anticarcinogenic properties . Plant-based foods are therefore likely to exert anti-inflammatory and anti-oxidative effects against the development of cancer .
Fight cancer cell formation and replication
Rebuild healthy cells including immune cells
Regulate hormones
Reduce certain types of inflammation.
Fill your plate with Fibre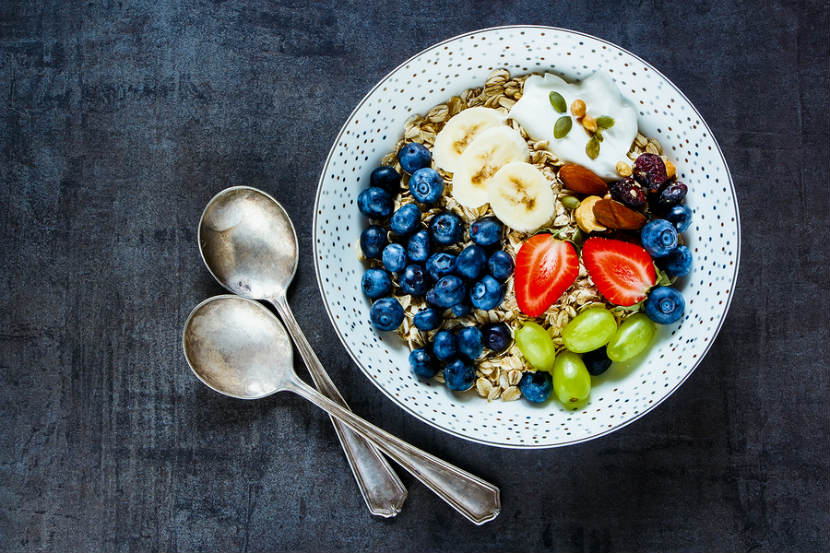 Fibre also helps to remove waste from the digestive system, which can play a role in preventing colorectal cancer. Eating a fibre-rich diet can also help you achieve a healthy weight, which can also help to reduce the risk of cancer.
Eat the VIBGYOR
The more naturally colourful your diet is, the more likely it is to have an abundance of cancer-fighting compounds. The pigments that give fruits and vegetables their bright colours—like beta-carotene in sweet potatoes or lycopene in tomatoes—can help reduce cancer risk. Cruciferous vegetables, such as broccoli, kale, and cabbage, have been linked to a reduced risk of colorectal cancer, lung, and stomach cancers, while carotenoid-rich vegetables, such as carrots and sweet potatoes, have been associated with a reduced risk for breast cancer.
Look for plant proteins
Instead of always choosing animal proteins, try adding more plant proteins to your meals such as beans, legumes, Pulses nuts and seeds. Cooking animal foods at high-heat will create carcinogens. 
Enjoy the soy
Soy products have been associated with a reduced risk of breast cancer and a reduced risk of recurrence and mortality for women who have been previously treated for breast cancer. Research in Shanghai shows that women with breast cancer who consume 11 grams of soy protein each day can reduce mortality and risk of recurrence by about 30 percent. U.S. populations show similar findings: The higher the isoflavone intake from soy products, the less risk of mortality and recurrence in women with breast cancer.
Ditch the dairy and opt for plant-based milk
Cereal based: Oat milk, Rice milk, Corn milk, Spelt milk.
Legume based: Soy milk, Peanut milk, Lupin milk, Cowpea milk.
Nut based: Almond milk, Coconut milk, Hazelnut milk, Pistachio milk, Walnut milk.
Seed based: Sesame milk, Flax milk, Hemp milk, Sunflower milk.
Pseudo-cereal based: Quinoa milk, Teff milk, Amaranth milk.
Functional components of plant-based milk alternatives and their health benefits are discussed below:
Type of milk
Functional or bioactive component
Health benefits
References
Soy milk
Isoflavones
Protective effect against cancer, cardiovascular disease, and osteoporosis
Omoni and Aluko (2005)
Phytosterols
Cholesterol lowering properties
Fukui et al. (2002)
Peanut milk
Phenolic compounds
Protective role against oxidative damage and diseases like coronary heart disease, stroke, and various cancers
Wien et al. (2014), Settaluri et al. (2012)
Rice milk
Phytosterols, especially β-sitosterol and γ-oryzanol
Lowers cholesterol, hypertension, anti-diabetic, anti-inflammatory, anti-oxidative effects
Biswas et al. (2011), Faccin et al. (2009)
Oat milk
β-Glucan
Increases solution viscosity and can delay gastric emptying time, increases gastrointestinal transit time which are associated with their reduced blood glucose level, hypocholesterolemic effect by reducing total and LDL cholesterol
Welch (1995), Truswell (2002), Deswal et al. (2014)
Sesame milk
lignans such as sesamin, sesamolin, sesaminol
Neutraceutical properties such as antioxidative, hypocholesterolemic, anticarcinogenic, antitumor, and antiviral activities
Namiki (2007)
Almond milk
Alpha-tocopherol
Powerful antioxidant which plays a critical role in protecting against free-radical reactions
Burton and Ingold (1989), Niki et al. (1989)

Arabinose
Prebiotic properties
Mandalari et al. (2008)
  –
Coconut Milk
Lauric acid
Promotes brain development, boosts immune system and maintains the elasticity of the blood vessels
Seow and Gwee (1997)
Total dairy products intake has no significant impact on increased cancer mortality risk, while low total dairy intake reduces relative risk based on the non-linear model. However, whole milk intake in men significantly contributed to elevated prostate cancer mortality risk. Furthermore, a linear dose-response relationship existed between the increase in entire milk intake and the increase in prostate cancer mortality risk.
References
Omoni, A. O., & Aluko, R. E. (2005). Soybean foods and their benefits: potential mechanisms of action. Nutrition reviews, 63(8), 272-283. https://doi.org/10.1111/j.1753-4887.2005.tb00141.x
Fukui, K., Tachibana, N., Wanezaki, S., Tsuzaki, S., Takamatsu, K., Yamamoto, T., … & Shimoda, T. (2002). Isoflavone-free soy protein prepared by column chromatography reduces plasma cholesterol in rats. Journal of agricultural and food chemistry, 50(20), 5717-5721. https://doi.org/10.1021/jf025642f
Wien, M., Oda, K., & Sabaté, J. (2014). A randomised controlled trial to evaluate the effect of incorporating peanuts into an American Diabetes Association meal plan on the nutrient profile of the total diet and cardiometabolic parameters of adults with type 2 diabetes. Nutrition journal, 13(1), 1-9. https://doi.org/10.1186/1475-2891-13-10
Settaluri, V. S., Kandala, C. V. K., Puppala, N., & Sundaram, J. (2012). Peanuts and their nutritional aspects—a review. https://.doi.org/10.4236/fns.2012.312215
Biswas, S., Sircar, D., Mitra, A., & De, B. (2011). Phenolic constituents and antioxidant properties of some varieties of Indian rice. Nutrition & Food Science. https://doi.org/10.1108/00346651111117391
Faccin, G. L., MIOTTO, L. A., do Nascimento VIEIRA, L., Barreto, P. L. M., & Amante, E. R. (2009). Chemical, sensorial and rheological properties of a new organic rice bran beverage. Rice Science, 16(3), 226-234. https://doi.org/10.1016/S1672-6308(08)60083-9
Welch, R. W. (1995). Oats in human nutrition and health. In The oat crop (pp. 433-479). Springer, Dordrecht. https://doi.org/10.1007/978-94-011-0015-1_14
Truswell, A. S. (2002). Cereal grains and coronary heart disease. European journal of clinical nutrition, 56(1), 1-14. https://doi.org/10.1038/sj.ejcn.1601283
Deswal, A., Deora, N. S., & Mishra, H. N. (2014). Optimization of enzymatic production process of oat milk using response surface methodology. Food and Bioprocess Technology, 7(2), 610-618. https://doi.org/10.1007/s11947-013-1144-2
Namiki, M. (2007). Nutraceutical functions of sesame: a review. Critical reviews in food science and nutrition, 47(7), 651-673. https://doi.org/10.1080/10408390600919114
Burton, G. W., & Ingold, K. U. (1989). Vitamin E as an in vitro and in vivo antioxidant. Annals of the New York Academy of Sciences, 570, 7-22. https://doi.org/10.1111/j.1749-6632.1989.tb14904.x
Niki, E., Yamamoto, Y., Takahashi, M., Komuro, E., & Miyama, Y. (1989). Inhibition of Oxidation of Biomembranes by Tocopheror a. Annals of the New York Academy of Sciences, 570(1), 23-31. https://doi.org/10.1111/j.1749-6632.1989.tb14905.x
Mandalari, G., Nueno-Palop, C., Bisignano, G., Wickham, M. S. J., & Narbad, A. (2008). Potential prebiotic properties of almond (Amygdalus communis L.) seeds. Applied and environmental microbiology, 74(14), 4264-4270. https://doi.org/10.1128/AEM.00739-08
Seow, C. C., & Gwee, C. N. (1997). Coconut milk: chemistry and technology. International journal of food science & technology, 32(3), 189-201. https://doi.org/10.1046/j.1365-2621.1997.00400.x