What is Robotic Surgery?
Robotic Surgery is a type of laparoscopic (or thoracoscopic) Surgery where the doctor uses precise robotic arms to control some of the surgical instruments. The advantages of this type of Surgery are largely the same as laparoscopic and thoracoscopic surgery: it can help reduce blood loss during Surgery and Pain afterwards. It can also shorten hospital stays and let people heal faster.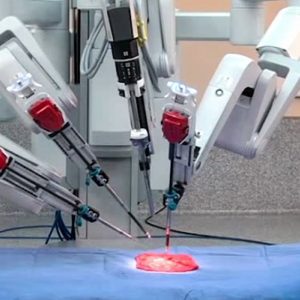 Potential benefits of Robotic Surgery for patients include:
Reduced pain
Lower risk of infection or complications
Less blood loss (fewer transfusions)
Shorter hospital stays
Less scarring due to smaller incisions
Faster return to normal activities (e.g., sexual function, urinary continence)
What types of cancers are treated with Robotic Surgery?
Oesophageal surgery
Gastric (stomach) surgery
Pancreatic surgery
Liver surgery
Colon and Rectal surgery
How is Robotic Surgery done?
Robotic Surgery combines advanced computer technology with the surgeon's skills and experience. This technology provides a 10x magnified, high-definition, 3D-image of the elaborate anatomy of the patient's body. The surgeon uses controls in the console to manipulate special surgical instruments that are smaller, as well as more flexible and manoeuvrable than the human hand. The robot replicates the hand movements of the surgeon while minimizing the tremors of the hand. In this way, even during the most complex procedures, the surgeon can operate with increased precision, dexterity and control.
What are the side effects of Robotic Surgery?
Robotic Surgery is designed to minimize side effects, but you will likely experience some side effects from your procedure. Side effects may depend on the type of cancer Surgery performed, the extent of the surgery, your overall health and other factors. Side effects of Robotic Surgery may include:
Pain
Bleeding
Difficulty swallowing
Loss of appetite
Fatigue
Sexual side effects
Infection
References:
https://www.cancer.org/treatment/treatments-and-side-effects/treatment-types/surgery/special-surgical-techniques.html
https://ccr.cancer.gov/clinical-trials/foregut-team/team/minimally-invasive-surgery