Many kinds of cancer can be treated with targeted therapies, and there are many different types of targeted therapies. Here are some types with a few examples of how they are used.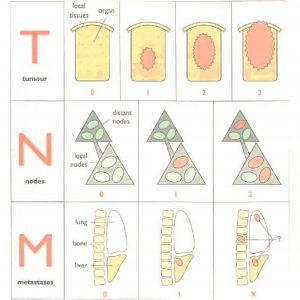 Angiogenesis inhibitors: These block the formation of new blood vessels that feed and nourish the cancer cells. Example: bevacizumab (many different cancers).
Monoclonal antibodies: These might deliver molecules by themselves or molecules with drugs into or onto the cancer cell to kill it. Examples: alemtuzumab (certain chronic leukemias), trastuzumab (certain breast cancers), cetuximab (certain colorectal, lung, head and neck cancers). NOTE: Some monoclonal antibodies are referred to as Targeted therapy because they have a specific target on a cancer cell that they aim to find, attach to, and attack. But other monoclonal antibodies act like Immunotherapy because they make the immune system respond better to allow the body to find and attack cancer cells more effectively.
Proteasome inhibitors: These disrupt normal cell functions so the cancer cells die. Example: bortezomib (multiple myeloma)
Signal transduction inhibitors: These disrupt cell signals so that they change the actions of the cancer cell. Example: imatinib (certain chronic leukemias)
Benefits of Targeted Therapy
Different targeted therapies offer different benefits. Depending on your treatment goals, your drug(s) may be used to:
Block or turn off signals that tell cancer cells to grow or multiply.
Alter proteins within cancer cells that cause those cells to die.
Prevent new blood vessels from forming, which cuts off blood supply to your tumor.
Tell your immune system to attack the cancer cells.
Deliver toxins that kill cancer cells without harming healthy cells.
What are the side effects of targeted cancer therapies?
Scientists had expected that targeted cancer therapies would be less toxic than traditional chemotherapy drugs because cancer cells are more dependent on the targets than are normal cells. However, targeted cancer therapies can have substantial side effects.
The most common side effects seen with targeted therapies are diarrhea and liver problems, such as hepatitis and elevated liver enzymes. Other side effects seen with targeted therapies include:
Skin problems (acneiform rash, dry skin, nail changes, hair depigmentation)
Problems with blood clottingand wound healing
High blood pressure
Gastrointestinal perforation (a rare side effect of some targeted therapies)
Certain side effects of some targeted therapies have been linked to better patient outcomes. For example, patients who develop acneiform rash (skin eruptions that resemble acne) while being treated with the signal transduction inhibitors erlotinib (Tarceva®) or gefitinib (Iressa®), both of which target the epidermal growth factor receptor, have tended to respond better to these drugs than patients who do not develop the rash. Similarly, patients who develop high blood pressure while being treated with the angiogenesis inhibitor bevacizumab generally have had better outcomes.
The few targeted therapies that are approved for use in children can have different side effects in children than in adults, including immunosuppression and impaired sperm production.