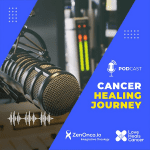 Dr. Junia Deborah, an assistant professor from Pondicherry, faced and conquered stage 3 Hodgkin's Lymphoma with unwavering determination and resilience. Her cancer journey began with the pain of treatment at a private hospital, but unfortunately, she experienced a relapse a year later. This setback led to high-dose chemotherapy and stem cell therapy, a critical turning point in her battle against cancer. Dr. Deborah's body exhibited an abundant supply of stem cells, enabling her to undergo a successful transplant in 2015. Her story is a testament to the power of resilience and the potential for triumph in the face of adversity.
Learn about the valuable lessons Dr.Junia learned through her strength and dedication, she continues to make a meaningful impact in the lives of others, embodying the spirit of courage and compassion.
Read 1,000+ cancer success stories here: https://zenonco.io/cancer/cancer-survivor-stories/.
To connect for cancer treatment guidance:
– Call: +919930709000
– Message: https://wa.me/919880378899
– For in-person guidance, you can also visit us at our care centers:
1. HSR, Bengaluru
2. Lower Parel, Mumbai
3. Sama Hospital, New Delhi