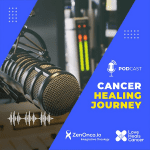 Aryan was diagnosed with stage 4 endodermal cancer and underwent several rounds of chemotherapy. He faced side effects such as hair loss, weakness, and loss of taste. Despite the difficulties, he drew inspiration to battle with cancer and made significant healthy changes in his lifestyle. Aryan encourages patients to seek treatment promptly and to take an active role in their treatment by seeking multiple opinions when necessary.
Learn about the valuable lessons Aryan learned through his cancer journey. He advises patients to not panic upon receiving a diagnosis as the medical facilities are advancing and to focus on their physical and mental well-being.
Read 1,000+ cancer success stories here: https://zenonco.io/cancer/cancer-survivor-stories/.
To connect for cancer treatment guidance:
– Call: +919930709000
– Message: https://wa.me/919880378899
– For in-person guidance, you can also visit us at our care centers:
1. HSR, Bengaluru
2. Lower Parel, Mumbai
3. Sama Hospital, New Delhi