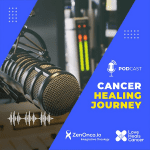 Vinod Mudaliar shares his journey of getting diagnosed with nasopharyngeal cancer at a critical crossroad in his life and how it changed even his career path.
ZenOnco.io – Making quality integrative oncology cancer care accessible to all.
If you or your loved one has been diagnosed with cancer recently, and need guidance on treatment or have any doubts or queries, please call ZenOnco.io on +91 99 30 70 90 00.