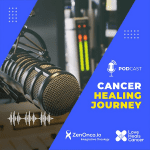 Sukirthi Katiyar, a two-time cancer survivor, shares her journey of defeating Hodgkin's Lymphoma and Acute Myeloid Leukemia and how it helped mold her life.
ZenOnco.io – Making quality integrative oncology cancer care accessible to all.
If you or your loved one has been diagnosed with cancer recently, and need guidance on treatment or have any doubts or queries, please call ZenOnco.io on +91 99 30 70 90 00.