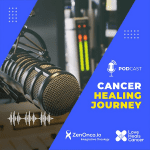 Ms. Neera Singh is a renowned nutritionist, relationship counselor. She is a dedicated caregiver to 3 times cancer survivor CP Singh. She creates awareness about healthy living, women empowerment, and grooms the young generation into global citizens.
ZenOnco.io – Making quality integrative oncology cancer care accessible to all.
If you or your loved one has been diagnosed with cancer recently, and need guidance on treatment or have any doubts or queries, please call ZenOnco.io on +91 99 30 70 90 00.