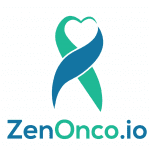 Dr Anthony Pais is a Senior Consultant in Oncoplastic Breast Surgery and the Co-founder and Clinical Director of CyteCare Cancer Hospitals. He has over 28 years of experience in surgical oncology and is one of the few breast surgeons specializing in breast radiology, reading mammograms, and early diagnosis of breast cancer. He has trained and practiced extensively in surgical oncology across several reputed institutes including Mazumdar Shaw Cancer Center, Narayana Hrudayalaya Multispecialty Hospital, Tata Memorial Hospital, Mumbai, and KIDWAI Memorial Institute of Oncology, Bangalore.
For his eminent work in this field, he was awarded the Best Oncoplastic Breast Surgeon award at the Times Healthcare Achievers Awards. He is also a recipient of Dr. Sathyanarayana Shetty Memorial Gold Medal for his work in breast cancer, and the prestigious Dr. Mahadevan's Award by the Association of Surgeons of India.
ZenOnco.io – Making quality integrative oncology cancer care accessible to all.
If you or your loved one has been diagnosed with cancer recently, and need guidance on treatment or have any doubts or queries, please call ZenOnco.io on +91 99 30 70 90 00.