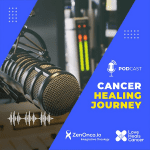 Mehul Vyas is happily married to his childhood friend, Anagha & father of a 14-year-old teenage kid, Arjun. He is settled in the US for the past 6 years and works with Alliance data as a Sr. Fraud investigator. He investigates credit card & other financial frauds.
He is stage IV throat (Larynx) cancer survivor. He is in his sixth year of remission so technically cancer-free. He devotes his time to bring awareness on cancer & bad habits like smoking. He regularly give speeches & presentations in educational & other institutions. He is an admin of two groups – Youngsters against smoking & Cancer Survivors in India. He is very active on social media interacting and helping people in all the ways he can.
ZenOnco.io – Making quality integrative oncology cancer care accessible to all.
If you or your loved one has been diagnosed with cancer recently, and need guidance on treatment or have any doubts or queries, please call ZenOnco.io on +91 99 30 70 90 00.