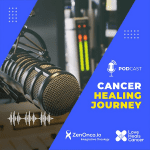 Nadya talks about how every individual has a very different journey and how both of them didn't want to let their lives come at a halt. Nadya was proud to talk about how her sister never wanted her to settle or stop working even when she was diagnosed with cancer as she wanted her to reach heights of success.
ZenOnco.io – Making quality integrative oncology cancer care accessible to all.
If you or your loved one has been diagnosed with cancer recently, and need guidance on treatment or have any doubts or queries, please call ZenOnco.io on +91 99 30 70 90 00.