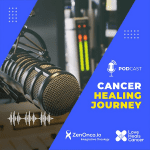 Story of a man who slipped into a coma for one and a half months, who had many complications during the bone marrow transplant, but never gave up in any situation, and successfully got back to his life after defeating T cell lymphoma.
ZenOnco.io – Making quality integrative oncology cancer care accessible to all.
If you or your loved one has been diagnosed with cancer recently, and need guidance on treatment or have any doubts or queries, please call ZenOnco.io on +91 99 30 70 90 00.