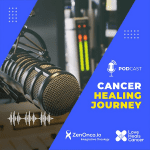 It is difficult when your loved one is diagnosed with cancer, and you need to tell them about this. Many people even don't tell their loved ones about their diagnosis. What should you do in such a situation, and how should you break the news to cancer patients – learn about this and more in this talk by Dimple Parmar at the Oncology Update 2021 organized by Bhagawan Mahaveer Cancer Hospital and Research Centre.
ZenOnco.io – Making quality integrative oncology cancer care accessible to all.
If you or your loved one has been diagnosed with cancer recently, and need guidance on treatment or have any doubts or queries, please call ZenOnco.io on +91 99 30 70 90 00.