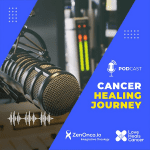 Listen to caregiver Kusum Chauhan. "Devraj", the husband of Kusum Chauhan suffered from liver cancer but he came to know about the disease very late. He also does not let his family know about the condition. But when the situation got worse he told his family. After dealing with so many doctors they finally went to Ahmedabad for treatment. As cancer had already spread throughout his body there was nothing the doctors could do to save him.
If you or your loved one has been diagnosed with cancer recently, and need guidance on treatment or have any doubts or queries, please call ZenOnco.io on +91 99 30 70 90 00.
Zenonco.io – Making quality integrative oncology cancer care accessible to all.
Visit our Official website: https://zenonco.io/