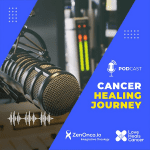 Listen to the Cancer Healing Journey of Ramesh as a caregiver. He was a caregiver to his mother who had Ovarian Cancer. She was diagnosed at the beginning of the COVID pandemic. It was very difficult for them since they were not able to visit the hospitals for her checkup and treatment. His mother underwent multiple rounds of Chemotherapy and radiation along with surgery to remove her Uterus and Ovaries. They kept a constant check on her blood (CBC) and maintained a healthy diet which helped her heal. His mother is now cancer-free. Ramesh says "Always stay strong and do not lose hope. He wants everyone to donate their hair at least once in their lifetime for cancer patients."
If you or your loved one has been diagnosed with cancer recently, and need guidance on treatment or have any doubts or queries, please call ZenOnco.io on +91 99 30 70 90 00.
Zenonco.io – Making quality integrative oncology cancer care accessible to all.
Visit our Official website: https://zenonco.io/