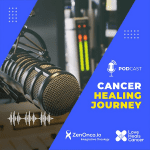 Listen to the Cancer Healing Journey of Mayank Agarwal as a caregiver. His father was diagnosed with a hybrid brain tumor. It was very clear that he needed surgery. He could not go for Chemotherapy or radiotherapy without the surgery. Initially, they were surprised by the fact that a person who exercises so much and is active can get such a disease but then they were more focused on his treatment. His mother was upset listening to what doctors were saying. She wanted him to be with her all her life. Mayank says however bad the news is there is always hope. Support the cancer patient, give them the will to live and fight. Explore all lines of treatment, read from the internet, and it's also very important to sort out finances.
If you or your loved one has been diagnosed with cancer recently, and need guidance on treatment or have any doubts or queries, please call ZenOnco.io on +91 99 30 70 90 00.
Zenonco.io – Making quality integrative oncology cancer care accessible to all.
Visit our Official website: https://zenonco.io/