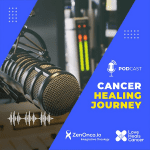 Listen to the Cancer Healing Journey of Biswajeet Mahato who was the caregiver to his father. A caregiver gives care to someone who needs help taking care of themselves. The life of a caregiver is very difficult sometimes. Being a caregiver of my father, I have been worried and had some second thoughts regarding the treatment given in the hospital to him. As a caregiver, my lifestyle changed drastically. My father was 69 when the diagnosis happened. In December 2020 we discovered that he is at stage 4 of Non-Hodgkin lymphoma. This cancer occurs in the lymphatic system when the body produces too many abnormal lymphocytes, a type of white blood cell. He also suffered from Tuberculosis. Although I faced some difficulties, I had full family support with me. They all were very caring and concerning. I even got financial support from my brother and sister when I was facing some downfall in my life. We three fought it together.
If you or your loved one has been diagnosed with cancer recently, and need guidance on treatment or have any doubts or queries, please call ZenOnco.io on +91 99 30 70 90 00.
Zenonco.io – Making quality integrative oncology cancer care accessible to all.
Visit our Official website: https://zenonco.io/