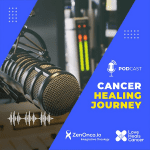 Dr Sarat Addanki, Ayurvedic doctor and founder of Ayurway, shares his experience as a cancer caregiver and how his mother's death prompted him to leave his job in the engineering field and join Ayurveda College. He talks about the importance of integrative treatment approaches in the fight against cancer.
Read the full article here – https://zenonco.io/doctor-interviews/dr-sarat-conventional-treatment-and-ayurveda-in-cancer/
Watch the full video here – https://rb.gy/e5bciq
ZenOnco.io – Fulfilling all your cancer-related needs from diagnosis to nutrition and fitness to psychology.
Visit our Official website- https://zenonco.io/
#cancertalks #zenoncoio #lovehealscancer #sarataddanki