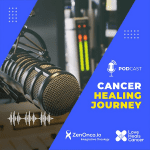 Dr Geeta Joshi is an acclaimed Anesthesiologist and Palliative Care specialist with more than 30 years of rich experience. For her outstanding work in the field, she won the SAARC award for Excellence and Leadership in Palliative Care. Dr Geeta Joshi joined us on October 10th on account of World Palliative Care Day and shared her views.
Read the complete article here – https://zenonco.io/doctor-interviews/interview-with-dr-geeta-joshi-anesthesiologist-on-palliative-care/
ZenOnco.io – Making quality integrative oncology cancer care accessible to all.