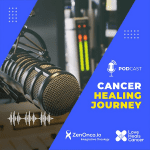 Listen to the Cancer Healing Journey of Vimmy Dawar. She had suffered from Breast Cancer. She never had any earlier symptoms. Cancer was diagnosed when she underwent a random check-up. In a week she underwent an operation. She had to undergo six chemo cycles, which went for 6 months. After one month of Chemo, Radiation was done. In these challenging times, meditation helped her a lot. Vimmy counsel for meditation and work for cancer patients. She works with an organization that helps patients with Lymphedema.
Register here: https://bit.ly/HealingCirclesLhcZhc
Zenonco.io – Making quality integrative oncology cancer care accessible to all.
Visit our Official website: https://zenonco.io/
If you or your loved one has been diagnosed with cancer recently, and need guidance on treatment or have any doubts or queries, please call ZenOnco.io on +91 99 30 70 90 00.