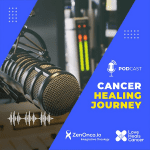 Listen to the Cancer Healing Journey of Nisha choithraam who was diagnosed with Breast cancer. In May 2016, Nisha choithraam found a lump in her breast. She doesn't take it seriously but still, she contacted a doctor. All her reports were negative. After she got married she felt some pain and got herself tested. This time it was cancer.
Her husband was very supportive & her family took care of her all the time.
She had to go 6 chemotherapy cycles, 25 radiation & 11 herseptics. She recovered after two and half years. They are currently planning for a baby and living a normal life. She has to take medicines for 10 years.
She is now more concerned about her health and is strong enough to face any situation. Cancer made her and her family mentally strong.
If you or your loved one has been diagnosed with cancer recently, and need guidance on treatment or have any doubts or queries, please call ZenOnco.io on +91 99 30 70 90 00.
Zenonco.io – Making quality integrative oncology cancer care accessible to all.
Visit our Official website: https://zenonco.io/