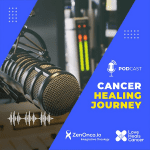 Listen to the Cancer Healing Journey of Dr. Seema Sharma. She is a very positive lady. When she was 47 her friend got diagnosed with breast cancer and she asked Dr. Seema to get tested. She went for a routine check-up and was diagnosed with second-stage Breast cancer. She had chemotherapy for the next 6 months. She and her family didn't lose hope. All of them had a positive attitude. People around her were supportive and all knew that she could fight back. Even the doctor was positive as it was the beginning of the second stage and it is curable. On 1st of January 2015, she recovered from cancer. She is now fit and fine.
If you or your loved one has been diagnosed with cancer recently, and need guidance on treatment or have any doubts or queries, please call ZenOnco.io on +91 99 30 70 90 00.
Zenonco.io – Making quality integrative oncology cancer care accessible to all.
Visit our Official website: https://zenonco.io/