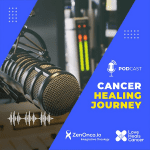 Listen to the Cancer Healing Journey of Dr. Mukesh H Trivedi who was diagnosed with multiple myeloma, a cancer of plasma cells. The diagnosis happened in May 2019. His treatment started in December 2019. He noticed recurring back pains back then. He assumed it is happening due to traveling as I travel for hours often and nothing serious. But when all the tests were done, a CT scan report disclosed the real cause behind his recurring back pains. In the CT scan it showed that he was suffering from multiple myeloma cancer.
Multiple myeloma is a type of cancer that forms in WBC's and platelets. In multiple myeloma, cancerous plasma cells accumulate in the bone marrow and crowd out healthy blood cells. It is called the cancer of plasma cells. The plasma cells are a type of white blood cell in the bone marrow. In Multiple Myeloma, a group of cells becomes cancerous and multiplies. The disease can damage the bones, immune system, kidneys and red blood cell count. It is a very rare cancer. Dr. Mukesh fought this cancer and now he is living happily every day.
If you or your loved one has been diagnosed with cancer recently, and need guidance on treatment or have any doubts or queries, please call ZenOnco.io on +91 99 30 70 90 00.
Zenonco.io – Making quality integrative oncology cancer care accessible to all.
Visit our Official website: https://zenonco.io/