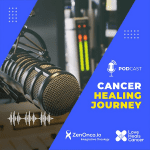 Arun Sharma's healing journey is one fraught with miracles and surprises. Amidst all these, he had never lost hope. Arun embraced his challenges, fought against all odds, and supported his family in their unsettling phases of life.
ZenOnco.io – Making quality integrative oncology cancer care accessible to all.
If you or your loved one has been diagnosed with cancer recently, and need guidance on treatment or have any doubts or queries, please call ZenOnco.io on +91 99 30 70 90 00.