Mindfulness refers to the ability to be fully and wholly present at any given moment, wherever we are, without getting overwhelmed by what is around us. All humans innately possess the quality of mindfulness, but through daily practice and intention, we can experience it on a more tangible level. Mindfulness practices help us to experience and have a complete awareness of our surroundings, our environment, our body, and our feelings in their entirety. This is achieved through our five senses, our thoughts, and our emotions.
Mindfulness-based therapy is a specialized kind of treatment that uses mindfulness techniques and practices, designed to help reduce Stress and Anxiety in patients of various illnesses. They consist of two types of intervention programs. These are
Mindfulness-Based Stress Reduction (MBSR)
Mindfulness-Based Cognitive Therapy (MBCT)
Mindfulness-Based Stress Reduction (MBSR) is an 8-week program in mindfulness designed to help reduce and cope with anxiety, depression, and Pain. It uses meditation, body awareness, yoga, and awareness of thought processes, patterns, emotions, and actions. Mindfulness-based cognitive therapy (MBCT) is a particular subtype of psychotherapy that uses cognitive behavioral therapy (CBT) techniques in conjunction with mindfulness meditation practices.
One of the most important components of mindfulness-based therapy is meditation. Meditation is a process of relaxing and releasing the mind to allow it to wander and explore its natural curiosities and thought processes. It is thought to have originated in ancient India. Meditation allows us to release tension from the body and the mind and remove judgment on what's happening around us and to simply let things be. Through meditation, one can also experience a heightening of their senses, wherein we can notice, and experience sounds and sensations, such as the wind blowing in our hair or our face, in a very profound manner.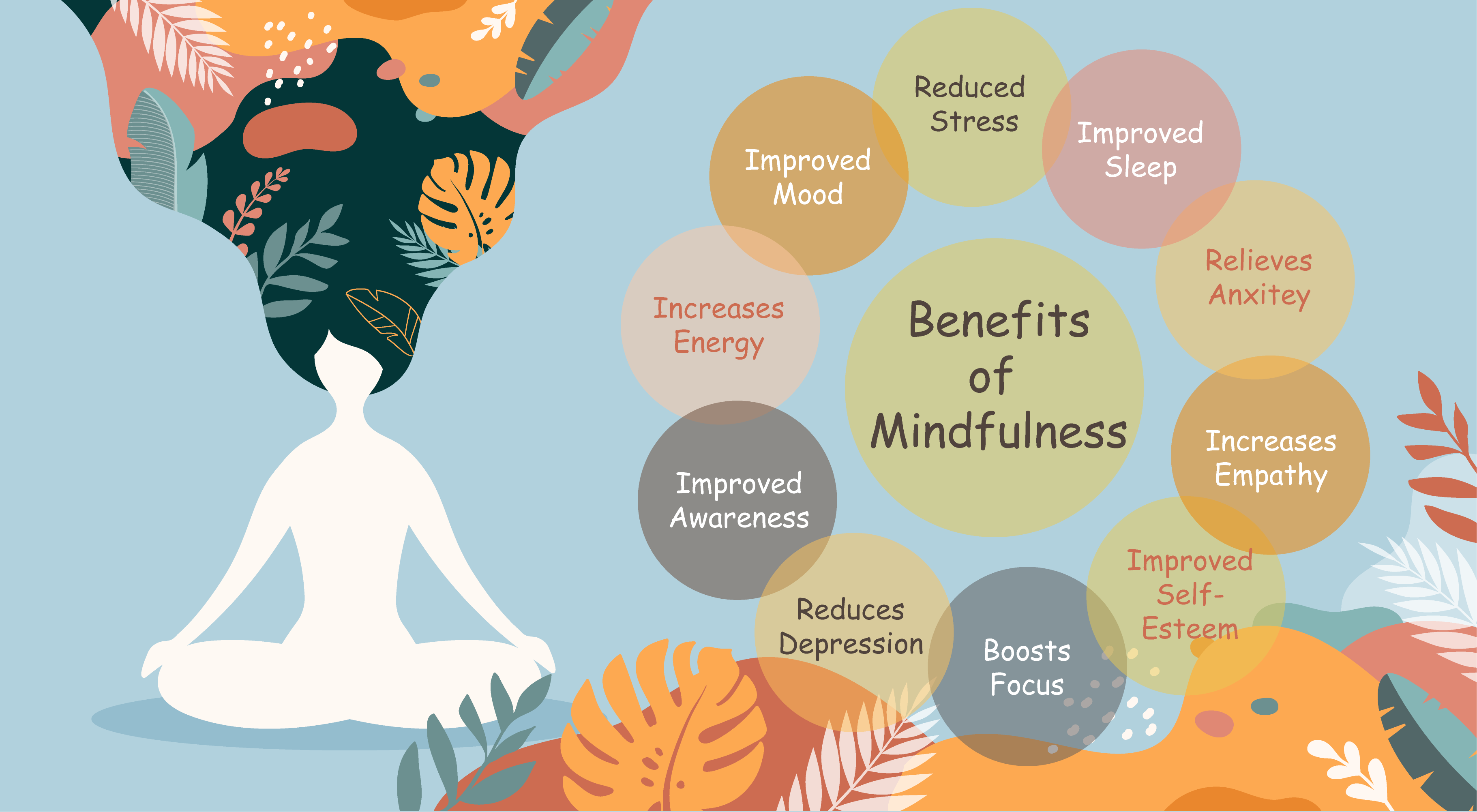 Meditation and mindfulness can put us in touch with our Anxiety and stress, and this is extremely helpful for cancer patients. It calls for the patient to pay attention to the present moment and the present moment alone, practice deep breathing exercises, and also pay attention to their body. Mindfulness helps the patient to cope with their Stress and Anxiety and other difficult emotions without overly analyzing them, suppressing, or even encouraging them. It is a process of complete surrender to what is and calmly navigating them, instead of fighting them. By doing this, the patient can now identify the root cause of their suffering and the source of their fears and Anxiety. This allows the patient to overcome the feeling that their sufferings and worries have overtaken them. It will enable them not to be consumed by the scary thoughts that come with an illness like cancer. Meditation and mindfulness can also help the patients to manage their Pain better.
Yoga has similar effects and has been found to be highly effective in relieving physical Pain as well. It is a mental, physical, and spiritual practice that also originated in ancient India. It consists of a wide range of poses or 'asanas' that aid in controlling the mind and the body. It is a practice that requires a lot of discipline and so, practicing it can help the patient in developing self-discipline and control over their thoughts and their bodies. Many studies done on cancer patients indicate that Yoga can significantly reduce side effects of cancer treatments as well as Anxiety and depression and can improve the overall quality of life. Others have shown a decrease in Fatigue in those patients and survivors who attended Yoga classes regularly.
Studies have shown that both MBSR and MBCT have significantly improved the copying abilities of patients with terminal illnesses, such as cancer, and reduced the level of Anxiety and Depression in them when compared to patients who did not receive such treatments. The evidence in support of Mindfulness-based therapy is quite substantial, and the treatment is so simple that mindfulness should be considered as an essential part of cancer treatments in hospitals as well as cancer centers. However, that is not the case in India, and ZenOnco.io hopes to bridge this gap with its integrative oncology programs.