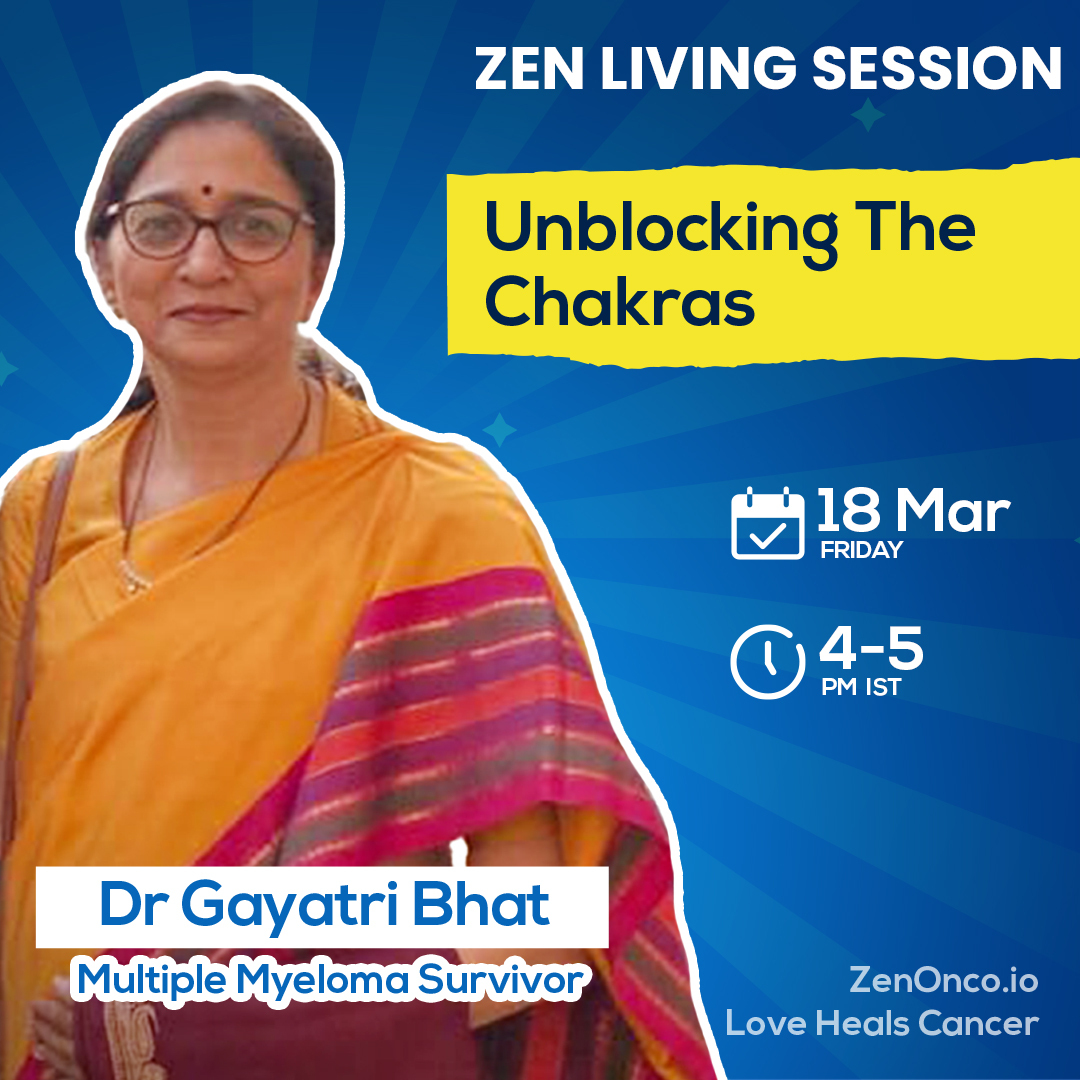 Zen Living session on " Unblocking The Chakras", Dr Gayatri Bhat (Multiple Myeloma Survivor)
We humbly invite you all to the Zen Living session on the " Unblocking The Chakras". Our guest speaker, Dr Gayatri Bhat (Multiple Myeloma Survivor), shall share insights on the topic. This shall be a 60-minutes live interactive session where you can be a part of the session with Dr Gayatri Bhatt and others.
About Speaker: Gayatri Bhat calls herself a winner. She was diagnosed with Multiple Myeloma in 2001 and has had an exhaustive treatment which included two bone marrow transplants, multiple relapses and has now been cancer free since. She does have to deal with side-effects of her treatment, wherein she found a lot of strength and relief in Yoga , meditation and family support. She has always believed that each one of us has the power to heal our lives. It is an exercise in creating a balance between our mind and body knowing that the mind has all the power to heal your body. She firmly affirms the power of gratitude and forgiveness, which paves the path to our healing.
Join Zoom Meeting: https://us02web.zoom.us/j/8055053987
Register here: https://rb.gy/kremph
Time: 18 March 2022 at 4:00 pm to 5:00 pm IST
Please feel free to contact us at +91 9930709000
or WhatsApp at https://wa.me/919930709000
For more information, visit our website https://www.zenonco.io/.
#zenoncoio #lovehealscancer #closethecaregap #cancerawareness #healthawareness #healthtips #cancer #CancerTips #cancersupport #integrativeoncology #cancerassistance #oncology #cancercare #cancertension #mentalhealth #mentalwellbeing #mentalhealthawareness #mentalwellness #mentalhealthsupport #oncologist #doctor