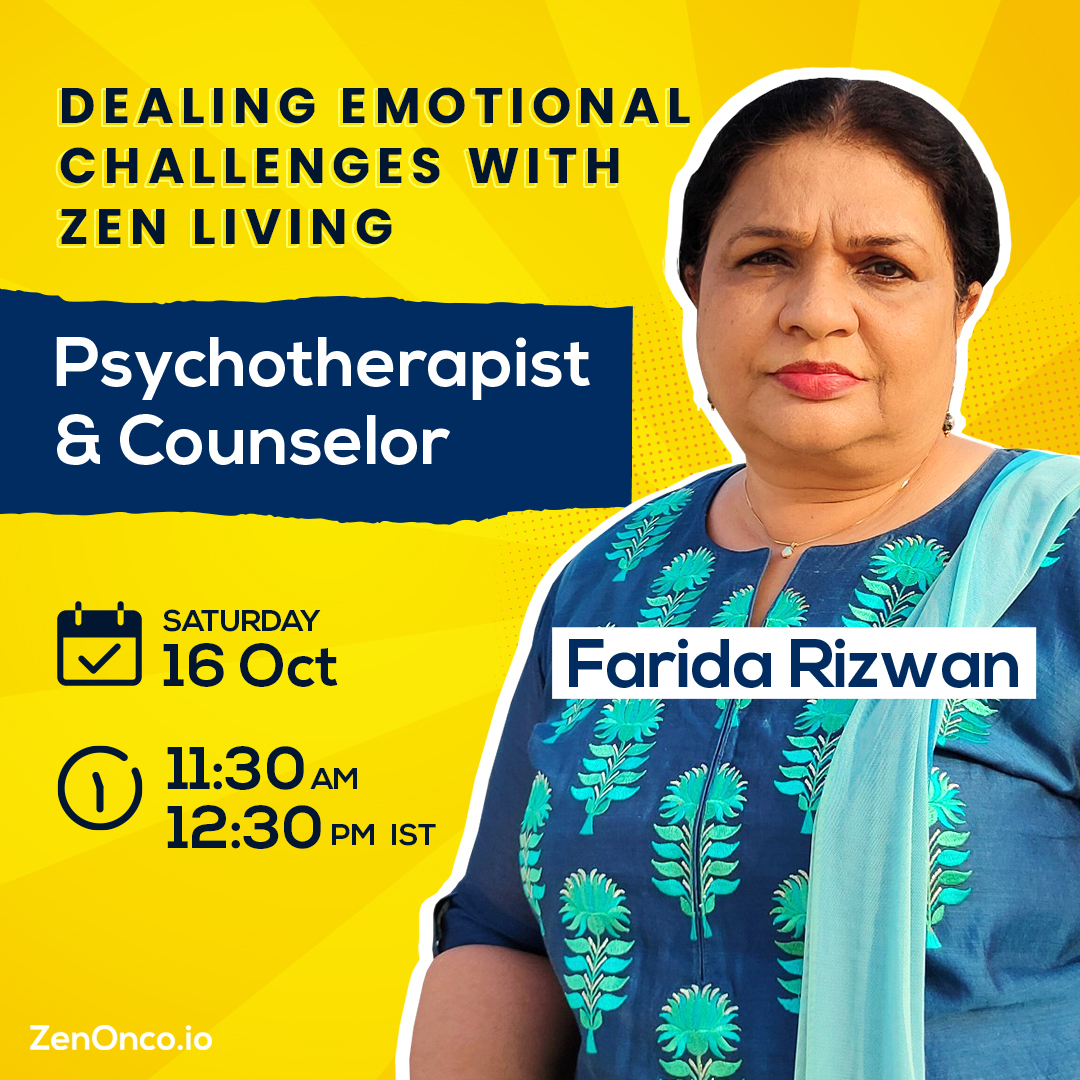 Zen Living Session on Dealing Emotional Challenges with Farida Rizwan- Psychotherapist and Counselor
Let's join an online "How to deal Emotional Challenges" session with Farida Rizwan – Breast Cancer survivor, Psychotherapist, and counselor on 16th October 2021(Saturday) from 11.30 am to 12.30 pm IST.
Farida learned the value of her life when she was about to lose it to cancer 25 years ago. She not only survived cancer but also led a very fruitful life after her wake-up call. Her skills come from her own life experience of surviving cancer. Since 2010 she is working with "Pink Hope Support Group" to create awareness about breast cancer, provide counseling and emotional support for patients undergoing treatment, and as a participant in seminars and programs on cancer awareness. She has received many awards which include Inspire Beyond Motherhood Award for Social Change and the Woman Achiever of the Year award from Sahaya Hastha trust.
Join live Interactive session: https://us02web.zoom.us/j/8055053987
Register here: https://bit.ly/HealingCirclesLhcZhc
Please feel free to call or WhatsApp https://wa.me/919930709000 for more information. Alternatively, visit our website://https:zenonco.io/
#zenoncoio #lovehealscancer #integrativeoncology #oncology #cancer #cancercare #cancerguide #healing #cancerassist #cancersurvivor #cancercommunity #hopeful #hopes #faithful #faith #believe #belief #cancerpatients #cancercaregivers #cancersupport #cancertreatment #healingcircle #peace #meditation #wellnes #harmony #humanity #Love #LivingZen