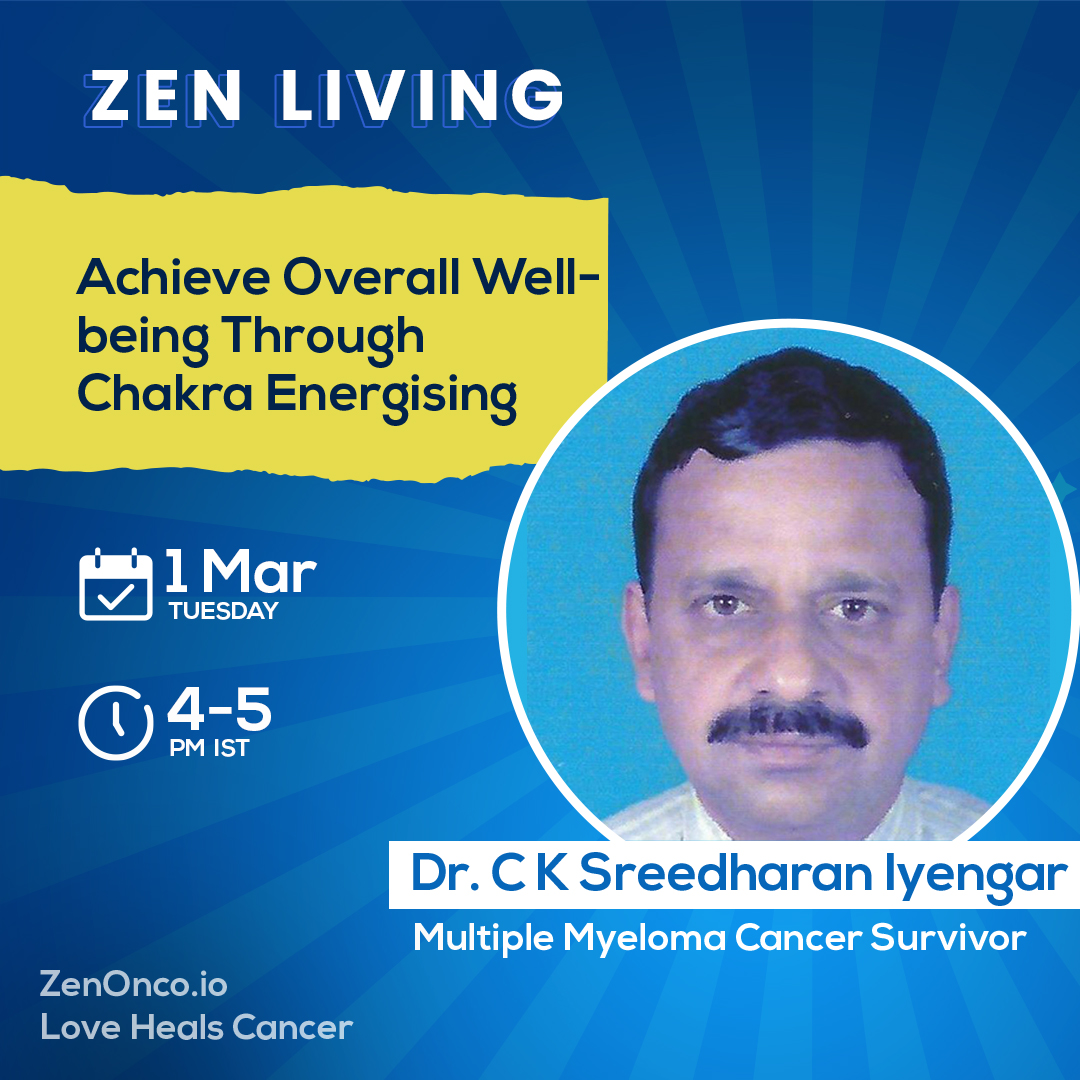 Zen Living session on "Achieve Overall Well-being through Chakra Energising" with Dr C K Sreedharan Iyengar
We humbly invite you all to the Zen Living session on the "Achieve Overall Well-being through Chakra Energising". Our guest speaker, Dr C K Sreedharan Iyengar (Multiple Myeloma Survivor, Reiki Grandmaster), shall share insights on the topic. This shall be a 60-minutes live interactive session where you can be a part of the session with Dr C K Sreedharan and others.
About Speaker: After surviving Multiple Myeloma cancer in 2008, he developed a passion for writing. His books are available online on Amazon in Kindle (Electronic) and paperback versions. He writes blog posts on issues concerning national interest. He was interviewed for his book 'International Business Operation' by Mahesh Joshi for the 'Global Business with Mahesh Joshi.' This interview was broadcast on "Voice of America' on 16 December 2020. He is actively involved in counselling cancer patients and their caregivers. Dr Sreedharan is also a Reiki Grandmaster, trained in NLP, self-hypnosis, mystic yogic practices, and heartfulness meditation.
Join Zoom Meeting: https://us02web.zoom.us/j/8055053987
Register here: https://rb.gy/kremph
Time: 1 March 2022 at 4:00 pm to 5:00 pm IST
Please feel free to call or WhatsApp https://wa.me/919930709000 for more information. Alternatively, visit our website: https://zenonco.io/.
#zenoncoio #lovehealscancer #closethecaregap #cancerawareness #healthawareness #healthtips #cancer #CancerTips #cancersupport #integrativeoncology #cancerassistance #oncology #cancer #cancercare #cancertension #mentalhealth #mentalwellbeing #mentalhealthawareness #mentalwellness #mentalhealthsupport #reiki #multiplemyeloma