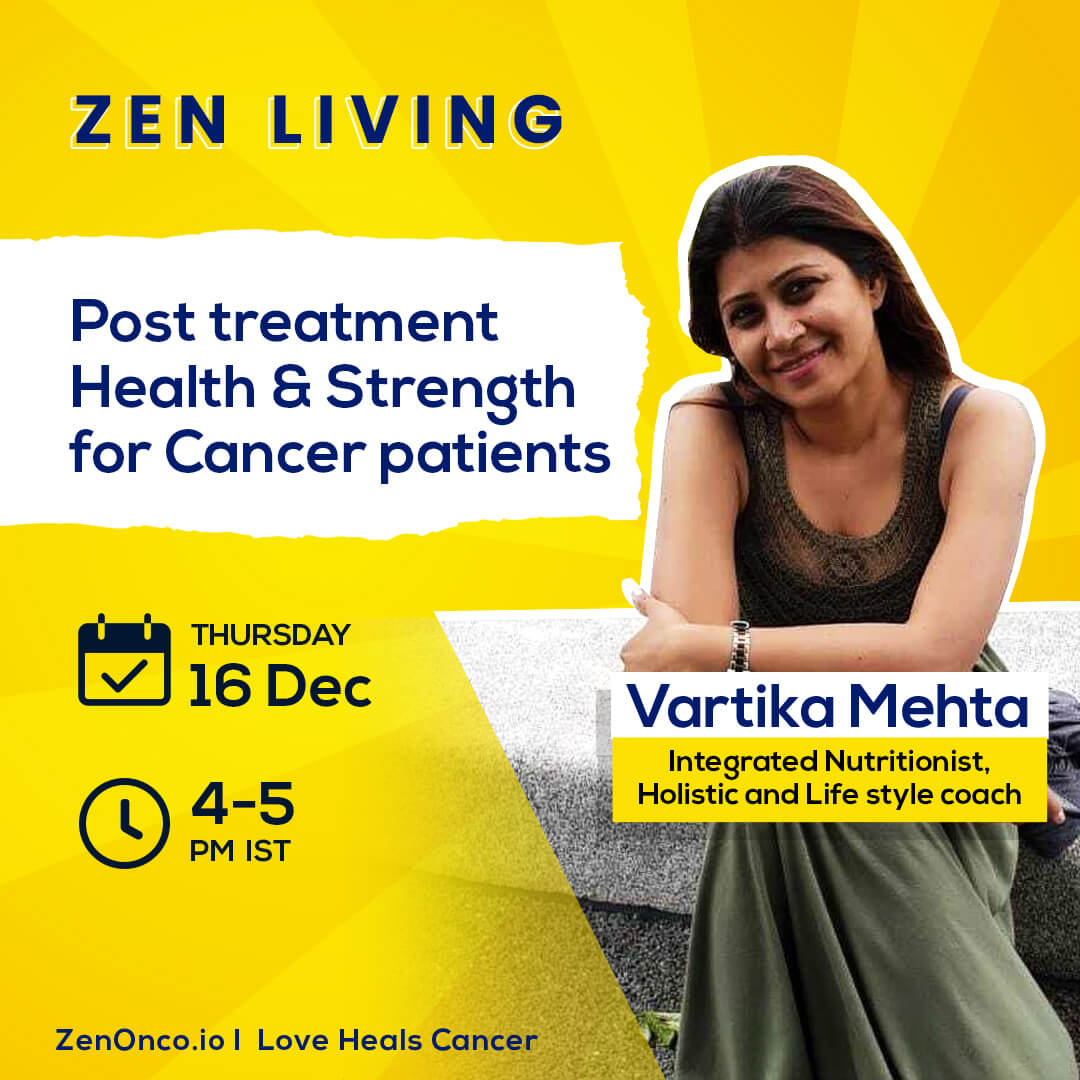 Post Treatment Health & Strength for Cancer Patients
Join Online Zen Living Session on "Post Treatment Health & Strength for Cancer Patients" with Vartika Mehta on 16 December 4:00 pm to 5:00 pm IST. Vartika Mehta is an Integrated Nutritionist and Holistic & Lifestyle Coach with 14+ years of experience. She graduated from IIN, New York State University, with various other degrees such as Masters in Food and Nutrition and PG Diploma in Dietetics & Applied Nutrition. Vartika is a Certified Yoga Teacher (Registered with Dept of Ayush), Diabetes educator and certified in Garbh Sanskar, Pre-natal & post-natal Yoga.
She Offers Yoga and Lifestyle Workshops for corporate groups and one and one coaching for Diet Counselling, Weight Management, Diabetes Management, Nutrition for Children, Hormone Management, and Nutrition for fitness and exercises. Her experience & achievements include Lifestyle & Dietary management for people who have diabetes, obesity, varicose veins, PCOD, thyroid disorders, pregnancy & lactation, and mental health issues. She has conducted various workshops in the High Commission of India, Seychelles University, etc. She got featured in multiple newspapers like Hindustan Times, Midday, Rajasthan Patrika, Mind-Body-Soul Magazine, etc. and an author of "The Moody Princess", published in 2018.
Join: https://us02web.zoom.us/j/8055053987
Register here: https://bit.ly/HealingCirclesLhcZhc
Time: 16 December 2021 at 4:00 pm to 5:00 pm IST
Please feel free to contact us at +91 9930709000
or WhatsApp at https://wa.me/919930709000
For more information visit our website https://zenonco.io/
#lovehealscancer #zenoncoio #integrativeoncology #oncology #cancer #cancercare #cancerguide #healing #cancerassist #cancersurvivor #cancercommunity #hopeful #hopes #faithful #faith #believe #belief #cancerpatients #cancercaregivers #cancersupport #cancertreatment #healingcircle #lifestyle#nutrition #nutritionist #zenliving