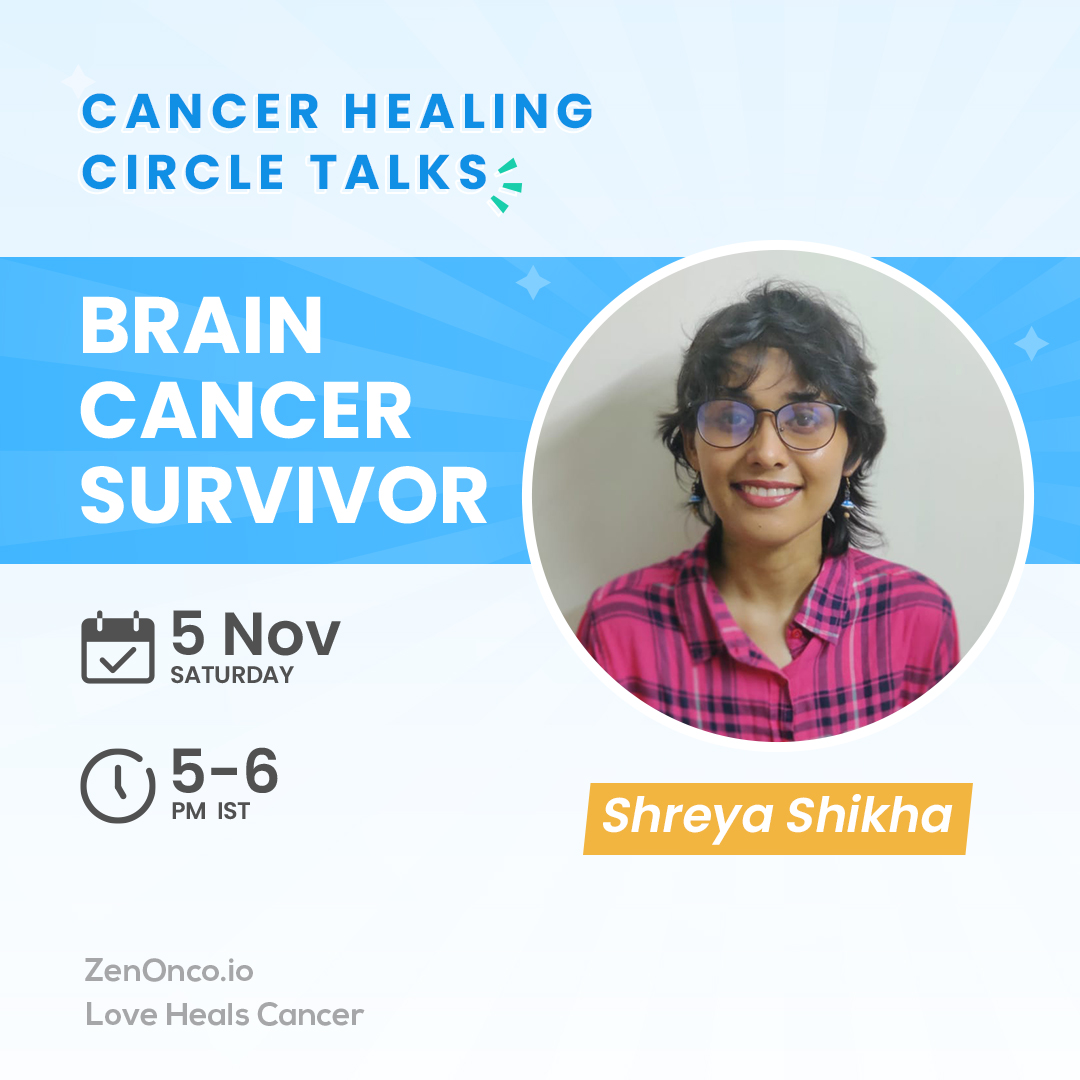 Join our Cancer Healing Circle Talks with Shreya Shikha, Brain Cancer Survivor, on November 5 (Saturday) 2022, 5 to 6 pm IST.
About the speaker: One day, while studying for her master's degree, Shreya had a seizure and fell down the stairs. While everyone assumed it was a normal reaction to a stressful life, destiny had other plans for her. After undergoing many tests and a biopsy, it was confirmed that she had Brain cancer. Shreya was just a young woman with big dreams and a desire to accomplish great things. She said that having supportive family and friends made it easy for her to go inside the operation theatre for surgery. She needed time to recover after that, but with the love, care, and unconditional support she received, she was able to combat cancer. Her cancer journey made her rediscover faith in spirituality. "I encourage patients to maintain mental fortitude and accept life as it is. Everything else becomes easier once you accept the unacceptable."
About Cancer Healing Circle Talks: Cancer Healing Circle Talks are sacred spaces meant to inspire and guide cancer patients and caregivers in their cancer journey. These are open events that you could share with people who could benefit from attending them.
Join Zoom Meeting: https://us02web.zoom.us/j/8055053987
Register here:https://bit.ly/3KafD36
You can contact us at 9930709000 or https://www.zenonco.io/.
#zenonco #warrior #caregiver #motivationalspeaker #Cancercare #Cancerfreeworld #Cancerfree #challenges #healthylifestyle #support #meditation #mentalhealth #mindfulness #cancer #mentalhealthawareness #cancersucks #oncology #lifeaftercancer #cancercare #cancertreatment #fightingcancer #cancerawareness #cancerpatients