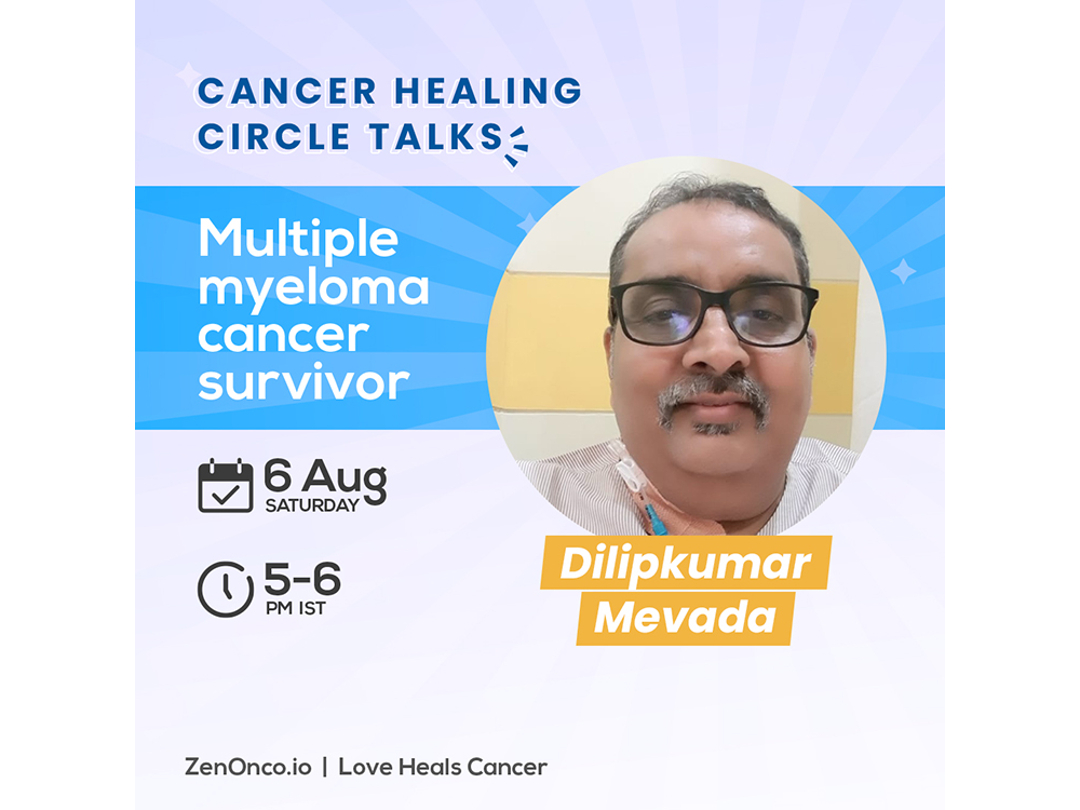 Join our Cancer Healing Circle Talks with Dilipkumar Mevada, Myeloma Cancer Survivor, on August 6 (Saturday) 2022, 5 to 6 pm IST.
About the Speaker: Dilipkumar Mevada was diagnosed with complete paralysis due to Multiple Myeloma, rare cancer at the age of 48. He conquered the illness with an amazing team of doctors, a supportive family, and resolute power of the mind. He says "I truly believe that the body is a vessel of the mind. It can be directed by the mind to behave and react as it wills. If the mind is strong and shows the way, the body follows in its path".
About Cancer Healing Circle Talks: Cancer Healing Circle Talks are sacred spaces meant to inspire and guide cancer patients and caregivers in their cancer journey. These are open events that you could share with people who could benefit from attending them.
Join Zoom Meeting: https://us02web.zoom.us/j/8055053987
Register here:https://bit.ly/3KafD36You can contact us at 9930709000 or https://www.zenonco.io/.
#zenonco #Breastcancer #Carcinoma #motivationalspeaker #Cancercare #Cancerfreeworld #Cancerfree #challenges #healthylifestyle #support #meditation #mentalhealth #mindfulness #cancer #mentalhealthawareness #cancersucks #oncology #lifeaftercancer #cancercare #cancertreatment #fightingcancer #cancerawareness #cancerpatients