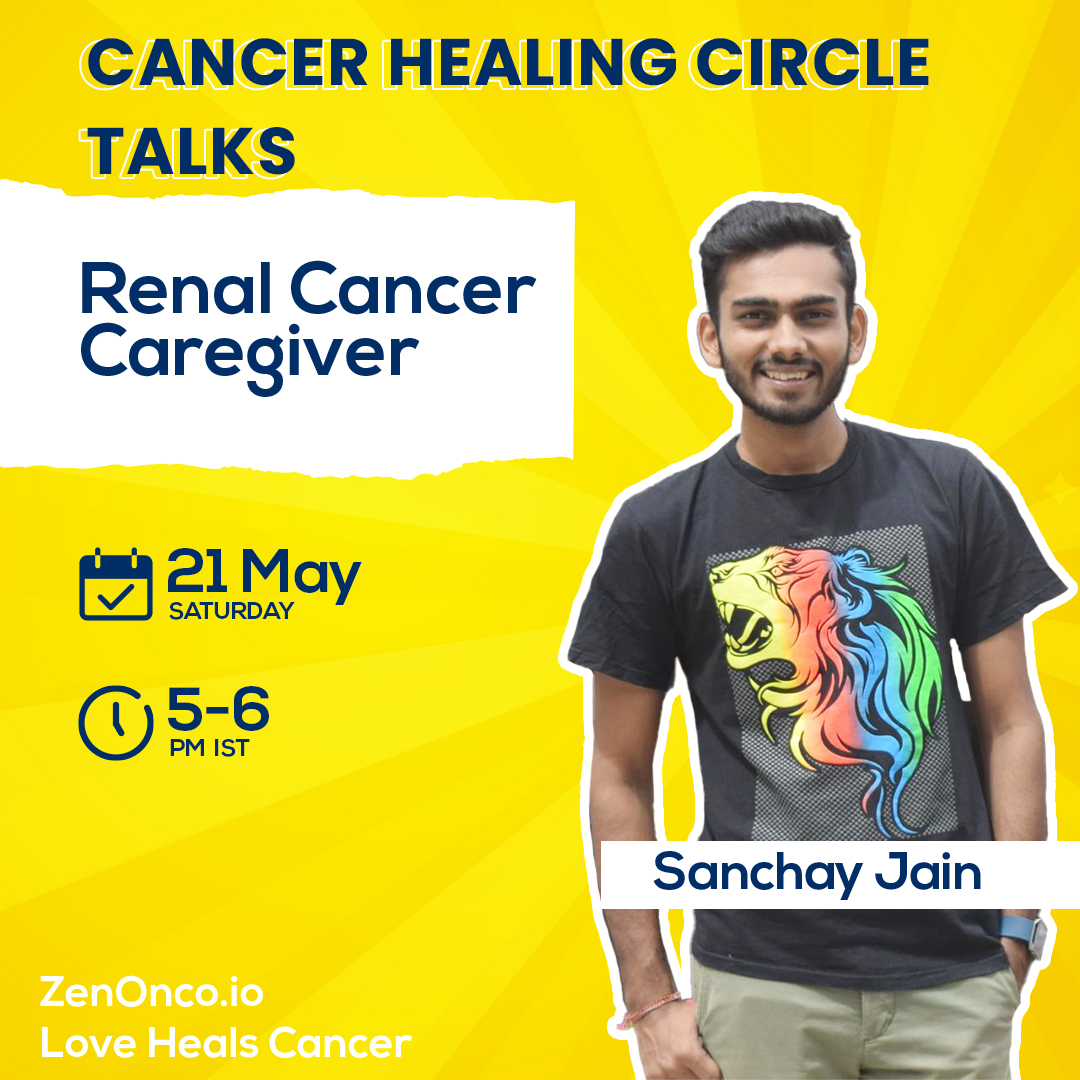 Cancer Healing Circle Talks with Sanchay Jain, Renal Cancer Caregiver
Join our Cancer Healing Circle Talks with Sanchay Jain ( in Hindi ), Renal Cancer Caregiver, on 21 May (Saturday) 2022, 5 to 6 pm IST.
About the speaker: Sanchay Jain was a caregiver to his uncle, diagnosed with Renal Cell Carcinoma. The positive thing about being in his journey was that it had provided Sanchay with an opportunity to learn from him. He taught him what things to do and what not to. His uncle changed his whole mindset towards life. He wanted to be a chartered accountant, but he taught him there are things in life that we have to follow other than education and get money. His uncle was passionate about fitness, and Sanchay loves sports. He is thankful that he was around him, and his uncle taught him so much about life.
About Cancer Healing Circle Talks: We see Healing Circle Talks as sacred spaces that give us all an opportunity to open up and learn from each other. This shall be a 60-minutes interactive session that inspires and provides direction to many other cancer patients and caregivers when they enter into this whole new world of cancer. Since this is an open event, invite others you know would benefit from the event.
Join Zoom Meeting: https://us02web.zoom.us/j/8055053987
Register here:https://bit.ly/3KafD36
Time: 21 May 2022 from 5:00 pm to 6:00 pm IST.
Please feel free to contact us at +91 9930709000
or WhatsApp at https://wa.me/919930709000
For more information, visit our website https://www.zenonco.io/.
#zenoncoio #lovehealscancer #closethecaregap #cancerawareness #healthawareness #healthtips #cancer #CancerTips #cancersupport #integrativeoncology #cancerassistance #oncology #cancercare #cancertension #mentalhealth #mentalwellbeing #mentalhealthawareness #mentalwellness #mentalhealthsupport #oncologist #doctor #renalcancer #renalcancersurvivor #renalcancerawareness