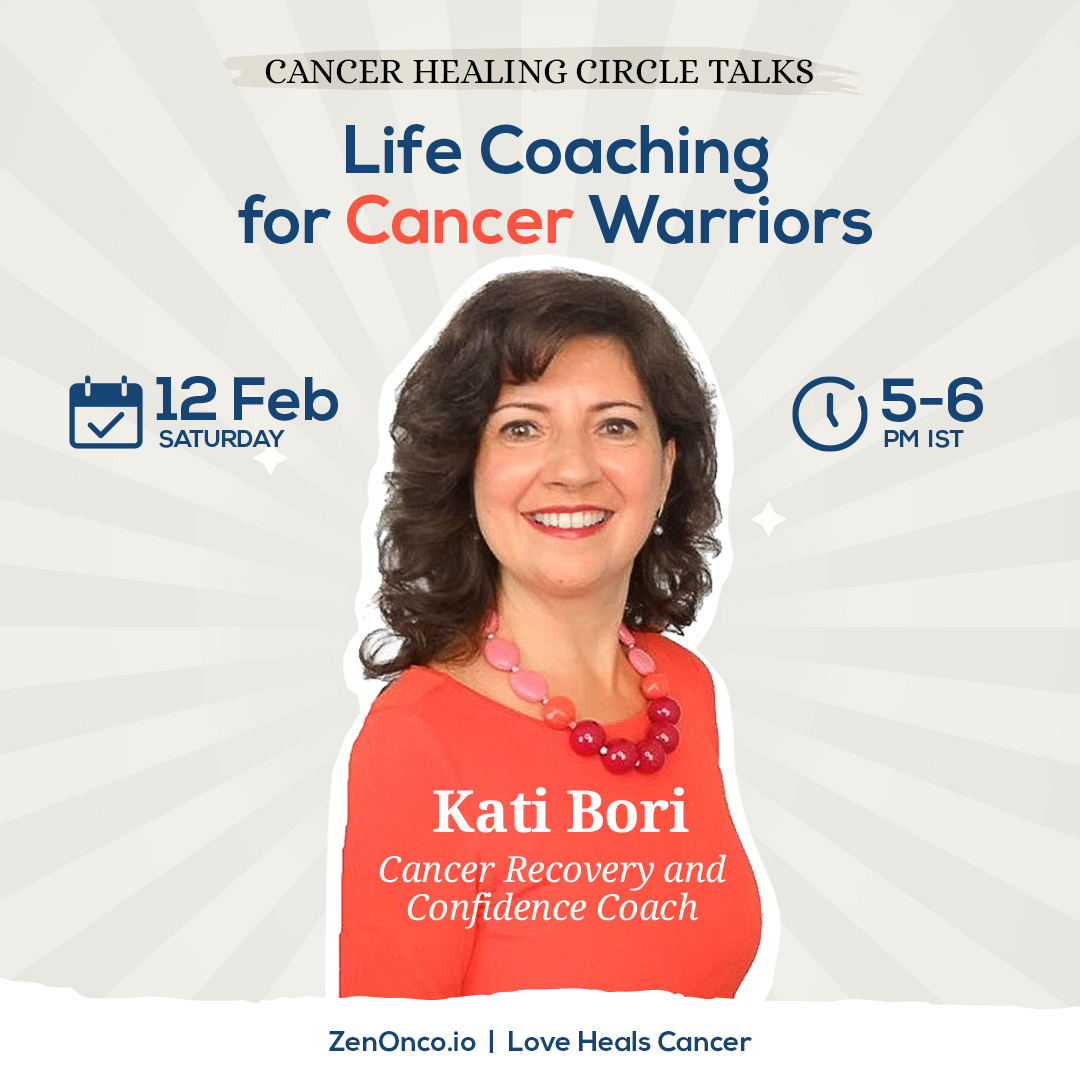 Cancer Healing Circle Talks with Kati Bori, Cancer Recovery and Confidence Coach
Join our Cancer Healing Circle Talks with Kati Bori, Cancer Recovery and Confidence Coach. She will be talking about "Life Coaching for Cancer Warriors".
About the speaker: Kati Bori is a Cancer recovery and confidence coach. She provides motivational support to those battling Cancer who wants to move forward in their life and need help to recover. She also supports women who are emotionally abused. Kati likes to care with kindness and gentleness. She believes that every part of a cancer patient's life can be changed during coaching sessions, followed by easy, simple weekly tasks such as helping them to think positive, building up their confidence, allowing them to carry out a new style, or makeup application to hide the scars caused by the surgeries. She has a Facebook group called "Supporting women who strive against cancer to move forward in life". This page lets ladies get nutrition advice, daily exercises by a personal trainer, skincare, and makeup. She also does weekly radio interviews on 93.1 Life FM about motivation, self-esteem, personal development, and mental health. The recorded podcasts are reachable on https://www.mixcloud.com/
About Cancer Healing Circle Talks: We see Healing Circle Talks as sacred spaces that give us all an opportunity to open up and learn from each other. This shall be a 60-minutes interactive session that inspires and provides direction to many other cancer patients and caregivers when they enter into this whole new world of Cancer. Since this is an open event, invite others you know would benefit from the event.
Join Zoom Meeting: https://us02web.zoom.us/j/8055053987
Register here: https://bit.ly/3KafD36
Time: 12 February 2022 from 5:00 pm to 6:00 pm IST.
Please feel free to call or WhatsApp https://wa.me/919930709000 for more information. Alternatively, visit our website: https://zenonco.io/
#lovehealscancer #zenoncoio #integrativeoncology #oncology #cancer #cancercare #cancerguide #healing #cancerassist #cancersurvivor #cancercommunity #hopeful #hopes #faithful #faith #believe #belief #cancerpatients #cancercaregivers #cancersupport #cancertreatment #healingcircle #closethecaregap #zenliving