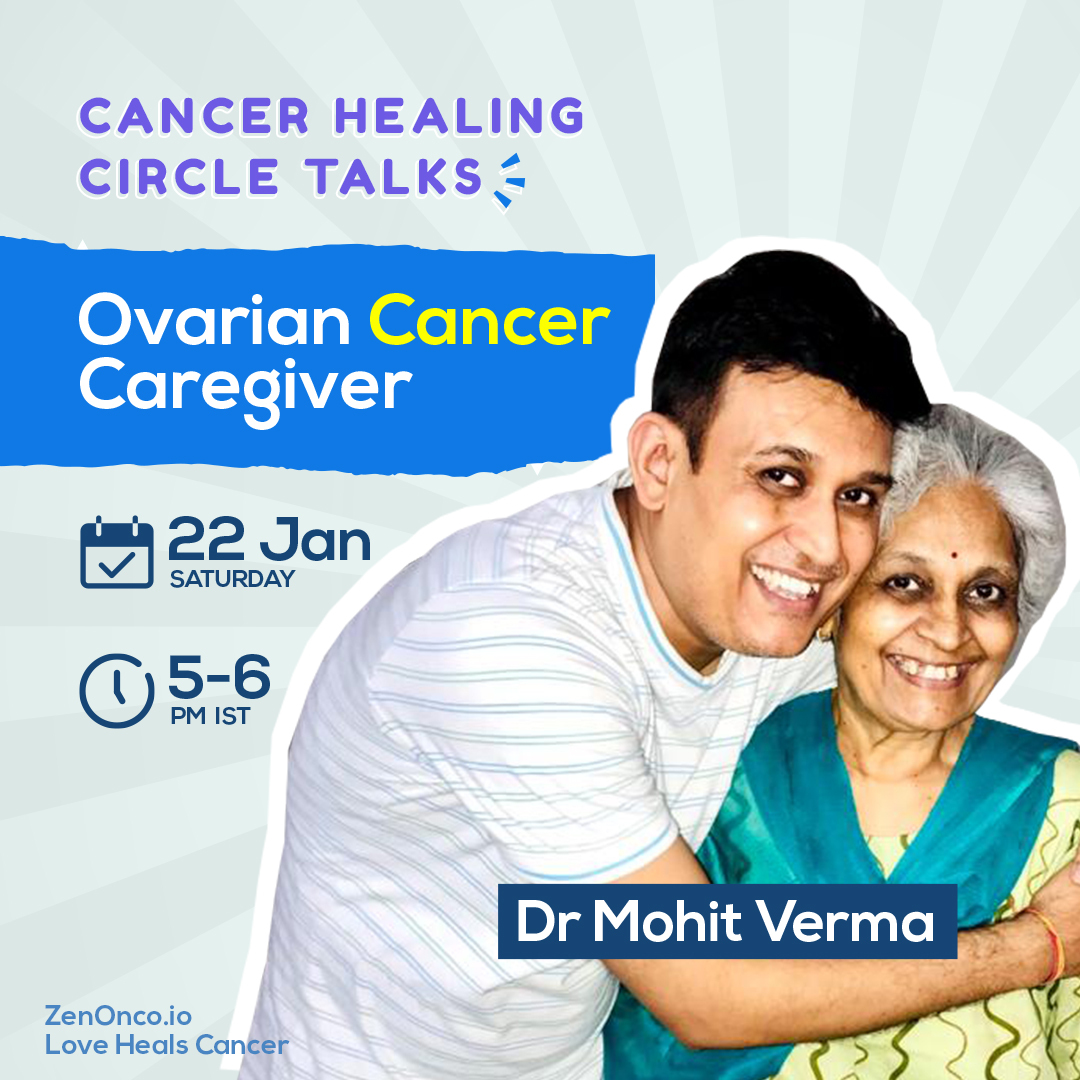 Cancer Healing Circle Talks with Dr Mohit Verma, Ovarian Cancer Caregiver.
Join our Cancer Healing Circle Talks with Dr Mohit Verma, Ovarian Cancer Caregiver. He will be sharing his experiences in supporting his mother's journey as an Ovarian Cancer Caregiver.
About the speaker: Dr Mohit Verma is a Caregiver to his mother diagnosed with stage 4 Ovarian Cancer. He is a professor at Amity University, Uttar Pradesh. The symptoms started all of a sudden in March 2020. When they went to see the doctor, he asked to do some tests, and his mother was diagnosed with stage 4 Ovarian Cancer. The whole family was shocked as she was the powerhouse of the family. Different doctors gave different opinions. Finally, they decided to go ahead with AIIMs Delhi for Cancer treatment. She started with Chemotherapy sessions. The First Chemo session was very depressing, but the doctors were excellent, and according to Dr Mohit, they played a vital role in the healing process of both himself and his mother. Dr Mohit's mother is a very cheerful lady. After six chemotherapy sessions, Surgery was performed, and then another two chemo cycles were performed. Finally, when they thought she was Cancer free, Cancer knocked on the door again in March 2021. Again six chemo cycles were delivered. She is still a Cancer fighter. Dr Mohit says it is essential to stay positive no matter what is thrown at you. Think Positive, stay positive.
About Cancer Healing Circle Talks: We see Healing Circle Talks as sacred spaces that give us all an opportunity to open up and learn from each other. This shall be a 60-minutes interactive session that inspires and provides direction to many other cancer patients and caregivers when they enter into this whole new world of Cancer. Since this is an open event, invite others you know would benefit from the event.
Join Zoom Meeting: https://us02web.zoom.us/j/8055053987
Register here:https://bit.ly/3KafD36
Time: 22 January 2022 from 5:00 pm to 6:00 pm IST.
Please feel free to call or WhatsApp https://wa.me/919930709000 for more information.
Alternatively, visit our website: https://zenonco.io/.
#lovehealscancer #zenoncoio #integrativeoncology #oncology #cancer #cancercare #zenliving #ovariancancer #ovariancancersurvivor #healingcircle #ovariancancerawareness