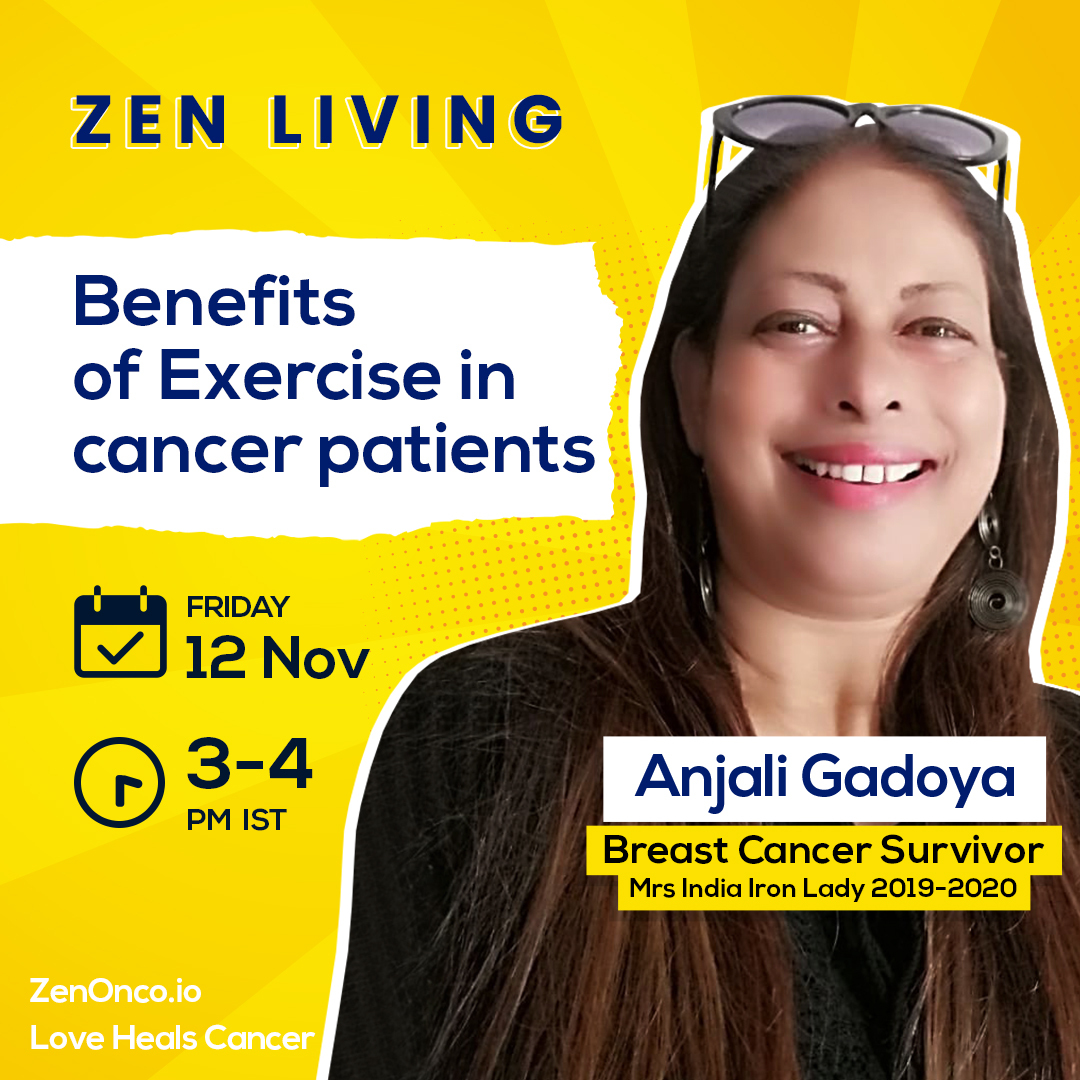 Benefits of Exercise in Cancer Patients- Anjali Gadoya, Breast Cancer Survivor, Mrs India Iron Lady 2019-2020
Join Online Zen Living Session on "Benefits of Exercise in Cancer Patients " with Anjali Gadoya on 12th November 3:00 pm to 4:00 pm IST. She is a Breast Cancer Survivor & Mrs India Iron lady from 2019 to 2020. She is also an artist by profession.
Anjali was almost 54 years old when detected with Breast Cancer. The doctor conducted a biopsy, and the reports came positive for Breast Cancer. She underwent surgery and chemotherapy as a part of the treatment. The cancer journey was painful, but she somehow kept her will strong to get through it. She completed a total of 6 chemo sessions. She recovered and started following her passion. She learned dancing & swimming. She won multiple awards for acting. She also won the Mrs India Iron Lady award for the year 2019-2020. Anjali Says, "Think positively & understand that you have to go through the journey". Cancer taught her how to live, what to eat & how to deal with people. Cancer taught her what life is.
Join Zoom Meeting: https://us02web.zoom.us/j/8055053987
Register here: https://bit.ly/HealingCirclesLhcZhc
Time: 12th November 2021 at 3:00 pm to 4:00 pm IST
#lovehealscancer #zenoncoio #integrativeoncology #oncology #cancer #cancercare #cancerguide #healing #cancerassist #cancersurvivor #cancercommunity #hopeful #hopes #faithful #faith #believe #belief #cancerpatients #cancercaregivers #cancersupport #cancertreatment #healingcircle #breastcancerawareness #breastcancer #familia #artist #artistlife #zenliving