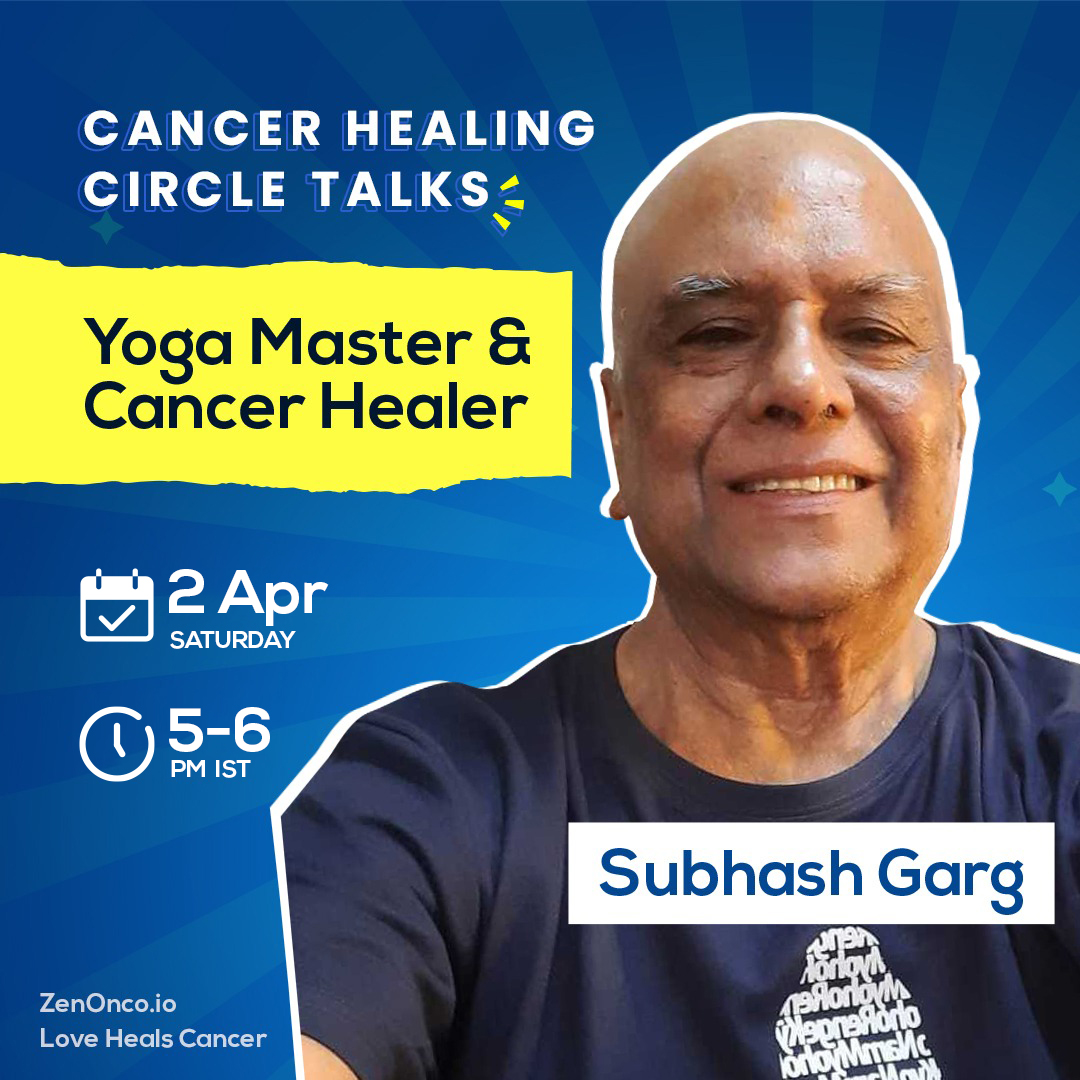 Cancer Healing Circle Talks with Subhash Garg, Yoga Teacher and Healing counsellor
Join our Cancer Healing Circle Talks with Subhash Garg, Yoga Teacher and Healing counsellor, on 2nd April (Saturday) 2022, 5 to 6 pm IST.
About the speaker: Mr. Subhash trained for five years in hatha yoga with Swami Dhirendra Brahmchari, the private yoga teacher to the late Indira Gandhi, and won the first yoga competition he entered. After completing university studies in mechanical engineering and a master's degree in production engineering at IIT Roorkee, he joined the business realm, where he worked for 35 years. He rose to top positions as General Manager and Director in major companies in India and abroad. However, his life changed in 1998 when he was hit by a car while walking in his neighborhood.
With a crippled leg, he found working in the corporate world increasingly dissatisfying. Returning to yoga for rehabilitation, he succeeded in healing his injured leg. In the process, he discovered that yoga had much more to offer than an improved leg and so pursued his interest, eventually training as a yoga teacher. His training includes studies at Yoga Vidya Niketan, intensive training at the Academy of Yoga in Mumbai, and yoga teacher training at The Yoga Institute. He also offers private sessions for individuals with health issues. He also provides therapeutic counselling in yoga rehabilitation and spiritual matters.
About Cancer Healing Circle Talks: We see Healing Circle Talks as sacred spaces that give us all an opportunity to open up and learn from each other. This shall be a 60-minutes interactive session that inspires and provides direction to many other cancer patients and caregivers when they enter into this whole new world of Cancer. Since this is an open event, invite others you know would benefit from the event.
Join Zoom Meeting: https://us02web.zoom.us/j/8055053987
Register here:https://bit.ly/3KafD36
Time: 2nd April 2022 from 5:00 pm to 6:00 pm IST.
Please feel free to contact us at +91 9930709000
or WhatsApp at https://wa.me/919930709000
For more information, visit our website https://www.zenonco.io/.
#zenoncoio #lovehealscancer #closethecaregap #cancerawareness #healthawareness #healthtips #cancer #CancerTips #cancersupport #integrativeoncology #cancerassistance #oncology #cancercare #cancertension #mentalhealth #mentalwellbeing #mentalhealthawareness #mentalwellness #mentalhealthsupport #oncologist #doctor #yoga #healing