Introduction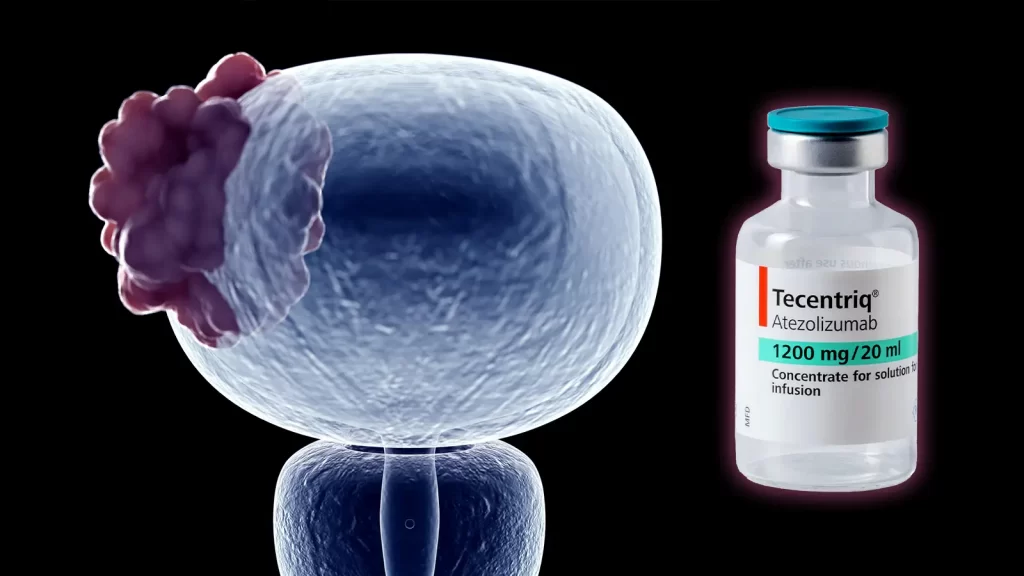 Atezolizumab is sold under the brand name Tecentriq. It is a monoclonal antibody medication. A fully-humanized, engineered monoclonal antibody of IgG1 isotype, it is used to treat urothelial carcinoma, non-small cell lung cancer (NSCLC), triple-negative breast cancer (TNBC), small cell lung cancer (SCLC), and hepatocellular carcinoma (HCC).
It s used to treat extensive-stage small-cell lung cancer in combination with carboplatin and etoposide for first-line treatment.
Atezolizumab is in the form of a intravenous injection through a vein (IV) over 60 minutes for the first infusion. Treatment cycles are every 3 weeks (21 days). Medicine is usually before the infusion to reduce allergic reactions.
In April 2016, Roche announced that atezolizumab had been granted fast track status for lung cancer by the U.S. Food and Drug Administration (FDA). In May 2016, the FDA also granted accelerated approval to atezolizumab for locally advanced or metastatic urothelial carcinoma treatment after failure of cisplatin-based chemotherapy. In 2018, FDA altered the use of atezolizumab as a first-line treatment for metastatic bladder cancer in people who can not receive cisplatin-based chemotherapy and have high levels of PD-L1.
Mechanism of action
Atezolizumab blocks the interaction of PD-L1 with programmed cell death protein (PD-1) and CD80 receptors (B7-1Rs). PD-L1 can be highly expressed on certain tumors, which is thought to lead to reduced activation of immune cells ( cytotoxic T-cells in particular) that might otherwise recognize and attack cancer. Inhibition of PD-L1 by atezolizumab can also remove this inhibitor effect and thereby engender an anti-tumor response. It is one of several ways to block inhibitory signals related to T-cell activation, a more general strategy known as "immune checkpoint inhibition."
For some cancers (notable bladder) the probability of benefit is related to PD-L1 expression, but most cancers with PD-L1 expression still do not respond, and many (about 15%) without PD-L1 expression do respond.
Side Effects
Most people do not experience all of the side effects listed. Side effects are often predictable in terms of their onset and duration. However, immune-related side effects can occur weeks or months after discontinuation of treatment. And so, there are many options to help manage and prevent worsening of side effects.
Common Side Effects
Decreased appetite
Nausea
Urinary tract or other infection
Constipation
Fever
Diarrhea
Colitis (bowel inflammation)
Abdominal pain
Vomiting
Shortness of breath and/or cough and/or wheezing
Neck pain/back pain
Rash and/or itching
Hematuria (blood in the urine)
Arthralgia (joint pain)
Hyponatremia (low sodium level)
Thyroid changes
Autoimmune reactions* and infusion reactions
Serious Side Effects
Contact your health care provider immediately, day or night, if you should experience any of the following symptoms:
Fever of 100.4° (e.g. 38° C) or higher, chills, flank pain, cloudy or foul smelling urine, or other acute changes and/or signs of infection.
Signs of reaction to the drug (e.g. wheezing, chest tightness/pain, shortness of breath, cough, rash, itching, swelling of the face, lips, tongue, or throat)
Persistent or unusual headache, extreme generalized or focal weakness, dizziness/lightheadedness or fainting, stiff neck, new severe numbness, or vision changes.
Blood in stool, very dark stool, light colored stool, yellow skin/eyes/tongue, dark urine, unusual swelling of one of your legs/arms, bleeding, severe pain, or other acute changes.
Precautions
Before starting atezolizumab treatment, make sure you tell your doctor about any allergies, and other medications you are taking and your complete past medical, surgical, family and social history.
Do not receive any kind of immunization or vaccination without your doctor's approval while taking atezolizumab.
If you are pregnant or may be pregnant prior to starting this treatment, inform your health care professional about it. It is because, Atezolizumab may be hazardous to the fetus.
Do not breast feed while taking this medication. Breast-feeding is not recommended during therapy or for at least 5 months after the last dose.
Inform your doctor before starting treatment, especially if you have any history of autoimmune disease, inflammatory bowel disease, hepatitis B or C, HIV etc.