Introduction
Experts use Afatinib to treat certain types of non-small cell lung cancer that has spread to nearby tissues or to other parts of the body. Afatinib is in fact, in a class of medications called kinase inhibitors. It however works by blocking the action of a certain naturally occurring substance that may be needed to help cancer cells multiply. In fact, it is a 4-anilinoquinazoline tyrosine kinase inhibitor in the form of a dimaleate salt available. Afatinib, is in fact, sold under the brand name Gilotrif. Furthermore, Afatinib dimaleate is a maleate salt obtained by combining afatinib with two molar equivalents of maleic acid.
Chemical Formula
C32H33ClFN5O11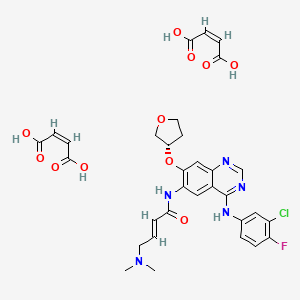 In fact, Afatinib comes as a tablet to take by mouth. It is usually taken on an empty stomach once a day, at least 1 hour before or 2 hours after eating a meal or snack. Furthermore, take afatinib at around the same time every day. Follow the directions on your prescription label carefully, and ask your doctor or pharmacist to explain any part you do not understand. Lastly, take afatinib exactly as directed. Do not take more or less of it or take it more often than prescribed by your doctor. The dosage is based on your medical condition, response to treatment, and other medications you may be taking. However, be sure to tell your doctor and pharmacist about all the products you use (including prescription drugs, nonprescription drugs, and herbal products).
Your doctor may temporarily or permanently stop your treatment or decrease the dose if you experience serious side effects of afatinib. Talk to your doctor about how you are feeling during your treatment.
Side Effects:
Important things to remember about the side effects of afatinib:
Most people will not experience all of the afatinib side effects listed.
Afatinib side effects are often predictable in terms of their onset, duration, and severity.
Its side effects are almost always reversible and will go away after therapy is complete.
Afatinib side effects may be quite manageable. There are many options to minimize or prevent the side effects of afatinib.
The following side effects are common (occurring in greater than 30%) for patients taking afatinib:
Diarrhoea
Acneiform eruption (group of skin conditions resembling acne)
Mouth sores
Paronychia (infection of nails)
Dry mouth
These are less common side effects (occurring in 10-29%) for patients receiving afatinib:
Decreased appetite
Itching
Weight loss
Nose bleeds
Cystitis (bladder infection)
Cheilitis (inflammation of the lips)
Fever
Hypokalemia (low potassium)
Conjunctivitis (pink eyes)
Rhinorrhea (runny nose)
Elevated liver enzymes