Executive Summary
Survivorship begins immediately after the diagnosis of cancer. The individuals under treatment and whose disease conditions are cured after the treatment are referred to as the cancer survivors. Survival is considered one of the most challenging aspects in the case of breast cancer, as everyone has unique conditions as per the disease's severity. The survivors have experience emotions of concern, relief, remorse, and terror during their cancer journey. After undergoing breast cancer treatment, the survivors have survived with, through, and beyond the tumor diagnosis. Patients and their families may experience powerful emotions after the treatment, including excitement, concern, relief, guilt, and dread. Coping with such emotional distress have been known to be the primary goal of survivorship. Recognizing the difficulties that your family is experiencing, solution-oriented thinking, requesting and accepting help from others, and feeling at ease with the course of action that the family takes are some of the most common coping effective necessitates. The treatment survivorship serves as a solid motivation to initiate healthy changes in lifestyle and maintain good health and live a cancer-free life.
Survivorship in Breast Cancer
The word "survival" means different things to different people. Standard definitions include No signs of cancer after completing treatment and living with cancer. According to this definition, Cancer Survivors begins at diagnosis and continues throughout treatment and life. Survival is one of the most complex aspects of cancer. That's because it's different for everyone. Some people continue to receive cancer treatment for a long time to reduce the risk of recurrence or control cancer as chronic disease ​1​.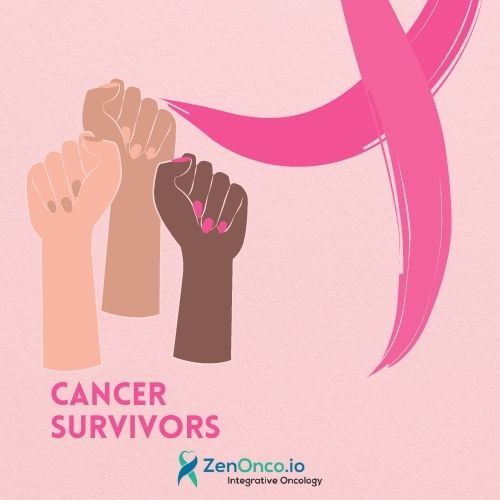 Cancer Survivors may experience a wide range of emotions, including joy, anxiety, relief, guilt, and fear. Some say they enjoy life more after being diagnosed with cancer and accept themselves more. Others become very worried about their health and do not know how to cope with daily life. Some people may even like to put the experience behind them and feel that their life has not changed significantly ​2​. Survivors may experience some stress when their regular visits to the health care team end after treatment ends. Often, established relationships with the cancer care team provide a sense of security during treatment, and people lack this source of support. It can be especially true when new worries and challenges emerge over time, such as late effects of treatment, emotional problems such as fear of recurrence, sexual health problems, fertility, and financial and professional problems ​3​.
Each Cancer Survivors has unique concerns and challenges.
Whatever the challenge, a significant first step is to recognize and talk about your fear.
Coping effectively requires:
Understanding the challenge you face
Thinking about solutions
Seeking and facilitating support from others
Feeling comfortable with the course of action you choose
Also Read: Viveka Dubey (Ovarian Cancer Survivor)
References
1.

Nardin S, Mora E, Varughese F, et al. Breast Cancer Survivorship, Quality of Life, and Late Toxicities.

Front Oncol

. 2020;10:864. doi:

10.3389/fonc.2020.00864

2.

Bodai B, Tuso P. Breast cancer survivorship: a comprehensive review of long-term medical issues and lifestyle recommendations. Perm J. 2015;19(2):48-79. doi:10.7812/TPP/14-241