Beta-elemene is a chemical present in many plants used in traditional medicine, including celery, mint, and many more.
Although the pure version is not used as a food supplement, some cancer patients seek treatment from plants high in beta-
elemene. Beta-elemene has been demonstrated to inhibit cancer cell proliferation in laboratory cells through a variety of methods. It has been shown in a few human trials that it may enhance cancer patients' quality of life.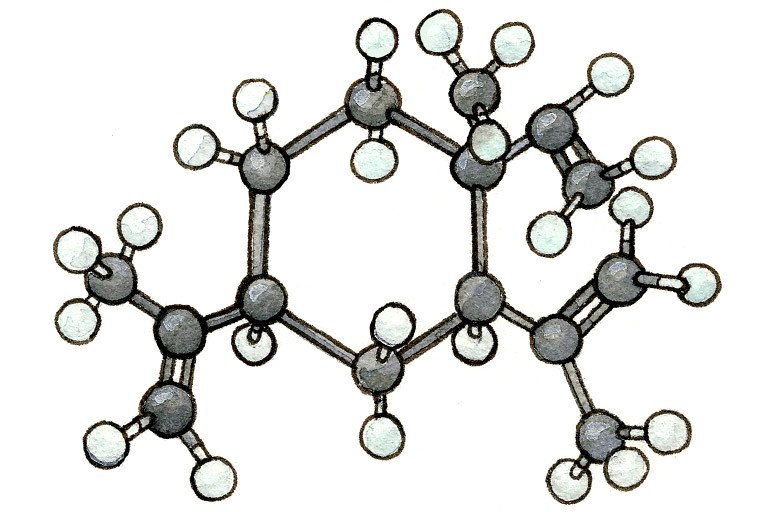 Beta-elemene is a sesquiterpene chemical derived from the plant Curcuma Rhizoma that has been used in traditional Chinese medicine (TCM) to cure a variety of cancers with no serious side effects observed. Beta-elemene has been found to decrease cell proliferation, halt the cell cycle, and cause cell death in recent research employing in vitro and in vivo investigations coupled with molecular techniques. The molecular targets of beta-elemene have recently been discovered, and they may play a role in cancer treatment. Beta-elemene also controls the expression of vascular endothelial growth factor (VEGF), matrix metalloproteinases (MMPs), E-cadherin, N-cadherin, and vimentin, all of which are related with tumor angiogenesis and metastasis. Beta-elemene has regulatory effects on the immune response. It also makes cancer cells more susceptibility to
chemoradiotherapy, and has impacts on multidrug resistance (MDR) in malignancy.
For more than 20 years, it has been found to have strong anti-inflammatory and anticancer effects in clinical applications in
China. Recent research has discovered that this traditional Chinese medicine is important for macrophage infiltration and
M2 polarization, as well as controlling immunological diseases and regulating the transcription factors NF-B and STAT3 to
control inflammation, malignancy, and tumor development. In different in vivo and in vitro clinical studies, beta-elemene has
proved to control not only inflammatory factors (such as TNF-,IFN, TGF-, and IL-6/10), but also oxidative damage.
Beta-Elemene enhances chemosensitivity by causing tumour cell death and increases radiation sensitivity by inhibiting the
P21-activated kinase1 (PAK1) signalling pathway, causing DNA damage, and inhibiting DNA damage repair.

For more than 20 years, beta-elemene and its derivatives have been used to treat lung cancer , liver cancer , brain cancer ,
breast cancer , ovarian cancer , stomach cancer , prostate cancer , and other tissues. Their practical and efficient
therapeutic use has increasingly been proven. The actual form of beta-elemene isolated from Rhizoma
zedoariae, a type of ginger species, has been investigated in Asia and is said to treat pain, reduce chemotherapy side effects,
and improve cancer patients' quality of life.
According to a systematic study, beta-elemene injection may increase the efficacy of chemotherapy in the treatment of lung
cancer . Controlled trials are required to support this finding.