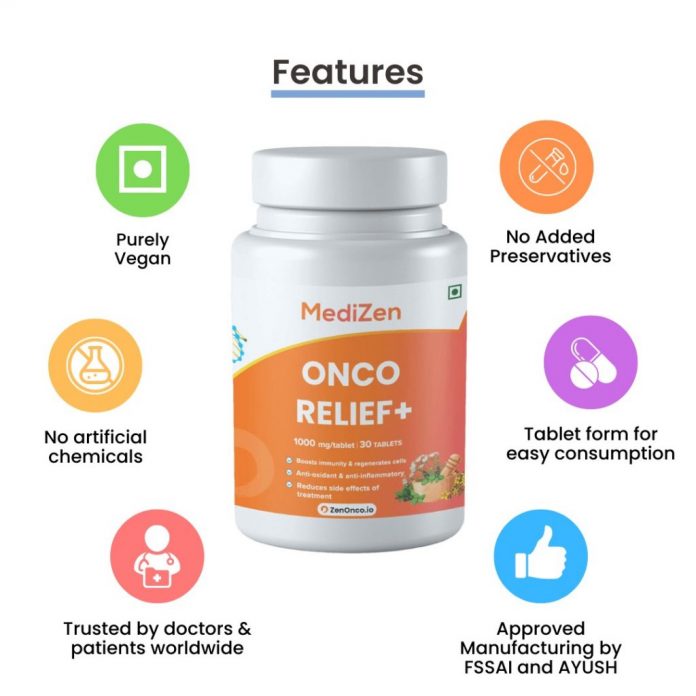 About Medizen
At MediZen, we provide advanced evidence-based solutions to treat and manage cancer and its side effects & symptoms. Cancer patients need more than just treatment. They need integrative treatment in terms of nutrition and overall physical and mental wellbeing. So, here we are with our natural products. We are committed to bringing a revolution in cancer treatment and improving the quality of life of cancer patients in a natural way.
Our Products
1.) Medical Cannabis: Natural plant extract to fight cancer, manage pain, induce sleep & improve appetite. Key benefits
Fights cancer by reducing inflammation.
Manages chronic pain and neuropathic pain.
Promotes good sleep and enhances mood.
Increases appetite, and manages nausea and vomiting caused by chemotherapy.
Manages side effects of chemotherapy.
Reduces stress, anxiety, and fatigue.
2.) Nutraceutical products: Natural plant extract able to kill cancer cells and prevent more from growing. Key benefits:
Reduces inflammation and increases antioxidants levels.
Boosts the immune system and reduces oxidative stress.
Reduces pain and inflammation in chemotherapy.
Manages anxiety and depression.
Stabilizes metabolism and weight loss.
Why MEDIZEN?
High potency Medical Cannabis:
High concentrated, non-diluted extract with CBD:THC ratio of 1:1
Concentrated paste in syringe, which allows for easy and precise dosages.
Approved manufacturing by FSSAI and AYUSH
Trusted by doctors and practitioners worldwide
Natural Nutraceuticals:
Combination of curcumin with piperine for better absorption
In form of capsules for easy consumption
Manufacturer approved by FSSAI
Trusted by doctors and practitioners worldwide
Reviews-

"I was extremely excited when I found out about medical cannabis through one of my friends. Your products are amazing. Medical cannabis is working wonder for pain and inflammation caused by cancer. The quality is so good. I can feel the improvement in just fifteen days."
Sunita Patel, Mumbai
"Medical cannabis is the best natural product I have ever come across. I have been using it for the last three months. I feel much better. Earlier, I could not sleep due to pain and inflammation, but after taking this, I can sleep properly. It has helped in reducing pain also. Thank you, MediZen, for this wonderful product. I am waiting for more products."
Vinita Sen, Bangalore
Survivor stories-
Karnati Veera Venkateshwara
From brain cancer relapse to being cancer free, Mr Karnati Veera Venkateshwara is a living inspiration to all of us. He was first diagnosed with brain cancer in 2012. He underwent surgery and was in remission, but then cancer relapsed in 2020. He took chemotherapy, which soon stopped working and the side effects also increased a lot. He stopped his treatment eight months ago.
He heard from his friend about ZenOnco.io that helps patients with a comprehensive treatment approach to defeat cancer with minimal side effects. We helped him in adopting a comprehensive anti-cancer lifestyle – including medical cannabis, anti-cancer diet, and Ayurveda. After 8 months of treatment, he is now completely cancer-free, and his side effects have also reduced. We are fortunate to have had this opportunity to treat him.
Read complete story here: https://zenonco.io/cancer/karnati-veera-venkateshwara-brain-cancer-survivor/
Shyamala Iyer
Shyamala was diagnosed with breast cancer in 2021. She was undertaking advanced chemotherapy. Soon after a few cycles, she was told that she had only a few more months to live. In spite of hearing this, she did not lose hope. She and her husband Paritosh went to all ends of the world to discover ways to save her. He recollected that his friend Dimple had also gone through a similar cancer journey a few years ago and was currently guiding patients in their journey. When he connected, he got introduced to Integrative Oncology, which combined medical treatment with complementary treatment to increase clinical efficacy while minimizing side effects. He didn't believe in it at first. But with no option left, he decided to go ahead with it.
We at ZenOnco.io connected Shyamala with a wellness coach, an anti-cancer nutrition expert, a medical cannabis advisor, and a cancer Ayurveda expert. These four experts consulted Shyamala along with their existing medical team of doctors to arrive at an integrative treatment plan that combined the best of all worlds together. We all prayed for her recovery.
Soon, after few months of taking the treatment, she is now free from cancer. Her recent scans show no signs of cancer. This is truly a proud moment for the entire ZenOnco.io and the Love Heals Cancer family since we have been able to achieve our vision of "Saving lives from Cancer".
Read complete story here: https://zenonco.io/cancer/shyamala-iyer-breast-cancer-survivor/